The 2016 Ram 1500 - A Complete Pick-Up

If you're in the market for a heavy-duty pick-up truck, check out the work horse from RAM 2500.  Like is the smaller 1500 version, the RAM 2500 stands out in the crowd due to its superior towing and hauling abilities.

The RAM 2500 comes with a Coil Spring suspension which can store energy and release it when needed.  This technology adds a smooth ride especially when driving around with the bed of the truck empty.

Interior - Combine the smooth ride and the high quality cabin interiors with higher trim levels, soft-touch material and tasteful stitching make this truck feel more like a luxury vehicle built to ride quiet, high and very smooth. The interior storage is plentiful with bids and boxes, and the lockable compartments hidden over the rear fenders is very much unique to RAM.

Powertrains and Performance - Standard on most versions of the 2016 Ram 2500 is a 5.7-liter, V8 gasoline engine that is paired with a six-speed automatic transmission. This perfect storm of a power produces 383 horsepower and 400 pound-feet of torque. You can also get a compressed natural gas version (CNG) of this engine that runs which produces very similar power figures to the gasoline-fed version.

You've got two optional engines for the 2500: - A 6.4-liter V8 and a turbocharged 6.7-liter diesel-fueled inline six-cylinder. The 6.4-liter produces 410 hp and 429 lb-ft of torque and is backed by a six-speed automatic.

- A turbodiesel produces 350 hp and 660 lb-ft of torque when matched with the available six-speed manual transmission, or 370 hp and 800 lb-ft of torque with a beefed-up six-speed automatic.

The Ram 2500 is available with either rear-wheel drive or part-time four-wheel drive, except the Tradesman and all versions of the Power Wagon, which are available in 4WD form only.
Expert reviews
"The 2016 Ram 2500 is a top pick for a heavy-duty truck thanks to its  refined interior, forgiving ride and tremendous towing and hauling  capabilities."

Edmunds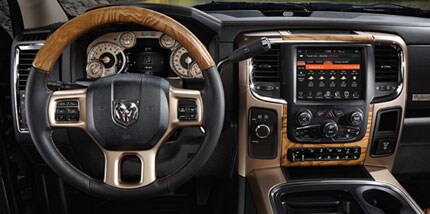 Body  Styles, Trim Levels, and Options
The  2016 Ram 2500 HD pickup has three cab styles: two-door regular cab, four-door  crew cab and a four-door jumbo crew cab (Mega Cab). The regular cab  comes with an 8-foot bed only, while the crew cab is available with either the long  bed or a 6-foot-4 short bed. The Mega Cab rides on the same wheelbase as the  crew-cab long bed, but has an even bigger cabin with the short bed.

Tradesman and Power Wagon

Tradesman  and Power Wagon models feature a manually engaged transfer case for the 4WD  system; an electronic transfer case is optional on the Tradesman and standard  on non-Power Wagon Rams.

Stop  in and take a test drive with the Ram heavy-duty pickup - the Ram 2500 -  today.  You can check out our  inventory here!