10 Ways to Upgrade Your Jeep Wrangler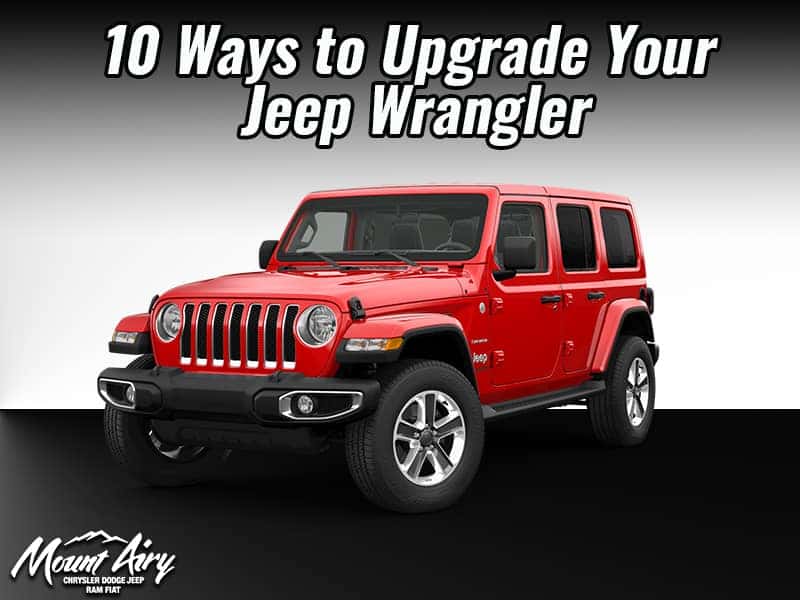 You've made the big purchase and finally have your Jeep Wrangler from Mount Airy Chrysler Dodge Jeep Ram Fiat. Whether you went with a pre-owned 2-door 2018 Jeep Wrangler Sport 4×4 or a brand new 2020 Jeep Wrangler Unlimited Sport 4×4, there are so many ways to customize and personalize your Jeep to make it stand out.
From YouTube videos to Jeep forums online, you'll be faced with a range of preferences: Jeep owners content with the vehicle as is, to those adding the minimum parts to hit the trails off-road, and the Jeep lovers going hardcore with 4″ suspension lifts, off-road tires, and steel wheels.
At Mount Airy CDJRF, we recommend starting by learning what your vehicle can do, decide what you want to do with your Jeep, and determine how often and where you want to take it. Basically, build and modify your Jeep to fit your needs.
Make your Wrangler stand out and improve your off-road performance with these 10 ways to upgrade your Jeep game.
Wheels
If you're an experienced Jeep owner, it doesn't have to be said, but for new owners: bigger does not necessarily mean better. The type of tire chosen for your Jeep will impact gas mileage, wear and tear, and your wallet. From 35" to 40" tires, you'll need to know what effect you want your wheels to have on your drivability, clearance, and climbing.
Lift Kit
Lift kits increase your Jeep's ground clearance, suspension travel, ease of access, and enables you to add larger tires that are more suited for off-roading. Just like with wheels, choosing your lift kit should be based on what you want to use the Wrangler for.
Winch
If you've been off-roading, there's a good chance your Jeep has gotten stuck. A winch is a lifesaver for you and your friends, and a must-have for off-roading adventures. Depending on the weight and horsepower of your Jeep and what you plan on towing, choose a winch with appropriate load capacity.
Bumpers
A new bumper can provide more than an off-road aesthetic, but add impressive towing and power capacity, and metal D-ring mounts. Most bumper installations use factory-mounting locations already included in your Jeep, which means no additional drilling and a rather simple installation.
LED Lights
Strong LED lumen headlights and fog lights are a worthy investment to improve visibility nearly double what the factory headlights on low and high beam can output. They're also not bad to have when you need to light up a space as you're setting up camp, fixing a car, or throwing a party.
Differential Lockers
If you want better traction, a locking differential is a necessity. With a locking differential, both wheels are then locked together to provide additional traction in off-road, low friction situations. Without a locking differential, both wheels will spin.
Hi-Lift Jack
Once your Jeep is fitted with a lift kit and oversized tires, you risk becoming truly stuck on the trails. A Hi-Lift jack is made of cast and steel components, which makes it capable of raising your jeep without any hydraulics. The hi-lift jack can also be used as a winch, spreader, or clamper. The next time you need to change a broken axle or lift a corner of your rig, the hi-lift jack will come to the rescue.
Safari Top
A safari top, or soft-top, is an integral part of the feeling of freedom that comes with Jeep ownership. A safari top, unlike a hardtop, gives you the ability to zip out the windows and enjoy the open air whenever you want. Safari tops come in many shapes, sizes, and options, such as a summer top windbreaker that opens up the interior without exposing you to all of the open air, or a total soft replacement that enables you to pull the entire top up or down on a whim.
All-Weather Floor Mat Set
Regardless of what whether you use your Jeep for outdoor adventures or daily use, you'll want to ensure that you have heavy-duty floor mats and liners that keep mud, snow, water, and more from damaging your floors, and make cleaning your interior so much easier.
Lock Box
In our opinion, one of the most essential Jeep Wrangler items you can own is a lockbox. When the weather gets nice and you park your Jeep without the doors on, chances are that you have a couple of valuables you may want to leave in your vehicle. A good lockbox can be relatively inexpensive, should be completely pick-resistant, and bolts down to the floor of your Wrangler.
At Mount Airy Chrysler Dodge Jeep Ram Fiat, we are thrilled to help you determine what mods and accessories are right for your Wrangler. For more ideas or to chat with a Jeep expert, stop by today or give us a call at (336) 429-5462.