2015 Chrysler 200: A Sedan Making All the Right Moves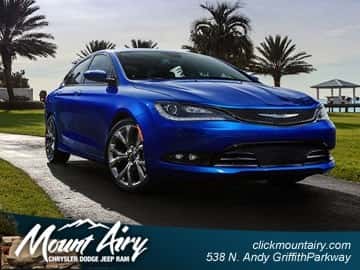 Right now at Mount Airy Chrysler Jeep Dodge Ram you can find the best of the re-engineered version of the Chrysler Sebring, otherwise known as the Chrysler 200.
This 2015 Chrysler 200 model comes with a new look: a small, refined grill and added curvature to keep it in tow with today's modern mid-sized sedans. The interior matches its exterior in way of innovative ideas and sleek new designs, making this sedan an immediate eye catcher. Chrysler did a nice job at making this model more roomy and comfortable than previous models by extending its length just enough to provide that extra needed leg space. It comes inoptional 4 or 6-cylinder engines and both do quite well—naturally with the 4-cylinder you save on gas but lose in power (although for a smaller engine, the 4 does well). I would, however, recommend the 6-cylinder with this vehicle simply because the Chrysler 200 uses the same drivetrains found in both the Dodge Dart and the Jeep Cherokee and the larger engine does well to keep the drive smooth and punchy. It also comes with optional manual transmission and paddles to make your drive a bit more exciting.
The best feature of the new 2015 Chrysler 200, I would have to say, is its superiority in safety. The Insurance Institute for Highway Safety named it as its newest Top Safety Pick and here is why: it comes with options for some of the most up-to-date components available, such as knee airbags, stability control, automatic parking assistance, as well as blind-spot monitors. You can also opt for a lane departure warning system, self-governing breaking system and adaptive cruise control to insure complete driver confidence and peace of mind for all road conditions.
The new Chrysler 200 has more than just aesthetic appeal making it highly desirable. What makes this vehicle of true value is its top rated safety features, practical designs allowing for optimum space and the mechanics to keep it on the road for an extended lifespan. Come try one out today. You will not regret it.
-Andrae Bergeron