2015 Chrysler 300: Luxury at a Whole New Level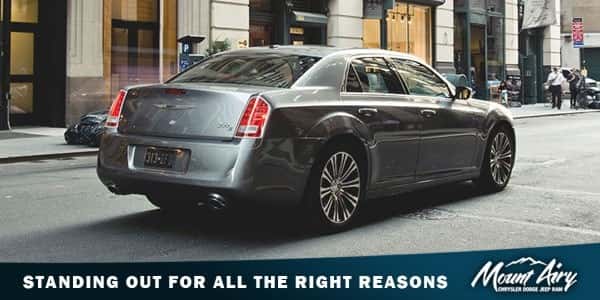 It's time to shop for a luxury car at Mount Airy Chrysler Dodge Jeep Ram. There are plenty of makes and models and trims and colors to choose from, as well as a very knowledgeable staff willing to go the extra mile to get you any information you need. And one of the hottest sellers right now, the 2015 Chrysler 300, is begging for a test drive.
The new Chrysler 300 comes with either a 6 or 8-cylinder engine. Both provide top performance, gliding smoothly down the road even when pushed hard. This car is quick off the line and maintains a powerful punch even at higher speeds. But more importantly, since this is a luxury sedan, it provides ultimate comfort in ride quality. It never shakes or pulls, as its advanced electric power steering makes sharp turns and long curvy roads a breeze to handle. Chrysler has done a wonderful job at making a rather large vehicle so responsive and light.
If you are still waiting to really be impressed by the 300, step inside. Comfort and roominess were obviously in the forefront of the designer's mind for this new model. Its soft curvature and natural look will immediately put you at ease as you slide into one of the coziest seats you will find in a luxury sedan.
The 2015 model brings quite a change to the exterior of the Chrysler 300: the front-end has a much larger grill, giving the car more of a stoic presence—yet, the LED fog lights give off a warmth that keeps the vehicle from seeming at all pretentious. The rear is rounded and more concise than previous models—this illuminates some of the exterior bulkiness and allows for a more modern look.
The new Chrysler 300 is my pick for luxury sedan of the year. Come in to Mount Airy Chrysler Dodge Jeep Ram today and see for yourself.
– Andrae Bergeron