2015 Dodge Dart: Tiny Car with an Attitude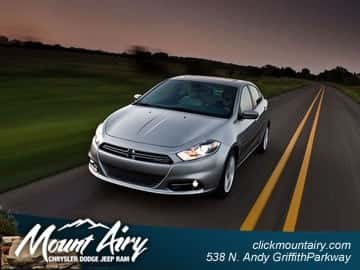 The 2015 Dodge Dart has some history. Brought forth in the early sixties by strong minds with eagerness to create something cool and long lasting –its name derived by its uniquely sharp features — this car has only been perfected over time and at Mount Airy Chrysler Dodge Jeep Ram you can find the best colors for the best price.
The 2015 Dart is a performance car with energy saving capabilities that keep you moving in style without depleting your bank account. It comes standard with a 160-horespower, 2.0-liter engine with an optional turbo charge that will knock your socks off. And this very practical vehicle tops the charts when it comes to safety precautions: it earned five stars from the National Highway Traffic Safety Administration, as well as top marks from the Insurance Institute for Highway Safety —making the Dart one of the safest cars on the road today. Such accolades come only by paying special attention to every detail, and by considering the passenger first. The Dart comes standard with ten airbags in total, optional blind-spot and cross-traffic alerts, and a high-tech electronic safety system that continually keeps the driver aware.
Compact sedans typically look minimal and unexciting. The Dart, however, aligns itself well with Dodge's tenacious reputation. It has a wide stance and flowing curves that make it seem elongated and closer to the ground. The minute detail shown in the front grill–skinny, strait lines mixed with beveled edges–adds a bit of attitude usually forgotten in smaller cars. The interior is just as bold with flowing, durable surfaces. It comes with an 8.4-inch display screen for navigation, audio, and climate control.
The 2015 Dodge Dart may look completely different from its original design, but it is still much the same in quality. It's fast, safe, and a blast to drive. So what are you waiting on? Come test drive one today.