2015 Jeep Grand Cherokee — A Luxury SUV That Is Not Afraid To Get A Little Dirty!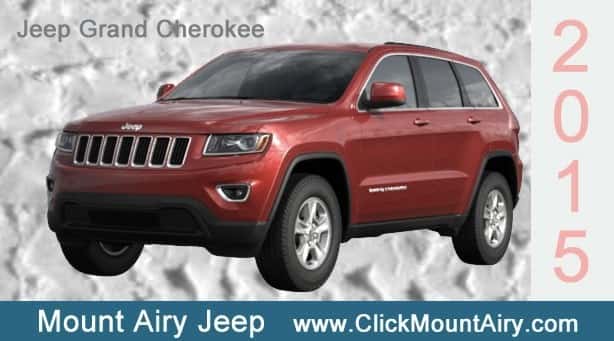 Come in to Mount Airy Chrysler Dodge Jeep Ram and check out the extra boost of energy and cutting edge technology upgrades to the 2015 Jeep Grand Cherokee.
The new Grand Cherokee has been polished up for another grand entrance: another five horsepower had been added, bringing it up to 475; it gets 17 miles mpg in the city and 24 mpg on the highway-not bad at all for such a powerful SUV; and it has a 3.6L V-6 cylinder engine (also comes in 8 speed automatic), with diesel and Hemi V-8 options as well.
Jeep came out with some major upgrades for the Jeep Grand Cherokee in 2014, so this year they spent some time perfecting and making precise adjustments to these changes. One of the most recognizable changes made last year is the sleek new headlights. They are considerably smaller than years past and they look as they have been pulled tightly from behind. This year Jeep decided to pay some attention to the tail lamps, making them all come standard with LED lighting.
Other nice additions this year include the Quadra-Lift air suspension—creating substantial noise reduction and more engine and trim options.
Come give it a test drive and you will notice what a luxury SUV this is. But don't be fooled, it's so much more. This thing holds its own off the road too: with Quadra-Lift air suspension, four-wheel drive, and let's not forget that extra five horsepower and V-8 options, the Jeep Grand Cherokee stacks up to its more rugged brother the Jeep Wrangler—and as an avid fan (and owner) of the Jeep Wrangler, I would trust this Grand Cherokee anywhere I could take a Wrangler.
The new Grand Cherokee is not to be ignored. It's one thing to read about, but it's something completely different to see, touch, and experience in person. Mount Airy Chrysler Dodge Jeep Ram has some of the best looking 2015 Grand Cherokees you will find anywhere else. So, what are you waiting on?
Andrae Bergeron,
CCP Web Design Staff Writer | SEO Charlotte