2016 Chrysler 200: Something Better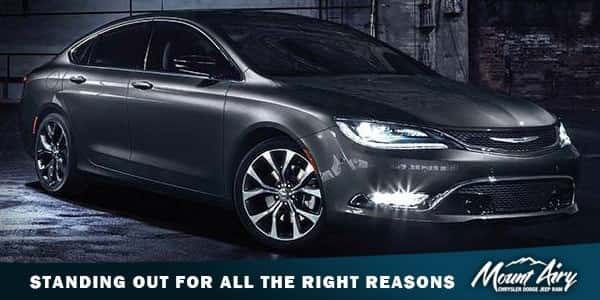 The 200 is Chrysler's entry-level vehicle into a highly  luxurious line of family sedans. It has almost all of the amenities that the  300 has and there is something special about the new 2016  Chrysler 200.
The 200 is really what defines the Chrysler brand. In  a car category with so many competitors such as the Honda Accord, Toyota Camry,  Ford Fusion, Mazda 6, and Hyundai Sonata, the Chrysler 200 stands out as  something new and different—and better. With the 200, Chrysler manages to blur  the lines between family sedan and luxury vehicle by throwing in those perks  usually found only in the more elite vehicles. Things like a heated  leather-wrapped steering wheel, keyless entry, rain sensing windshield wipers,  voice recognition, and advanced break assist are not usually found in an entry–level  sedan. But they are all in the 200. And if that's not enough to wow you,  think about this: The 2016 Chrysler 200 is the only car in its class to offer both front or  all-wheel-drive. And, when it realizes the all-wheel is not needed, the 200  switches back to front-wheel. On its own.
The exterior is still as sleek as last year's re-design. Its  wave-like curves and long, stretched lines have helped it to become one of the  more stylish sedan options out there. But what I like best about the body style  is its way of setting an elegant tone, and doing so without being gaudy. This is  a sophisticated car.
A few other changes to the Chrysler 200 for the 2016 model  include an easier to use and understand Uconnect touch-screen infotainment  system—probably the best touch screen device in any sedan—a rear backup camera,  a blind spot monitor,and optional V-6 on Limited models.
Sedan drivers cannot go wrong with the Chrysler 200. Test  drive one today and see for yourself at Mount Airy Chrysler Dodge Jeep  Ram.
-Andrae Bergeron