2016 Dodge Charger: A Modern Muscle Car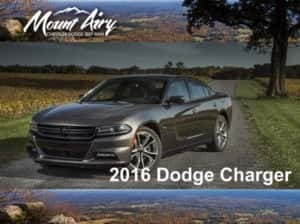 At Mount Airy Chrysler Dodge Jeep Ram, we love the 2016 Dodge Charger. It is a classic muscle car. But at Mount Airy Chrysler Dodge Jeep Ram, we also love families. Thankfully, the four-door 2016 Dodge Charger is both a muscle car and a family sedan. You no longer have to choose between hot muscle car and a family sedan- you can have both.
The 2016 Dodge Charger is a force to be reckoned with. Dodge's midsize muscle car reflects the perfect synthesis of classic style with a modern flare. The 2016 Dodge Charger borrows from the past only to showcase its modern capabilities. Its 1960s Coke bottle shape reminds us of the days of old and manages to bring back to life a classic sports car.
To take claim as a sports car, it better look good. Really good. And the 2016 Dodge Charger looks better than it ever has. The first thing done to make the 2016 Charger a modern version of its former self is a reduction of bulk. Nowadays there is no need for the heavy metal machine, so Dodge decided to do a little trimming. Though the 2016 Charger is no less in length than last year's model, it looks much more refined and compact. But don't let this visual stunt fool you, the 2016 Dodge Charger is still a midsize sedan covered in muscle.
But what we really want to see is how well it performs. After all, you cannot claim muscle-car status without being able to burn some rubber. With a Pentastar 3.6-liter, V-6 engine that produces 292-horsepower and 260 pound-feet of torque, burning a little rubber is no problem at all.
And here is the most impressive bit about the 2016 Dodge Charger: it gets great gas mileage. Who ever heard of a muscle car with good gas mileage? This is exactly what makes the 2016 Dodge Charger a modern marvel. Its ability to get 19 mpg city and 31 mpg highway is simply unparalleled.
Yet has there been such a perfect blend of the best bits of the past mixed perfectly with the innovations of the present as there is in the 2016 Dodge Charger. Come test drive the classiest muscle car out there today.
By Andrae Bergeron
CCP Web Design Writer
Click Mount Airy Contributor