2016 Dodge Dart: Driving Tips For Teens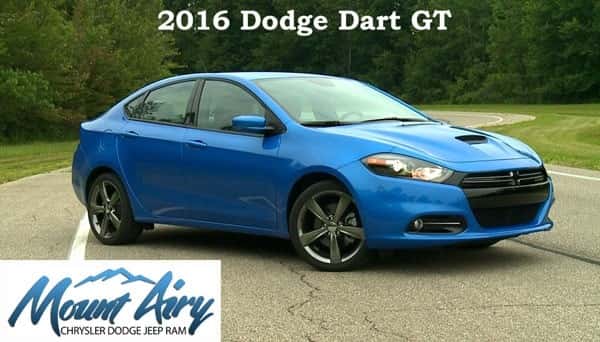 New technology in the 2016 Dodge Dart can help first time teen drivers stay alert on the road. Come down to Mount Airy Chrysler Dodge Jeep Ram for a test drive!
You have a white knuckled grip on the wheel, one eye on the speedometer and the other straight ahead. It's your first time on the open road. For teens, driving can be stressful. It can be dangerous. But with the right vehicle, and a few key tips it doesn't have to be.
Let's begin with the vehicle. A teenage driver needs something with flash, performance, and safety. It just so happens that Mount Airy Chrysler Dodge Jeep Ram has the car with all three. The 2016 Dodge Dart is the perfect car for a teen anxious to get on the road. With its 2.6-liter, inline-4 cylinder engine, and 160-horespower, the 2016 Dart refuses to hesitate. It gets you where you need to be with speed and style. Plus, with 10 standard airbags and exceptional crash-test ratings, it holds the driver's safety first and foremost. And it doesn't hurt that it looks great with sleek, aerodynamic curves and bright, bold colors.
The 2016 Dodge Dart allows your teen driver to use their phones hands free through BlueTooth. This means you can control music and phone calls with the sound of your voice. On the Dodge Dart GT and Limited, you can have keyless entry. This means the car detects when you are approach with the key fob and automatically unlocks. So no more fumbling to find your keys!
Once on the road, whether it's a long trip to the beach with friends, or a quick ride across town, there are a few tips that can maintain a safe travel for all those involved. First, there are the basics. It will be tempting in your new 2016 Dodge Dart to drive fast, but adhering to the speed limit is crucial. After all, excess speed is one of the main causes of teenage accidents. Check your mirrors, know your blind spots, and always be aware of your surroundings.
Next, there are things that come with experience. Never slam on the breaks while driving on ice, snow, or water. Don't trust blinkers. If another car shows sign of turning, wait until it actually turns before moving. And never ever text when behind the wheel. It can always wait until you are parked and the vehicle is turned off.
Now it's time to enjoy the feeling of cruising down the road with windows down and the radio up. In Mount Airy, NC, we want our teens to be safe in our community. Making sure your teen driver is in the right car will give you a little more peace of mind.
Written by Andrae Bergeron
CCP Web Design Staff Writer
Mount Airy Dodge contributor