2016 Jeep Renegade: The Biggest Little SUV Around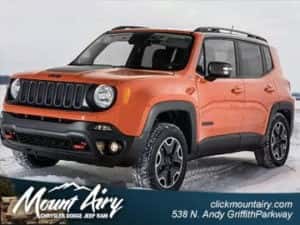 Looking for a small, but tough SUV to navigate through the mountains? Mount Airy Chrysler Dodge Jeep Ram is happy to showcase the new 2016 Jeep Renegade!
In a market flooded with oversized SUVs and crossover vehicles, the Chrysler company has realized that there is something missing: a small SUV that packs just as much punch as the bigger ones. So, with the arrival of the 2016 Jeep Renegade, Chrysler manages to reach an entire group of drivers who are not willing to pay the price for a Wrangler or Cherokee, but still want that Jeep quality and toughness.
Like all Jeep models, the Jeep Renegade comes with many options for upgrades. There are two different four-cylinder engine types to choose from (one of which is a turbocharged, 1.4-liter with 160 horsepower) and each comes with either front or all-wheel drive. In addition to this the 2016 Jeep Renegade offers ten different equipment groups, each varying in features and add-ons, including basics such as cruise control and air conditioning, leather seats, and wireless internet. Drivers can also opt for Bluetooth connectivity, ambient lighting, heated seats, and 18-inch alloy wheels.
The best part of driving the Jeep Renegade is that it has the feel of a Jeep; that presence of substance and power that pulls through tough terrain and pushes up hills. Upon the first drive you realize that though it may be the smallest of the Jeep vehicles, it by no means is the weakest. And, despite its lack in length, its height allows passengers an elevated ride and the pleasure of roominess and comfort.
Jeep lovers won't be disappointed in the Renegade's look either. Its front-end and circular lights are a direct nod to the Jeep Wrangler, while the body shape is more modern and fit, sporty even. This will be one to turn heads, that's for sure.
The 2016 Jeep Renegade proves that big things come in small packages. 2016 is sure to be a good year for Jeep lovers, especially those who need a practical, yet tough vehicle to commute and have some fun in.
Whether you are interested in 2016 Jeep Renegade or want the classic Jeep Wrangler– you can shop both at Mt. Airy Chrysler Dodge Jeep Ram. Looking for a 2016 Jeep Wrangler in Winston-Salem? We are just 20 minutes up Highway 52, and we have the best prices around!
By Andrae Bergeron
CCP WebDesign Writer
Mt Airy Chrysler Dodge Jeep Ram Author