2016 Jeep Wrangler: 5 Fun Adventures This Summer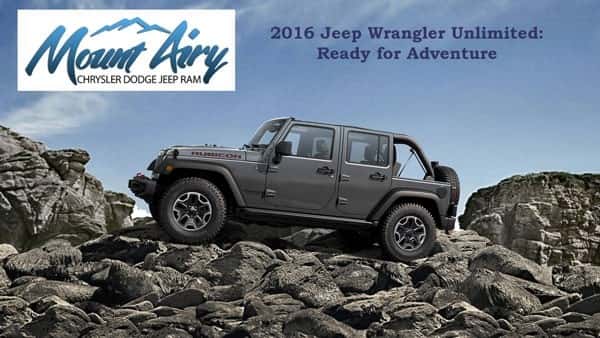 It's the perfect time of year for Jeep drivers. The weather is beautiful, you have the top off your new 2016 Jeep Wrangler Unlimited, and now you're looking for adventure. And if you live anywhere from Mount Airy to Abingdon or Bristol, VA, there are plenty summer driving adventures to be had. Here are five fun things to do in your 2016 Jeep Wrangler Unlimited this summer:
Throw the fishing pole, a few blankets, and some snacks in your 2016 Jeep Wrangler and head up to Pilot Mountain State Park. Here you can hike miles of trails, go fishing down the Yadkin, or set up camp at any of the 49 available sites. This is a great trip to open up your new 2016 Jeep Wrangler Unlimited and get it a little dirty.
For something more serene, hop on the Blue Ridge Parkway and enjoy the beautiful views. Taking the top off your Jeep Wrangler is a must for this trip. Whether you are coming from Jonesville, VA or Mount Airy, there are plenty of stops on the Parkway for a picnic or just to get out and stretch your legs.
A four to five hour trip down US-64 can get you to the Outer Banks, arguably one of the prettiest beaches in North Carolina. A great reason to have a Jeep Wrangler on this trip is that you can park right on the beach! Just be sure to visit the Outer Banks official website to check the rules, such as when and where you can park.
For a bit of refinement, I suggest loading up the Jeep Wrangler Unlimited with some friends and heading out to one of the many great wineries between Mount Airy and the Virginia border. One that particularly stands out is Old North State Winery. Located off Main Street in Mount Airy, Old North has exceptional wine and food.
Running through Virginia and on to North Carolina, the Ararat River is a great place to catch your own dinner. Grab your fly fishing pole and pack your Jeep Wrangler full of friends and drinks and enjoy the summer weather.
At Mount Airy Chrysler Dodge Jeep Ram, we have a great selection of Jeep vehicles including the Jeep Grand Cherokee and Jeep Cherokee.
Written by Andrae Bergeron
Mount Airy Chrysler Dodge Jeep Ram contributor