2016 Jeep Wrangler: Freedom Edition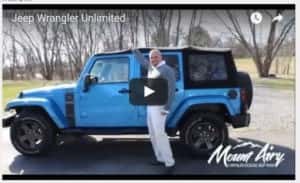 The 2016 Jeep Wrangler Freedom edition venerates our country's armed forces by militarizing the iconic Wrangler with Oscar Mike badging and freedom star decals, as well as adding some other key features that make the Wrangler one of the most unique and well built SUVs in history.
Features to the 2016 Freedom edition include a premium Sunrider soft top made of acrylic, able to fold and bend easily and to cover and stretch perfectly across the top of the Jeep creating a durable roof that expertly protects from the outside elements. Another feature is what's called the Connectivity Group, a high-tech communication system between you, your Jeep, and the outside world. This group includes tire pressure monitoring, Uconnect, an electronic vehicle information center, and voice command that is activated through Bluetooth. The Power & Convenience feature adds power locks, power heated exterior mirrors, power front windows, an auto-dimming rearview mirror including a reading lamp and security alarm, and remote keyless entry. Lastly, making the Freedom edition even more unique, is the Oscar Mike badging. Oscar Mike—who are actually a group of veterans that run an apparel company with the goal of raising money for injured veterans to assist and help them live active lives—is a name for the military phonetic alphabet where the "O" in Oscar and the "M" in Mike actually stand for "On the Move."
Some other changes made for this special edition of the Wrangler include Freedom Edition seats that are trimmed in leather with silver stitching, and are branded with Oscar Mike on the top. And, as always, the 2016 Wrangler is tough and ready to get dirty with its all-weather floor mats, durable interior materials that are soft to the touch but made to last, as well as a frame and engine designed to push through just about any terrain.
Best of all, Jeep is donating a portion of every Wrangler Freedom edition sold to a military cause. So do yourself a favor and check out the new Jeep Wrangler Freedom edition, and support our veterans while you do.
Andrae Bergeron,
CCP Web Design Writer
Mount Airy Chrysler Dodge Jeep Ram Contributing Author