2016 Ram Truck vs. the 2016 Ford F-150 vs. the 2016 Chevrolet Silverado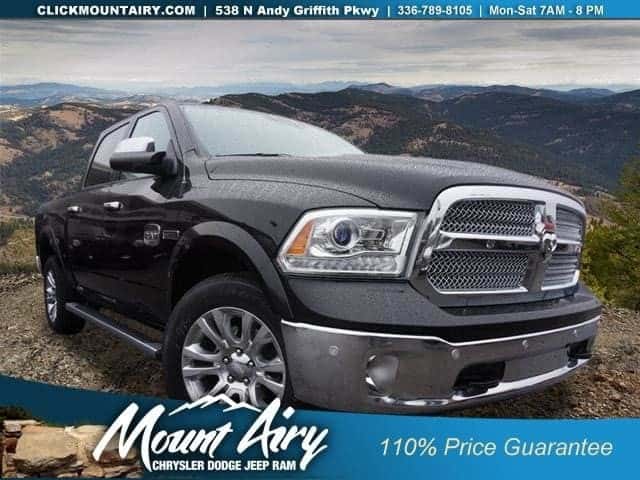 In Mount Airy, NC, you either need a truck or you want a truck. But which truck is best for you: 2016 RAM 1500, 2016 Ford F-150, or the 2016 Chevrolet Silverado. We of course love the 2016 Ram 1500, but let's compare all three.
When considering the new RAM 1500, Ford F-150, and Chevy Silverado, it's notable that all three are durable machines made to handle heavy work loads and tough terrain. But when it comes down to it, you want the best for your money and time.  One that fits you and your needs, and can continue to do so year after year with minimal maintenance.
Let's start with the least impressive of the three: the 2016 Chevy Silverado. Though this truck is impressive when compared to others, it just does not stand up to the RAM 1500 or Ford F-150. The biggest problem with the Chevrolet Silverado is that it tends to feel sluggish when pulling heavy loads, even though it does have 305 ft-lbs. of torque. In fact, out of all three, the 2016 Chevy Silverado has the lowest power output, despite its 285 horsepower.
The 2016 Ford F-150 is next on the list. The new Ford F-150 comes with some fun features- mirror mounted spotlights, a trailer light check that is shown in the driver's information cluster, and a highly effective bed step that makes loading and unloading easy. And it has a strong powertrain that pulls exceptionally well. A few problems found though include loose steering, which can cause some control issues when driving at faster speeds, especially when hauling heavy materials, a lackluster interior, and its 253 ft-lbs. of torque and 282 horsepower just don't match up to the RAM.
Saving the best for last leaves us with the 2016 RAM 1500 as the winner. With 269 ft-lbs. of torque and 305 horsepower, the new RAM leads the pack in terms of power and performance, and is currently the only half-ton truck to offer a diesel engine. The interior is luxurious and roomy, and the frame and suspension are unbeatable. The 2016 RAM 1500's suspension actually levels out while the truck is moving to help the truck drive flat and smooth.
Take one test drive and it will be clear: the 2016 RAM 1500 is the complete package. You can schedule a test drive at www.clickmountairy.com. Or just stop by 538 N Andy Griffith Parkway Mt Airy NC 27030.