2017 Chrysler Pacifica: The Innovative Leader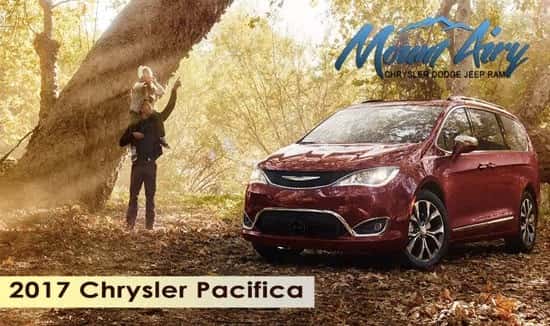 Though recent competition has increased in the minivan market, the Chrysler Pacifica remains one of the top-selling models year after year. And to keep distance between itself and those inferior, the 2017 Chrysler Pacifica comes completely revamped as one of the most innovative minivans ever made. Here are a few of many features to the newly invented 2017 Chrysler Pacifica.
Hybrid drivetrain. The all-new Chrysler Pacifica comes with an optional plug-in hybrid drivetrain, which provides up to 30 miles of electric only power before the V-6 engine takes over. With just two hours charge time, you are back on the road—saving money and trips to the gas station.
Sporty new look. Take a peek at the 2017 Chrysler Pacifica and you will notice something you have probably never seen before in a minivan: it looks cool. Though the 2017 Pacifica has more chassis strength and is more durable than ever, it has shed 250 pounds. The extensive curvature makes the sides and back look extra sleek, while the slight chrome accents highlight the grille and lights. This is sure to bring confidence to Pacifica drivers and intimidate the competition.
Autonomous technology. Tired of those tough parking situations? Parallel and perpendicular turns, the stop and go—forward then back again—only to find you are too far out from the curb. Well, not in the 2017 Chrysler Pacifica. With new safety technology you can trust your Pacifica to complete these tough maneuvers for you. That's right, the 2017 Pacifica actually takes over when you need it to. Plus it comes with forward collision warning and land departure warning, both with brake mitigation, and rear park assist with auto stop.
If you are, or are about to be, a minivan driver you will not find another like this one. The 2017 Chrysler Pacifica sets the bar in safety, performance, and innovative technology. And it's not so bad on the eyes. It might just be the coolest minivan in history. Stop in to Liberty Buick today and test drive one for yourself.
Written by Andrae Bergeron
Mount Airy Chrysler Dodge Jeep Ram contributor
CCP Web Design