2017 Chrysler Pacifica: The Modern Minivan is Here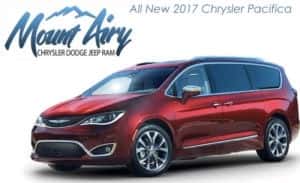 The 2017 Chrysler Pacifica is already turning heads and we can't wait to get it on the lot at Mount Airy Chrysler Dodge Jeep Ram! It's a mini-van that feels like a luxury family car!
Minivan drivers, both young and old, have quite a surprise as Chrysler introduces its new Pacifica. Originally Chrysler's midsize crossover vehicle, the 2017 Chrysler Pacifica will replace the company's original minivan, the Town & Country, as a modernized version of the family-van.
It has been over thirty years since the minivan was created and the import of its presence has changed greatly over this time. The original minivan was seen as an innovative designed vehicle, large enough to haul the entire family, yet easy on gas consumption. But as the years turned, and so the particular tastes and desires of customers, the minivan remained constant in certain innovations but failed to adapt its overall presence to the liking of modern drivers. It has since become known as the family-van, something large and lackluster, a capsule full of kids. But this year brings a monumental change to the idea of what a minivan can be.
Tim Kuniskis, Fiat Chrysler-North America's head of passenger car brands, explains that the company wants to change the consumers' view of the minivan by modernizing it into something desirable in performance and looks. This big move to re-brand the minivan is done by completely overhauling its exterior. This is something that should have happened years ago. What before came with faux wood paneling and awkward shaping, now comes as sporty, sleek, and refined. Its rather cube-like frame completely rids itself of the standard minivan shape, and it sits low to the ground, making it easily accessible.
The 2017 Chrysler Pacifica will include a plug-in hybrid model, as well as 37 innovations. Inside, the Chrysler Pacifica has LED lighting throughout, hands-free capabilities,such as sliding doors, and high definition touchscreens in the second row. It will also include an integrated vacuum system and a tri-pane panoramic sunroof. Under the hood, Chrysler has added some major power by using a nine-speed automatic transmission with a 3.6-liter Pentastar V-6 engine, ensuring a constantly smooth and quiet ride with a punch.
Officially arriving this March, the 2017 Chrysler Pacifica is promised to have "unsurpassed fuel economy," and over 100 available features. One of these will be a 360-degree camera system that also conducts a bird's-eye-view of your surroundings. Other features will include cruise control with braking capability, forward collision alert, park-assist, and an updated Uconnect Theater entertainment system.
Though SUVs and Crossover vehicles have taken more of a front seat in terms of sales, a void has remained to be filled. There is just nothing better for hauling a family than a minivan, and with the 2017 Chrysler Pacifica. Chrysler has breathed life back into a product that has for many years been on its way out. The void has been filled and the minivan is back. And it's better than ever.
If you are looking for a family vehicle in Mt Airy, Elkin, Surry County, Winston-Salem or Danbury- drive on over to Mt Airy Chrysler. We are located at 518 N Andy Griffith Pkwy.
Written by Andrae Bergeron