2017 Chrysler Pacifica: Prepare for Family Road Trips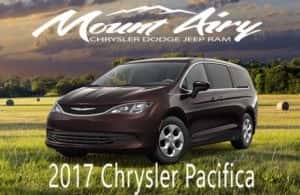 The 2017 Chrysler Pacifica is the definitive modern family-van. It's comfortable, powerful, and sporty. Yes, I said sporty. Not a usual descriptor for a minivan. But, the 2017 Chrysler Pacifica isn't your usual minivan. And this break from the minivan mold is exactly what makes the all-new Pacifica your best option for family road trips.
The 2017 Chrysler Pacifica's cool new design is expertly laid out for optimum comfort. Its long body takes on a shape similar to that of a sporty SUV. Only the Pacifica sits lower to the ground. This allows for easy access and plenty of room from the front of the cabin, all the way back to the trunk. And the dual-panel moonroof over the second row, and fixed panel moonroof over the third row, provides natural lighting and a better view for the entire family.
Under the hood, the 2017 Chrysler Pacifica runs off a powerful 3.6-liter, V-6 engine. With 287 horsepower, the new Pacifica has surprising speed and punch. Driving through those hilly landscapes of Galax, VA? No problem. The V-6 engine smoothly navigates tough curves and steep inclines. And, 2017 finds the Chrysler Pacifica at a combined 22 miles per gallon. Not bad at all for a minivan with this size engine.
Comfort, quality, power…What else could you want in a minivan? How about style? The sleek curvature and build to the 2017 Chrysler Pacifica makes it the coolest minivan on the market. The front grille and headlights look as though they are being pulled from the roof and sides, all meeting towards the back. This strays from the typical bulky-box look of minivans and introduces serious style.
Sleek new designs combined with a powerful engine make for one fun, family adventure. It's time to get out of the house and on the road. Get the family together in the 2017 Chrysler Pacifica and hit the road. Sometimes, it's not the destination that matters.
Looking for a mini-van in Mt Airy? Looking for a mini can in Jonesville? Looking for a mini-van in Winston-Salem? Find the 2017 Chrysler Pacfica at Mt Airy Chrysler Dodge Jeep Ram.
Written by Andrae Bergeron
Mount Airy Chrysler Dodge Jeep Ram contributor