Mount Airy CDJRF Sponsors Upcoming Mayberry Days Festival
Sometimes we long for small towns and more simple times. Back when we knew our neighbors and all the town's comings and goings, bake sales and talent shows were big events and we could count on meeting a friend at the grocery or hardware store. Nostalgia conjures up a place not unlike Mayberry — that fictional town where Mount Airy-native Andy Griffith was born and raised and where, for nearly 30 years now, a festival celebrates bygone days.
Mayberry Days, held Sept. 24-30 in historic Mount Airy, is a family-oriented festival featuring a parade, live music, comedy shows, a slew of contests including pie-eating, pork chop sandwich-eating, and a checkers tournament, educational lectures, Andy Griffith movies, and special guests from the Mayberry show. It's about as wholesome as you can get.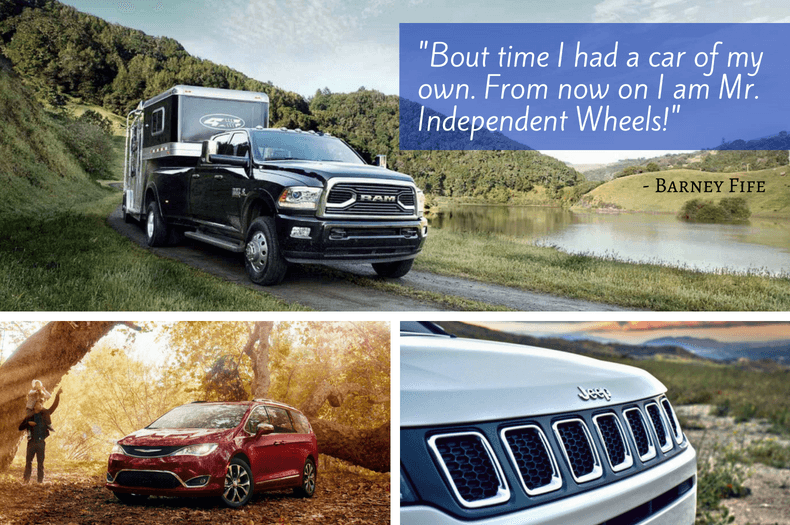 As an expression of gratitude to the local community, Mount Airy Chrysler Dodge Jeep Ram Fiat is an annual festival sponsor. Be sure to look for Mount Airy Chrysler Dodge Jeep Ram Fiat at the festival — you may even see one of our cars in the parade. The parade is a festival highlight with appearances from esteemed luminaries including the Pickle Queen, Potato Queen, and Pork Princess, a marching band, vintage squad cars, and a cow wearing shoes. 
Want to get in on some of all the action? Consider the apple peeling competition, which harkens back to an episode of The Andy Griffith Show in which Andy peels an apple in one long, curly strip. If you're hungry, enter the pork chop sandwich-eating competition and try to beat the record of eight. Know-it-alls will want to be part of the trivia contests, while those with a nine-iron on their shoulder can play in the Mayberry Days Golf Tournament (aka The Emmett).
Take in a show at the Historic Earle Theater, an old-time music hall and stage that's been entertaining folks since 1938. Throughout the year, the theater features exhibits, an audio-guided tour, lessons, and workshops. During Mayberry Days, you can catch comedy from The Mouth of Mayberry, John Floyd, on stage, reminisce with Memories of Elvis, and join in a discussion about "Murder in Coweeta County," a 1983 film about a true crime in which Griffith takes a turn playing the villain to Johnny Cash's sheriff. On Sept. 28 the theater welcomes the best in bluegrass and Americana for the Beyond the Blue Ridge series, and on Dec. 29 there will be a dance.
For a full schedule of Mayberry Days activities as well as tickets and competition registration, visit surryarts.org/mayberrydays.
While you're in town, come on by the dealership and visit us too. We've got great specials on new and used cars plus our commercial trucks and vans can keep your business going. You can find us at 538 North Andy Griffith Parkway, online at clickmountairy.com, or just give us a call at 336.429.5462. We'll be happy to take you out for a test drive or, if you find yourself in a bind, ring up our service department and, while we don't have Goober and Gomer Pyle working in the mechanic's department, we'll make any repairs needed to help get you on your way. 
_______
First-time car buyer?
Don't get taken advantage of like Barney Fife!
Watch The Andy Griffith Show's episode "Barney's New Car."