4 Things to Have Serviced on Your Car This Summer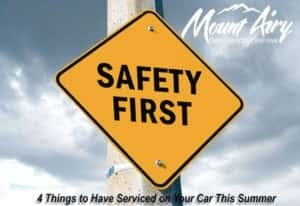 Mount Airy Chrysler Dodge Jeep Ram knows it is important to take extra precautions in order to make sure your car runs correctly this summer. Extreme heat can do major damage to integral parts of your car. And if these things are not checked regularly, you could end up stranded. Or worse, you could end up needing a new vehicle.
Here are four ways to keep your car alive and well during the summer heat:
Get your battery looked at. Heat and vibration can cause your battery harm. Sitting in the sun all day can evaporate battery fluids, and long summer trips can cause your battery to wriggle free from its connections. Take your car to Mount Airy Chrysler Dodge Jeep Ram's service department to have it checked right away.
Have your coolant flushed. Your vehicle's coolant fluid keeps the engine from overheating. Something very important during the summer. After long periods of time, the coolant can become contaminated and much less effective. It's a good idea to have this fluid flushed and replaced with fresh coolant that can keep your car running smoothly.
Check all other important fluids. Your car runs the best when the oil, transmission fluid, power steering fluid, and break fluid are all topped off. These are relatively easy to check and should be looked at about once a week. If you have trouble finding any of these, contact a service member at Mount Airy and he can tell you exactly what to do.
Get your air conditioning system checked by a certified professional. Driving without air conditioning in the summer is uncomfortable. But even worse, it can cause dreariness and fatigue for the driver, putting you and your passengers at risk. Even if you're a/c seems to be okay, it's a great idea to have it checked anyway. You never know when it could run out of fluid or break down. And you do not want to be in the middle of a summer road trip when this happens.
Avoid being stranded this summer and head on over to Mount Airy Chrysler Jeep Dodge Ram today and have your vehicle serviced and ready to go.
Written by Andrae Bergeron
Mount Airy Chrysler Dodge Jeep Ram FIAT contributor