Tune Up Your Driving Machine at Mount Airy's Certified Service Center
February may be the shortest month of the year, but it has the biggest savings. In this last half of the month, Mount Airy Chrysler Dodge Jeep Ram Fiat has some great discounted services and coupons expiring—and they expire on February 28, so you have to act fast! Take a look at a few of the deals we're offering: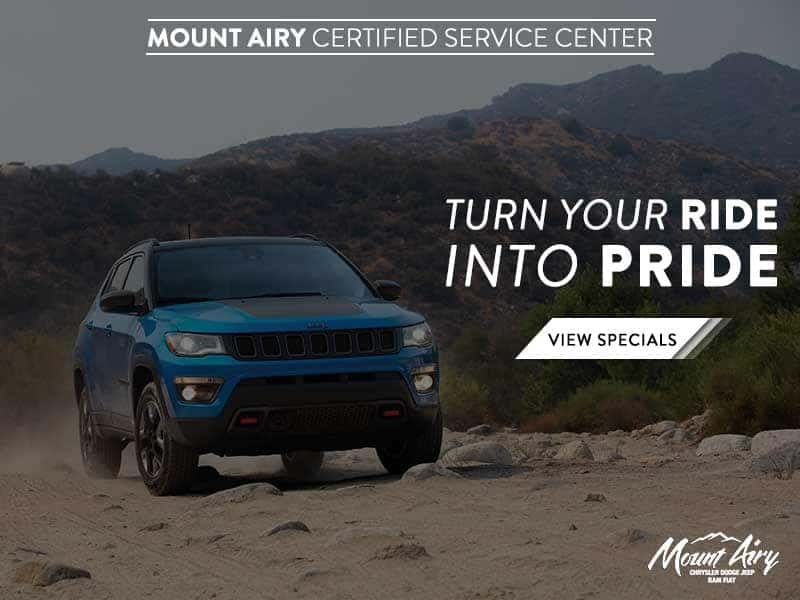 Express Lane Oil & Filter Change
Have you been putting off your next oil change? As you know, conventional oil should be changed every three months, or 3,000 miles. With this Express Lane coupon, for only $15.00, you can receive a conventional oil replacement for up to 13 quarts.
A synthetic oil change comes in at $114.95 for up to 13 quarts. Synthetic oil changes for newer cars are recommended every 10,000-15,000 miles, as they last longer than conventional oil, but turbo engines and older cars may still require oil changes every 3,000 to 5,000 miles. Synthetic oil is designed for performance, as it provides a quicker engine start time, cleans engine sludge and deposits, and increases fuel and oil economy. If you're concerned about making the switch from conventional, don't worry. There are no consequences to switching between oils.
For $184.95, the EcoDiesel oil change is a great deal, at up to 11 quarts.
All of these oil options come with a new Mopar®/Magneti Marelli® Oil Filter. This offer is valid for most makes and models, and there will be an extra charge for each additional quart of oil, at $3.00 for conventional oil, and $9.95 for synthetic oil. If you have any questions, you can talk to our friendly service team about what's best for your budget and your engine.
AC Inspection
Spring is around the corner, and with our unpredictable North Carolina winters breaking into summer weather every other day, there is no better time than now to have your vehicle's air conditioning checked! For only $8.99, our service team will perform an A/C system performance check, visually inspect system components for leaks, and check temperature readings and compressor operation. Stay ahead of A/C problems and don't wait until a hot day to find that your vehicle is blowing out hot air. A/C problems can come from a worn valve, refrigerant leak, or broken belt, any of which can cause more damage to your vehicle than if you're A/C if left unrepaired.
Charging System Test
For only $14.99, our team will test your battery, voltage regulator, and alternator/generator. Why would you want to test these, and how often should they be tested?
Testing your battery:
Your vehicle's battery supplies the power to start your engine and powers the electronics in your vehicle when it isn't running. Most of us are also familiar with the fact that a dead battery will leave us stranded. So, needless to say, our car's battery is one of the most important parts of our car.
In general, vehicle batteries last about four to five years. It's recommended that they are tested at least twice per year, typically in the late fall and late spring. This is because extreme hot and cold weather wear batteries down; hot weather causes the acid to evaporate and causes corrosion, whereas cold weather can slow the chemical reaction in a battery and make it work harder to start your vehicle. Extreme cold weather can also freeze your battery, and once a battery is frozen, it will have to be replaced.
Testing the voltage regulator:
Voltage regulators limit the maximum amount of voltage to prevent the alternator from shorting and overheating. If your car has lights that are dim or pulse, you might have a bad regulator.
Testing the alternator/generator:
The alternator is your car's electrical generator; it spins the belts around your engine and recycles electrical power. When the alternator stops working, your vehicle's battery will die quickly, and your vehicle is unlikely to start again. Dimmed lights inside the vehicle dash, a smell of burning rubber, a grinding or gritty sound when the vehicle is running, or slow moving windows and seat adjustments may be signs that your alternator is not running correctly.
These are only a handful of the deals ending this February, so head over here to check out more of the services (we're talking Brake Pad Replacements, Multi-Point Vehicle Inspections, and more!) that you can save on this month at Mount Airy Chrysler Dodge Jeep Ram Fiat.