A Christmas List for Your Vehicle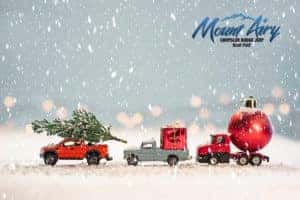 It's getting to that time of year again, the one when you struggle to find gifts for friends and family—even yourself! This year, make it easy and get those you love something that can make life more convenient and comfortable. Car accessories, add-ons, tools, and enhancements are abundant and are the perfect gift for those hard-to-buy-for individuals. Make travel easier and more fun by creating your own Christmas list for your vehicle.
What should make your vehicle Christmas list? All things that enhance your driving experience in terms of convenience, comfort, and safety are worth considering. Honestly, there are so many options out there when it comes to personalizing your vehicle that it can become a bit overwhelming, which is why Mount Airy Chrysler Dodge Jeep Ram has culled a list of this year's 10 best vehicle add-ons. Check out what we found:
1. The TWC-01. Car vacuum—$25 on Amazon.
Keeping a car clean can be difficult, especially when children are involved. The presence of a compact, powerful car vacuum can help you to clean messes up in the moment. Especially handy for those longer car rides, the TWC-01 comes with a 16-foot cord that plugs into the car itself, allowing for cleaning in even the hardest-to-reach areas.
2. Amazon Echo Auto—$50 on Amazon.
Anyone who uses Alexa regularly will benefit from this gift. The Echo Auto is a small gadget that connects Alexa to your car and lets you use the virtual assistant safely. Once the Echo is incorporated, you can use it for entertainment and navigation by speaking into any of the eight built-in microphones.
3. Reverse Travel Umbrella—$26 on Amazon.
What makes this umbrella special is that it is both wind resistant and it folds inside of itself, which keeps it from leaking over the interior of your car (everyone hates that terrible mess of trying to quickly enter the car while simultaneously folding up the umbrella only so it can then pour all the rainwater it collected over you and the inside of your car; kind of defeats the purpose of the umbrella). It also comes with a lifetime warranty and is offered in a variety of colors. In other words, you'll be dry and stylin'!
4. Bluetooth 5.0 FM Transmitter—$40 at Amazon.
Feeling bad because you don't have the latest and greatest infotainment inside your car? Worry no more with the 5.0 Transmitter that charges phones, transmits the radio, and manages phone calls. This tool's multifunctionality makes it effective on multiple levels—it can even play audio files, act as a virtual assistant, and light up!
5. One-Touch Cup Holder Car Mount—$29 at Amazon.
Using this car mount is a great way to put that extra, unused cup holder to use. The base of the phone mount locks into place, ensuring it won't move or fall out while driving, so your phone can securely charge and navigate as you drive. It even comes with a magnetic cord organizer to keep wires from being strewn about the car—and it's compatible with any modern smartphone brand.
6. RAD 480i Laser Radar Detector—$150 Amazon.
Hmmm, what's the perfect gift for that speed demon in the family? A radar detector! And not just any radar either, the RAD 480i accurately detects both laser and radar plenty in advance for the driver to make any necessary adjustments to speed. The accuracy is due to the app's real-time updates combined with its ability to discern false alerts. Hopefully, this handy gadget will teach responsibility rather than encourage poor driving behaviors…
7. RESQME Keychain Car Escape Tool—$10 Amazon.
It should be standard that everyone has an emergency escape tool inside the car. We hate to even think about getting stuck inside or having someone stuck inside the car, but it happens. The RESQME tool can quickly break glass and cut seat belts. It's also incredibly lightweight and easy to store—and it comes in tons of colors. $10 isn't much when it comes to keeping yourself and your loved ones safe.
8. The Drive Bin—$12 Amazon.
Rather than using the car floorboards as a communal trash bin, allow your children the privilege of tossing garbage into an actual garbage bin. It's so hard to keep a car clean, but it's amazing what a perfectly sized little trashcan can do. The Drive Bin is waterproof (leaky drinks!) and comes with disposable plastic bags. Even better, it can adjust in shape,  so it fits just about anywhere you like inside your car—even attached to your headrest.
9. Riparo Motorsports Driving Gloves—$50 Amazon.
Ergonomically crafted with quality soft leather, the Riparo Driving Gloves are an excellent gift for anyone who drives—short or long distances. The perforated areas of the glove help to grip the wheel, and as they age, they mold to your hands and develop a patina. These come in multiple sizes and clip at the wrist for a secure fit.
10. Tile Pro Bluetooth Tracker—$25 Amazon.
As frustrating as it is to lose your car keys (why is it always when we're in a rush that this happens?), you would think everyone would have this product. The Tile Pro can track your keys from as far as 400 miles away, and it's waterproof. For $25, this should be in every stocking this year.
Our Favorite Travel Apps
Even with the best add-ons and apps and devices, traveling can be tricky, especially when the whole family is involved. Over the holidays any form of travel feels extra difficult—scurrying for flights, vying for parking spots, and learning new ways to get stuck in traffic. Luckily, these days there are plenty of apps to download that can keep you relaxed and on time to all of your destinations this holiday season.
Here are the travel apps we are most excited about this year:
Flightradar24
Get up-to-date information on any flight you want 24 hours a day. With this app, you will get notice of delays, cancellations, changes in locations, etc. so that you're always in the know of your flight status. Once you register with this app, you can view all fights from the past, as well as current ones, and you'll always get accurate information.
Skyscanner
Since the costs of flights fluctuate so much, it's best to have an app like this one that can scour the internet to find you the cheapest flight possible. All you need to know are your travel dates, and Skyscanner will do the rest. You can also filter flight times, number of stops, and other characteristics. Another nice aspect to this app is that it stores all your information, so you always know where you are in terms of purchasing tickets.
PackPoint
This unique app literally helps you pack your suitcases. Sounds crazy, but it works! Simply download the app, answer a few specific questions about your upcoming trip, and the app will create a packing list of things you need. These things will be based on weather forecasts in the area you are heading, and it will even provide locations of fun activities, gas stations, and anything else you specify as needed. Even better, the generated list is always customizable so you can make minor adjustments where necessary.
Waze
Getting lost is awful, but getting caught in severe traffic might be worse (at least you are moving while lost). Waze not only points you in the right direction, it considers traffic patterns in real-time and it makes adjustments while you're driving—these tweaks in direction are updated as drivers make notes on the app itself: if there is a car accident and you make note of it in Waze, it will update the entire system. Waze gets you where you're going by people helping people.
Safe travels this holiday season, and best of luck—not that you'll need it with these apps!