A Year of Surprises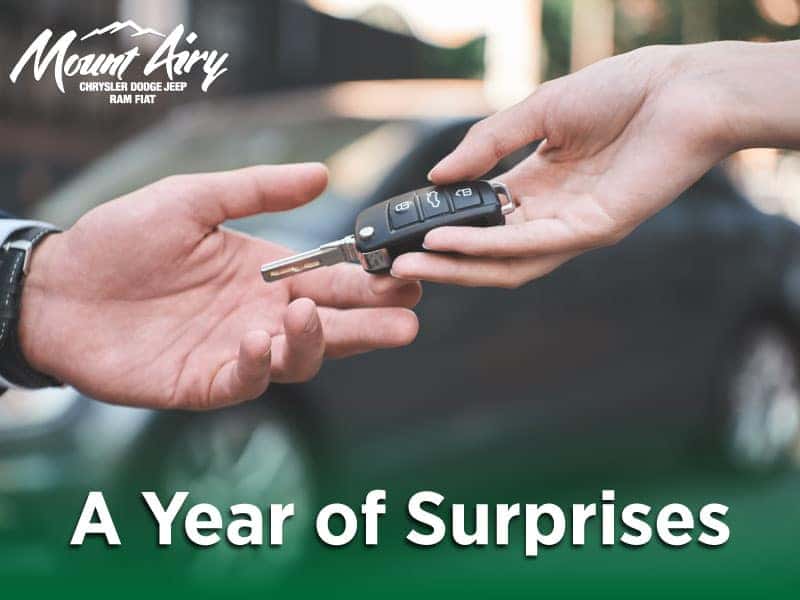 The past two or so years have been full of surprises. Between economic swings, new monetary innovations, and once-in-a-lifetime events happening weekly, we've gotten used to seeing new records. Markets have seen new highs (and lows). Something like the state of the current housing market is a great example of these unique circumstances.
Car sales are no different and, interestingly enough, used car sales have become stronger than ever. Mount Airy Chrysler Dodge Jeep Ram and Fiat understands the value of your used car and is a dealership perfect for your potential trade-in.
In 2021 average new car prices soared to a new high, traveling upwards at over 10% to get there, a result of the tried and true supply and demand. Kinks in the supply chain and an increase in demand have made car sales a world built for the seller. 
If you've been sitting on a used car, looking at it as a backup, you're not alone. That extra car in your driveway could yield much more than you could imagine, and there's never been a time like the present to list it. 
The State of the Used Car Market
When saying that the market is one built for the seller, you could argue you're understating just how easy it is to make money from a used car. 
Anyone who's browsed a dealership, or even glanced at the price of new cars, sees prices that would shock the system. Those record new car prices are followed by record used car prices, a total increase across the board. 
The current average value for a trade-in is somewhere around $9,852, which is over an 88% increase from last year.
Low-interest rates incentivize buyers to meet that average or possibly go beyond. 
Even more impressive, at the end of 2021, the average used car was selling for over $28,000! That cost was higher than some newer vehicles, especially new vehicles offered at a deal. 
This high price tag is looking destined to stay for some time. New cars frequently rely on countless parts that are a result of collaboration from many different manufacturers. 
Once production facilities shut down as the COVID-19 pandemic came closer to home, access to car parts became limited, causing the production to slow. One of the main culprits of the market's slowing is the shortage of computer chips. 
Car manufacturers, computer companies, and other producers of modern technology fought over the limited supply of computer chips. That left new car production, one reliant on those chips, in an uncomfortable place, especially when it happened alongside an increase in demand for those new cars.
That shortage won't last forever, so if you're looking to sell a used vehicle you should aim to do so soon. Still, playing catchup to the slowing in car production will take some time, so consumers can expect prices to stick around as long as catching up takes. 
Selling A Used Car
Dealing with the financial responsibility of any major investment can be daunting, and selling your car isn't too different. 
First, it's vital you get your ducks in a row. It's extremely important to make sure you have the necessary paperwork before thinking about selling your used car.
A title is the most important component of transferring a car's ownership. For those of you who may still owe money on your car loan, the lender will have your title. You'll have to pay your loan balance in full before the title can be transferred to the car's new owner. 
In North Carolina, you only need a bill of sale when purchasing a vehicle from a car dealership. But if you're out of state you may need to look into additional information before taking the leap on the listing.
Obtaining maintenance and repair records is not a required step but likely one to guarantee you'll get the most from your car, especially if you've invested a lot to keep it in great shape. Organized details of your vehicle's history can go a long way to make any potential buyers feel more secure in their purchase. 
Who To Sell To
The leg work to prepare a car for sale is one thing; finding who to sell it to is a completely different animal. You could go to a car dealer, list the car on a local community classified, or go to a third-party website. Each option has its own unique benefits. 
With the demand for used cars ever-increasing, manufacturers, dealers, and individuals across the country may be looking to get their hands on your used ride. While you know you'll have the proper audience, you also want the perfect buyer. Making sure you have responsible and trustworthy buyers is one of the most important aspects of used car sales. 
While you may be contemplating going about this endeavor on your own, as a way to ensure you'll have your hands on all the profit, you'd be surprised at how difficult it can be. Listing your car on your own can provide quite the challenge. People scheduled for a meeting may never show up, you may encounter someone absolutely set on a low-ball offer, or even worse, you could invite a sketchy person to your home.
Selling to a dealer absolves you of all of those responsibilities and removes the likelihood of those negative possibilities. Dealers know how to get the most for a trade-in. That allows them to offer you a good chunk of the pie. They can also detail and bring the car to an even better condition, giving you a higher ceiling for a selling price. But like anything, you'll want to make sure it's a dealership you can trust.
Mount Airy Chrysler Dodge Jeep Ram and Fiat is a dealership that can do a lot. With an intuitive "Value Your Trade" option you can get an estimate entirely online, making the process an easily accessible one. 
With overwhelmingly positive reviews, you can feel confident in getting the most out of your used car and the easiest road to a return on your initial investment. Why worry about the hassle of individual listing and marketing, the stress of the meetings and test drives? Eliminating that added pressure and going to a reputable dealer is the best way to get bang for your buck.
If you're still committed to the challenge of selling your car on your own, you still have options.
Dealerships, like Mount Airy Chrysler Dodge Jeep Ram and Fiat, and some 3rd party websites, offer handy valuing tools that can empower the rationale behind your pricing. Though after listing on your own there are a few important things to be cognizant of.
Here are three handy tips for those selling a car on their own:
Look at your potential buyers with some skepticism. Individuals who offer to buy the car without seeing it are an immediate red flag. Be careful of out-of-state checks or cashier's checks; both are commonly used as a scam on sales by the owner.
Maintain a paper trail. A concern you have that you wouldn't have with a dealer is the possibility of a buyer taking advantage of vague paperwork. Something like rounding the miles on the odometer can keep liability on you, even when they've driven off. 
Finally, be calculated when you schedule a test drive or viewing. As a rule of thumb, try to meet in a public area, not your home or somewhere you frequent.
Final Thoughts
Whatever way you choose to list or part with your used car or truck, just know it's the right time to sell. Making the decision to part with a big investment is a challenging one. I hope that this writing can provide you with a bit more confidence to navigate that decision.
Whether you go about selling your car on your own or choosing a reputable dealer, be sure you protect yourself and your investment in the process.
And who knows, after parting with your tried and true used car, you may be ready for a new one off the lot.
Take care and happy selling!
J. Dalton George