Best Places to Off-Road in Your Jeep
Sometimes a pleasure drive through the Blue Ridge Parkway just doesn't hit the spot. The Parkway is beautiful, but every now and then it's nice to get a bit closer to nature, maybe do a little off-roading. It's a wonderful feeling: the wildly bumpy ride, mud flying through the air, a tinge of danger all provided for you and your friends. As long as you keep safety first and find the best off-roading spots, you are sure to find this an exciting change of pace.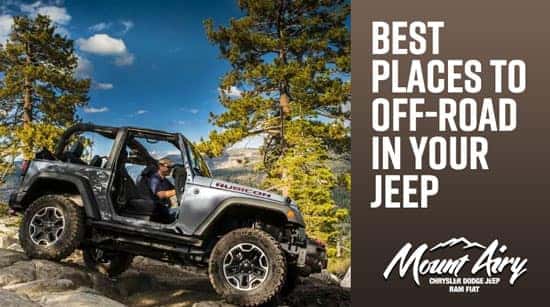 When getting ready for an off-roading excursion there are a few essentials. First, you must have a Jeep, and preferably a Wrangler. New or vintage it does not matter, there is no better vehicle to take off the beaten path than a Wrangler. Next, is placing safety first. Make sure safety belts are worn by everyone and the driver is familiar with the path. The last off-roading essential is to find the best spots.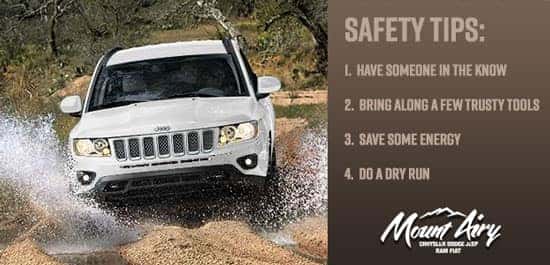 At Mount Airy Chrysler Dodge Jeep Ram Fiat we love off-roading, and we have compiled a list of some great spots. Find one close to you and see what you think.
This massive national forest is a great place to test the versatility of your Jeep. The story goes that some 450 million years ago these mountains were covered in volcanic rock, reaching a point of over 19,000 feet. Since then the area has eroded leaving high ridges and deep gorges perfectly fit for trudging through with a Wrangler. While you're there, if you don't feeling like climbing up, down, or through the rocky terrain, you can drive through any number of the forest's beautiful trails. This is a much softer ride, but still packs some fun off-roading experiences. Uwharrie National Forest is a great place to take family or friends. Maybe even pack a picnic and enjoy the beautiful views.
Some of Virginia's best off-roading, Big Dogs has been doing it for over twenty years. Not only do you get some massive trail rides, you can also camp. There's a food vendor, hot showers, bathrooms, and a shooting range. There is even a sandy beach! Even better, all events benefit a variety of charities. Drive any kind of vehicle you like, but for this course any model of Jeep is going to give you the most fun. Especially at this October's "Fall Crawl and RCPFA" event where you can enjoy plenty of fun drives all benefiting the local volunteer fire department. Check out their website for more details and events:
http://www.bigdogsoffroad.com/
This renowned off-roading spot was closed for a year or so but has recently opened back up to the public. If you are looking for some classic stuck-in-the-mud fun, Red Cloud is the spot for you. This mass of land is a mix of flat and hilly forest full of mud pits and trails. If off-roading were family-friendly, this would be the place. Not to say Red Cloud is tame. It's just a nice off-roading experience where you can control how extreme it gets. If you are feeling a bit sheepish, throw your Wrangler in low gear and have a blast making your way through the muddy landscape. If dangerous excitement is what you are looking for, hold tight and speed up a bit. Red Cloud will have no problem bumping you around. A word of advice for those taking it easy or extreme: make sure and have a way to pull your Jeep out of the mud if it gets stuck. No matter how tough vehicles may be, they will inevitably lose one to mother nature every now and again.
This beautiful Virginia Mountain has it all, rolling hills, open meadows, great bodies of water, and perfect camping spots. It just doesn't get any better than this. Hop right off State Route 617 at the lower trailhead and find yourself surrounded by massive trees and winding trails. Just be extra careful on this one. You might want to make sure your Jeep is lifted and ready for pits and rough ridges. Also, be on the lookout for washouts and pits seeming shallower than they actually are. This is the type of off-roading for those who have a little experience and have a pretty good idea of what his or her Jeep can handle.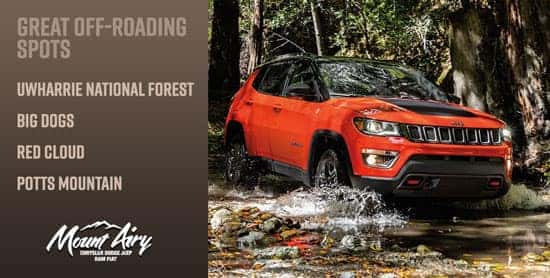 Now that you have some of our favorite spots, here are a few important safety tips:
Have Someone in the Know. Tell a friend or family member where you are going and when you expect to be back. You never know what can happen, and if you are out where cellphone service is sketchy it's a good idea having someone know to send a search party. There have been plenty of situations where off-roaders had to spend the night in the Jeep or hike for seemingly endless miles to get help. Don't let this happen to you!
Bring Along a Few Trusty Tools. Always plan for the worst. If you get a flat or get stuck there are quick fixes if you have the right tools. Be sure to bring along some thick rope and a few tow straps to pull yourself free. If you need to change a tire, and at some point you definitely will, bring some blocks of wood, a shovel, and a hand winch. While you're at it, go ahead and pack a first aid kit and some dry clothes.
Save Some Energy. Don't wear yourself out before or during the fun because you never know when you might have to walk to the nearest gas station or house. Even if you have someone back home who knows what you are up to, if you break down early in the day you have no choice but to seek help. It's not a bad idea to pack some walking or hiking shoes if you are not already wearing them either.
Do a Dry Run. Before you go bouncing down a trail, no matter how flat or smooth it looks, walk it first. There are too many stories of people taking to the trail without making sure it is safe and ended up doing some major damage to their Jeep. All it takes is a fallen tree, a mud or rock slide, even a developing pit to turn your fun excursion into a nightmare.
Watch Your Speed. So many wrecks are due to drivers taking the trail a little too fast. The tiniest bumps can seem like boulders when you're moving at even a medium speed. The key is just to keep it slow and steady.
No matter where you go or what you drive, be safe and have fun out there. There is no better feeling than coming home after a long day of spinning out and flinging mud with friends and family. Mount Airy Chrysler Dodge Jeep Ram Fiat has some of the best off-roading vehicles in stock, and we are ready to show off what they can do. Stop in today and test drive a brand new or used Jeep Wrangler or Jeep Grand Cherokee. You won't find a better off-roading companion anywhere else. Happy driving!
-Andrae Bergeron
Mount Airy CDJRF Contributor
CCP Web Design Writer