Black Friday: The Perfect Time to Get Your New Vehicle!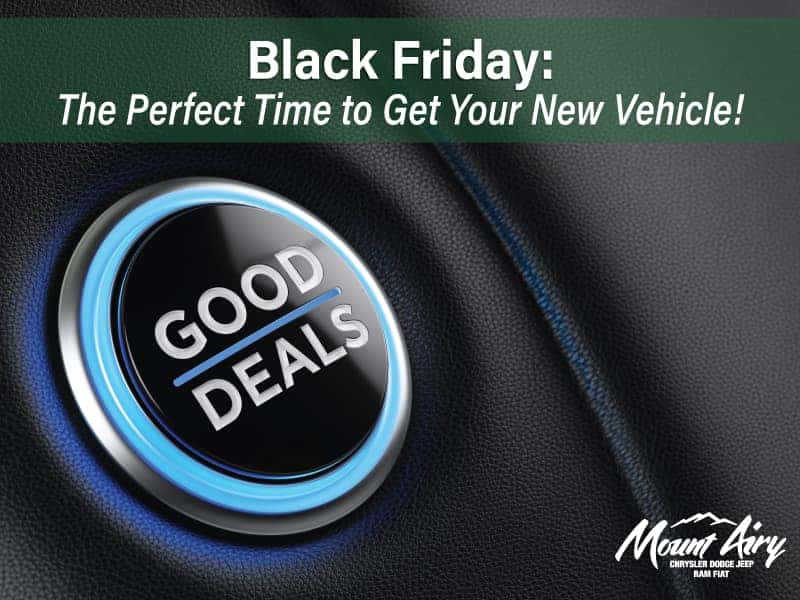 As the days get darker, the deals get deeper here at Mount Airy CDJRF! We have a large inventory of vehicles we are looking to move so that we can make room for next year's models. Our dealership may not be the only one offering deals and incentives this November, but there's certainly no one outdoing us!
We've got some real savings going on, which makes this the perfect month to drive away in your new Chrysler, Dodge, Jeep, Ram, or Fiat. Don't believe us? Below, we've provided a few examples of the specials happening right now, and we've even given you some top-secret tips for getting the most bang for your buck during Black Friday!
New Models on Special
So, let's take a look at some of the outstanding deals we are offering this month. Remember, we are always working to get our customers the best buy, and these are just a few of many examples!
2021 Jeep Renegade
As one of Jeep's smallest models, the Renegade comes with a unique charm where adventure meets refined. This vehicle is as capable off-road as its ride is comfortable. The 2021 Renegade gives drivers a ton of new standard driver assist technologies, including lane-keeping assist, rear cross-traffic alert, and blind-spot monitoring.
We currently have two different trim levels on special. Both the 2021 Jeep Renegade Jeepster and Renegade Freedom Edition will leave you with $1,250 in total savings after your purchase!
2022 Jeep Compass Latitude
There's no getting around that the 2022 Jeep Compass is a handsome vehicle. This compact SUV features loads of modern technology, and its long-standing reputation speaks for itself. It is a rugged crossover, and with the right upgrades, it can perform impressively off the beaten path.
The 2022 model year brings an updated cabin to the Compass, along with even more capability than before. Right now, Mount Airy CDJRF has many 2022 Jeep Compass Latitudes on the lot, and you can save $1,250 if you buy one today!
2022 Jeep Grand Cherokee Laredo
The 2022 Jeep Grand Cherokee comes fully redesigned. The midsize SUV needs no introduction, as it has long been regarded as one of the most attractive and capable vehicles in its segment on rough and smooth terrain alike. The newest Grand Cherokee offers a diverse powertrain lineup, impressive towing capacity, and a lot of standard and available advanced driver technologies. Now is the perfect time to get your hands on a 2022 Jeep Grand Cherokee Laredo because you can save $2,750 on your purchase!
2021 Fiat 500X Pop
Don't let its whimsical appearance fool you. The Fiat 500X has a beefier powertrain than its size would suggest. The compact SUV provides drivers with uncompromising style, and it backs it up with substance. If you are looking for a retro-style vehicle for your daily commute, you don't want to overlook the 2021 Fiat 500X Pop. Come to our dealership this November, and you can drive away with $2,000 in savings!
2021 Dodge Charger SXT
What can we say about the Dodge Charger? This car has about as much history as any other model on the market. Buyers will get the iconic muscle car appeal—both in looks and performance. The 2021 Dodge Charger SXT comes standard with a 3.6-liter Pentastar V6 engine that produces 292 horsepower. And you can save $2,250 if you buy one this month!
More to Come!
This is just the beginning. Mount Airy CDJRF is going big on the November deals and incentives. Starting on November 15, we are going to offer industry-leading promotions for financing and leasing on new and recent models. Be sure to come by our dealership or check our website for
Black Friday sales updates!
How to Come Out Good on Black Friday
If you are like most Americans, you are all about finding a great bargain. That's why it should come as no surprise that Black Friday has become one of the biggest sales periods of the year across so many different industries. According to NBC News, more than 100 million shoppers participated in Black Friday in 2020. Granted the pandemic led many people to shop online.
The benefits of Black Friday extend well past the average brick-and-mortar store. It's also one of the best times to purchase a brand new car, truck, or SUV at a top-notch price. However, you don't want to go into this sales period willy-nilly. If you want to get the most for your time and money, you need to prepare and make smart decisions along the way. Here are some tips to get you started!
Understand the Reason Behind the Incentives
Fewer people think about buying a new vehicle as the holidays roll around. Not only are the days getting shorter, but the temperature is dropping, school breaks and work vacations are happening, and people are daydreaming about turkey and dressing. For these reasons, November can be a little slower for auto dealers.
Nonetheless, dealerships understand that consumers still have shopping on the brain to some degree. The sheer number of big-ticket electronic items sold during the Black Friday period is a testament to that. And considering that most dealers are trying to make room for new inventory as the new year comes, November seems like a logical time to drop prices and push incentives.
Prepare for a Crowd
If you plan on coming to a dealership like Mount Airy CDJRF during the Black Friday sales event, expect there to be lots of other people with the same idea. Remember that a lot of people are off work for the Thanksgiving holiday, which means they have more free time than usual. So, don't expect to be the only one looking for your dream car after filling up on your favorite meals and treats!
Furthermore, consider how many car commercials you see in November. Whether you're watching football games on the weekend or your favorite show on weeknights, dealerships are pushing their promotions hard on local TV networks. You may notice even more ads in the days leading up to Black Friday. Try to hit the dealership early, but don't be surprised if you have to practice some patience to get in that test drive!
Do Some Research Beforehand
There are plenty of things you can do to set yourself up for a smoother experience on Black Friday. First, research online any car, truck, or SUV that you are interested in. Learn about each model and trim so that you can narrow your list down to a few options. While you're at it, research the prices from various dealers on the models you're interested in. That way, you can discern just how special the deals and incentives are that you will be offered.
Even if you have a single model in mind for your next purchase, it's best to pick a few vehicles to test drive. After all, you never really know if a car is for you until you get behind the wheel and see it in action. Ideally, you will go in for a test drive in the week prior to Black Friday, when there will not be as big of a crowd. You don't have to make a purchase after taking a test drive; you can simply get a better feel for which vehicle is right for you, and wait until those Black Friday deals roll in. Fortunately, Mount Airy CDJRF is starting their Black Friday deals on November 15, so you won't have to worry about waiting until the day after Thanksgiving to secure your bargain!
Furthermore, before you come to the dealership, make sure you have your license and insurance information handy, and scour the dealership's inventory. Many dealerships keep their inventory up to date on their websites. If you know the specific color and trim level of the vehicle you are after, be sure to plug those details into your search. You don't want to show up to the dealership expecting to see your desired model, only to find that it has already been sold. By researching and doing your homework ahead of time, you can speed up the purchase process and know exactly what you're getting.
Get Pre-Approved
Another way to move things along quickly is to seek pre-approval for your car loan before you show up at the dealership. If you wish to lease a new model, you will want to research the web to make sure the dealership you are considering is actually offering good deals. Some car buyers get financing through their banks but know that you can often secure more favorable terms by financing your vehicle through a dealership.
Moreover, your credit score may play a role in the type of financing you'll qualify for. Check your credit along with the fine print on the lease offer to make sure you can get the discounted rate you are expecting.
Embrace the Recent
If you have your heart set on a 2022 model, you will want to begin your Black Friday shopping as early as possible. These models could leave the lot quicker than their 2021 siblings. But also consider that buying a 2022 model is not the only way to score a brand new car. At Mount Airy CDJRF, we have loads of 2021 cars, trucks, and SUVs that are looking for a home. These are brand new models with practically no mileage.
Unless you are after a model that has been completely redesigned for 2022, there are advantages to going with a recent model. Remember that new 2021 models have not been owned by anyone else and have only been taken for test drives around the dealership (if that). The only caveat is that you may not be getting the latest powertrain, styling, or technologies. Then again, this depends on the specific model you are aiming to purchase. If the model you want is a carryover, then you've got nothing to lose!
Moreover, understand that SUVs are selling like hotcakes. That means that if you are looking to purchase a sedan, you could receive incredible deals and incentives. Of course, that is a general trend, so you will need to check the inventory of the specific dealership you are considering to see the actual deals.
Be Smart About It
Finally, take a smart approach throughout the Black Friday sales. Remember to do your homework before you show up at the dealership to sign your name. There are tons of online resources—such as Motor Trend, Edmunds, and U.S. News & World Report—that will provide you with all the details you could ask for on your dream vehicle. And remember that dealerships need to move in new inventory in the coming months, so make sure you are really getting a good deal before committing to it.
Conclusion
If you've been waiting for some real-deal savings to come your way, you are reading this at the perfect time! Mount Airy CDJRF is holding nothing back with the current deals and incentives on our new and recent models. Plus, more discounts will be here starting November 15. Check our inventory on our website, and keep the tips above in mind as you prepare for your most bargain-filled Black Friday to date. See you soon!