Buy Now At Mount Airy Chrysler Dodge Jeep Ram and Stay Stress Free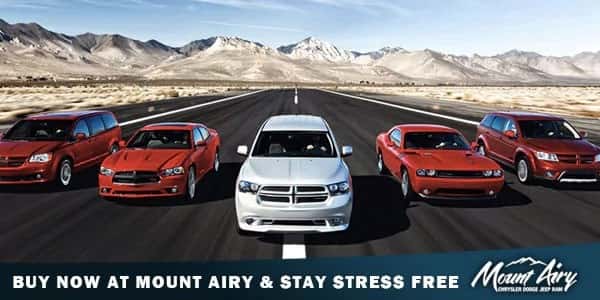 Some people enjoy the process of buying a new car.  It is exciting and everyone loves the "new car smell".  But for many the process is daunting and a little stressful.  At  Mount Airy Chrysler Dodge Jeep Ram, we try to make this process as painless as possible.  We cut through the confusing lingo and make sure there are no unexpected expenses tacked on at the end of the sale.
Many customers worry about the vehicle itself.  Will it last?  Will it be costly to maintain?  What happens if I get a lemon? And due to the high price tags of vehicles these days, as well as continually fluctuating gas prices, purchasing anxiety is exaggerated even more.
But what's important to understand is that there is a pretty simple way to rid oneself of these undue stresses. First, if you are considering a Chrysler, Dodge, Jeep or Ram vehicle do your research.  Look at Kelly Blue Book, Consumer Reports and Car & Driver.  Our vehicles have great records and customer satisfaction reports.  We want you to get that unbiased third party information that proves our vehicles are reliable. Second, it's no secret that the best time to buy is November and December. That's not just a myth in the car industry, we really do put our best inventory on sale starting the week before Thanksgiving.  Our sales normally run through the end of the year but it doesn't hurt to check out the Mount Airy CDJR website during the first week of January, 2016.  There may still be some great inventory on sale.
Most importantly, find the right vehicle for you and your family.  You want something tough, something you see on the road. For example: Jeep and Chrysler models have been highly acclaimed over the years, especially lately. The new Jeep Grand Cherokee gets 17 miles mpg in the city and 24 mpg on the highway.  That's not bad at all for a very powerful SUV. Or, have a look at the venerated Chrysler 200 with its polished look and superior performance. And even better, consumer ratings for both are very positive.
Buy at the end of the year. Because November and December bring with them sales quotas and mandatory vehicle movement for dealerships, it is the perfect time for the purchaser. As a matter of fact, there are already Black Friday specials on both Jeep and Chrysler models with price cutting so low you will definitely not see them again until this time next year.
So what are you waiting for? Go find the best price on your Jeep or Chrysler now.