Celebrities Who Drive Jeeps
What makes the Jeep so popular? Is it the industrial toughness that has been drawing drivers for years? Or maybe it's the little touches of simplicity and luxury that we find so endearing. Ask a million different people and you'll likely get a million different reasons for the success of the Jeep brand, and that says something. A vehicle that can garner the attention of people from many different walks of life must have something to offer. Go to any back-woods town and you're sure to see a Jeep Wrangler with its roof and doors off. Maybe a little dinged up, but still running like a top. In the same way, have a look at what some of the most famous, wealthiest people are driving and you're sure to see, among many other luxury vehicles, a Jeep. 
So, which celebrities are driving Jeeps? And what kind of Jeeps are they in? Luckily, Society's watchful eye is always turned towards those in the Hollywood Hills. So if you ever have a celebrity sighting, be sure and pay attention to what he or she is driving. You might be surprised at how much these celebs reflect the Jeeps they own.
Lebron James—Jeep Wrangler Unlimited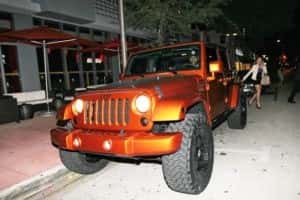 What does the 2004 Rookie of the Year, multiple All-Defensive 1st Team, and four-time MVP winner like to drive? How about something rugged and tough, but with the capability to finesse its way through any situation, just like Mr. James does on the basketball court. Something like the Jeep Wrangler Unlimited. And bright orange at that!
With its custom metallic orange color, Lebron's Wrangler is difficult to miss. Then again, so is the 6'8" NBA superstar. And much like the famous athlete, the Jeep Wrangler Unlimited has quite a few impressive features, such as:
Hill-Start Assist. This brilliant device allows you to take off from an uneven position with ease. Think of all the times you've been at a stop sign or stoplight on a hill. Whether driving an automatic or manual, you know as soon as you let off the brake, the vehicle will begin to roll backwards. You then have to time the pressure placed on the gas pedal perfectly so that you do not give the passengers or yourself whiplash. This can be nerve racking. But with the Wrangler's hill-start assist, there is no roll, and taking off from awkward positions is no problem.
LED lights throughout. LED lights do two things very well: they cut through just about any fog and darkness so you can clearly see what is happening around your Wrangler. And they look amazing. The crisp white light gives a modern spin to the venerable Jeep Wrangler.
Unlimited Status. The Jeep Wrangler Unlimited offers some of the best upgrades the company has to offer. Plus the body style to the Unlimited is extra fit with more room, superior toughness, and the capability to be altered and bulked up as much as desired. The possibilities are unlimited with this Wrangler.
Faith Hill—Jeep Wrangler Rubicon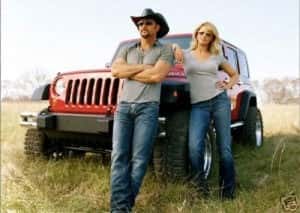 What does one of the best looking and best sounding country music singers like to drive when she's not out touring the country? How about a red Jeep Wrangler Rubicon. Both Faith and her husband, singer Tim Mcgraw, have been spotted driving their favorite Wrangler, and the fact they chose a Rubicon just further proves how cool this couple is.
Why would someone choose a Wrangler Rubicon versus, say a Sahara? Both styles of Jeep Wrangler are great, but for different reasons. Here are a few for why you might go with the Rubicon:
Advanced Off-Road Features. All Wranglers are created capable for life off the road, but the Rubicon aspires to it. Rocks, mud, hills, this Wrangler loves a challenge. And what's nice is that even though the 3.6-liter, V-6 engine churns out enough power to pull and push its way through tough terrain, it still offers a nice, smooth ride through town. Its versatility is what makes it so charming.
Premium Upgrades Throughout. Another bonus to the Rubicon is that you can still get all the same upgrades available to the other Wrangler styles. Leather interior, heated seats, sunroof, etc. It's all there. With the Jeep Wrangler Rubicon you get the roughest and toughest with all the bits of luxury you can imagine in a Jeep. And all Jeep Rubicons come with virtually endless color options and pairings. Want green on the outside and tan within? No problem.
Ralph Lauren—Classic Wrangler
The American fashion icon and philanthropist, Ralph Lauren, has created his own empire by making good decisions and not being afraid to try new things. He's also known for his rugged good looks and classic style. So to see him driving a 1948 Jeep Wrangler is no surprise at all. Both are a one-of-a-kind, unstoppable machine.
But why drive an old Wrangler? Is it more than just novelty? Actually, there are many reasons to drive a classic Jeep. And as for its novelty, well that's just a bonus. Here are a couple reasons Mr. Lauren may have chosen a classic:
Stand the Test of Time. It's impressive to hear of any vehicle still running that was made back in 1948. But it's less surprising to find out a Jeep is still scooting around. You can find these old Jeeps anywhere, and a lot of them need minimal work done to get them running like new. How are Jeeps able to run so long? Rugged simplicity. You know when you see a classic Wrangler winding down the road it must be made well. That might be what we love most about the Jeep Wrangler, it's undying reliability that has stood the test of time.
They Look Better a Little Beat Up. It's not that Ralph Lauren can't afford a new Jeep Wrangler (he could afford multiple new Wranglers), it's that no one cannot replicate the look and feel of an old, beat-up Wrangler. It's big, loud, and has the scars to prove a life lived of adventure and fun. It says something about the person driving it as well. That though he may be older, he is wiser, tougher, and cooler than just about anyone else on the road.
Tony Hawk—Grand Cherokee SRT8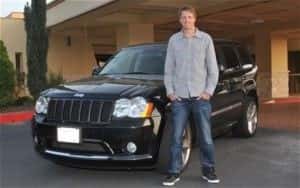 It's not at all a shock to see a thrill seeker like Tony Hawk driving such a powerful machine. He's created a fortune doing the impossible on a skateboard and has fully embraced the life of celebrity. What better to drive than a sporty and dangerously powerful Jeep Grand Cherokee SRT8. Both Hawk and his supped-up machine are cool, relaxed, but capable of doing super rad things. Here's a couple facts about the SRT8:
Raw Power. Jeep takes luxury to an entirely new level in the Grand Cherokee by adding the upgrade in trim. And it's all in the name: Street and Racing Technology in a V-8 engine (SRT8). This is a high-performing, high-octane powerhouse that can trudge through anything. Its 425-horsepower, 6.1-liter Hemi engine moves fast and smooth with incredible towing capabilities.
Complete Package. Its high performance matches its good looks. Not only does the Grand Cherokee SRT8 have some guts, it also has some sleek design. The round headlights counter the boxy aspects of the body, and the low front-end gives a tenacious look. Inside, everything is soft to the touch. Plush seating throughout with leather and shiny trim pieces mixed in makes for a pleasing aesthetic for short and long drives.
Come and see us at Mount Airy Chrysler Dodge Jeep Ram today and let us find the right Jeep for you!
-Andrae Bergeron