Choosing the Right Truck for you can be Hard Work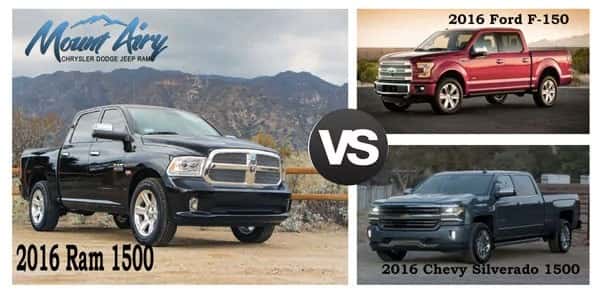 2016 Ram 1500: Mount Airy's Pick for Best Pickup
The 2016 Ram 1500, Chevy Silverado, and the Ford F-150 are this summer's top pickups. And all three offer superior navigation and towing, especially the all-new 2016 Ram 1500. Mount Airy Chrysler Dodge Jeep Ram compared the three top contenders, and here is what they found.
Strictly comparing the navigation systems and towing of the three, let's begin with the 2016 Ford F-150. When properly equipped, this pickup truck can tow up to 10,400 pounds. This is impressive to say the least, but not incredibly useful to all pickup drivers. Just those hauling some major equipment. As far as navigation, the F-150 offers basic navigation, but only at the XLT level.
Next, let's have a look at the 2016 Chevy Silverado. Properly equipped, the max towing capacity of the Silverado is 9,400 pounds. This is a little less than the F-150, but that does not mean it is any less of a truck. When it comes to towing, you don't need to get the most, you simply need what is best for you. What the Chevy does do better than the F-150 is navigate. The MyLink system is a 4.2-inch screen that offers music, phone connectivity, and a very easy to use navigation component. With voice activation and Bluetooth capability, the new Chevy Silverado is impressive.
Lastly, we have the 2016 Ram 1500. It has the lowest towing capacity of all three with a maximum of 8,780 pounds. But it still impresses truck drivers. Honestly, most drivers do not need more towing capacity than this. And veteran drivers of all three trucks admit that towing in all three is actually very similar. Best of all in the Ram 1500 is the Uconnect Access. This superior internal system allows drivers a WiFi hotspot, remote services, voice texting, a 911-call button, high-tech navigation, voice connectivity, and so much more. Plus it's easy to use! Above standard towing, and an incredible navigation system, the 2016 Ram 1500 wins out.
With customers coming anywhere from Wytheville, VA to Charlotte, NC, Mount Airy Chrysler Dodge Jeep Ram knows what is expected. The best. Come in today and test-drive the 2016 Ram 1500 and see why it leads the pack.
Drive and Discover the amazing features of the 2016 Ram 1500- call anytime 888-486-2718 for a test drive!
Written by Andrae Bergeron
Mount Airy Chrysler Dodge Jeep Ram contributor