Chrysler's Stellar Ride: 2016 Chrysler 300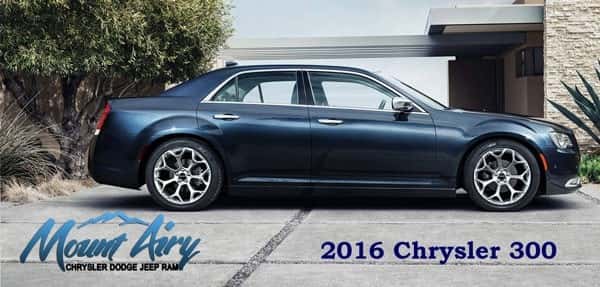 The 2016 Chrysler 300s reviews are simply stellar. There's no subtle way to put it. Car reviews general provide an overall summary, a list of pros, a list of cons. The 2016 Chrysler 300 reviews are simple and short. This is a stellar vehicle. And the major reviewers: Edmunds, Car and Driver, Kelly Blue Book – just to name a few – they generally disagree on a lot. But not on the 2016 Chrysler 300. They agree: this is a stellar vehicle.
One review begins, "There are a number of large sedans on the market, but the 2016 Chrysler 300's combination of luxury and attitude separates it from the pack." That's a quote from Edmunds. They go on to call it a "distinctly American Sedan" – now, that's a compliment!
Kelly Blue Book gives 2016 Chrysler 300 a ten out of ten, five star rating. It doesn't get any better than that – literally. Car Guru says, "Check out the 2016 Chrysler 300. An immediate hit with both the automotive media and virtually every owner since its debut for the 2005 model year, this 5-passenger full-size 4-door has the looks and content to challenge the way folks think about the family car, and the upcoming year's trim includes a new addition that celebrates the automaker's ninetieth year in business."
That's right – 90th year in business. This is an American car by an American car company. Arguably the plush interior is reminiscent of a European luxury sedan, but the 2016 Chrysler 300 is, as we've said, a distinctly American sedan. And doesn't that make it even more special?
From interior comfort and luxury to powertrain, safety and entertainment features, the 2016 Chrysler 300 is given high marks. Whether you're an in town driver or a cross country trekker, the 2016 Chrysler 300 gives drivers and passengers a luxurious, safe ride to enjoy. And it is always glamorous to drive American.
Call us today and test drive the 2016 Chrysler 300. Mount Airy Chrysler Dodge Jeep Ram is located at 538 N. Andy Griffith Parkway Mount Airy, NC 27030. They are a full-service dealership with sales, finance, and service departments. They serve the whole community including Mt. Airy, Kernsville, Winston-Salem, Galax VA, Bristol Va, and Abingdon VA.  For more information about the dealership or the 2016 models, call them at 888-486-2718 or visit their website at www.clickmountairy.com .
Written by Kelli Horne
CCP WebDesign writer