Compare the 2017 Chrysler Pacifica vs. Nissan Quest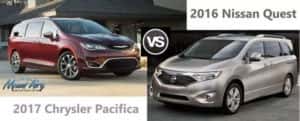 At Mount Airy Chrysler Dodge Jeep Ram, we are excited to be selling the all-new 2017 Chrysler Pacifica! As far as mini-vans go, the 2017 Chrysler Pacifica is dramatically more sporty and stylish than the others. Let's compare the 2017 Chrysler Pacifica with the Nissan Quest.
Style and appearance are very subjective, but the Chrysler Pacifica, by and large, stands out from the rest of the minivans. The 2017 Chrysler Pacifica has an athletic feel with a sculpted body and an enhanced silhouette. The Nissan Quest is lacking in the style department and has the average mini-van look and feel.
Safety is always a concern for a family vehicle. The 2017 Chrysler Pacifica has available safety features like forward collision warning plus, lane departure warning, 360º surround view camera, adaptive cruise control, and ParkSense rear park assist. These features can help you even when the whole family is in the car. The 2016 Nissan Quest comes with standard safety features including airbags and traction control features.
Cargo Space is another concern for those needing a mini-van. This is really where the 2017 Chrysler Pacifica shines! The 2017 Chrysler Pacifica offers 243 seating configurations with the Stow 'n Go® Seating and Storage System and it allows you to stow the second and third rows without having to remove the seats. And a Stow 'N Vac for when you spill the things you're hauling. The 2016 Nissan Quest offers a maximum cargo capacity of 108.4 cu.ft. , but the 201 Chrysler Pacifica offers 140.5 cu.ft.! Whoa!
If you are in the market for a new family car or mini-van, come down to Mount Airy Chrysler Dodge Jeep Ram and test drive the new 2017 Chrysler Pacifica. A test drive is the best way to see if a vehicle is right for you.
Mount Airy Chrysler Dodge Jeep Ram is located at 538 N. Andy Griffith Parkway Mount Airy, NC 27030. We are a full-service dealership with sales, finance, and service departments. We serve the whole community including Mt. Airy, Kernsville, Elkin, Galax, and Winston-Salem. For more information about the dealership or the 2016 models, call them at 888-486-2718 or visit their website at www.clickmountairytoyota.com .