Dodge: The Comeback Kid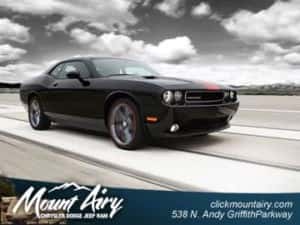 Mount Airy Chrysler Dodge Jeep Ram continues to be impressed with the new line-up of Dodge vehicles. Dodge has been known for providing affordable, reliable cars to the American public for years. But recently, Dodge has re-invented itself. The Dodge Caravan used to be the manufacturer's signature vehicle, appealing to a wide range of American families. However, now Dodge is becoming synonymous once again with Muscle!
When Fiat took control of the Chrysler Group in 2009, Dodge was still making vans and sedans for the family or to be sold to rental car companies. Dodge Ram was known for making reliable, well-crafted trucks, but since Ram was separated into its own brand, Dodge was in need of a reinvention. Dodge looked back at the past in order to shape their future. The Dodge Charger and Challenger from the 1960s were reintroduced and have been reshape Dodge's image ever since.
In order to bring back these muscle cars, Dodge shifted its focus to performance. The 2015 Dodge Charger and Challenger are some of the fastest cars on the road. The standard base model for the Dodge Charger is about $28,000, but for those who want more Dodge has designed the new 2015 Hellcat Charger, starting at around $64,000. The Hellcat Charger doesn't get much better for the hot rod lover. It has 707 horsepower and has a top speed of 204 mph. Pretty much the baddest car on the road.
This new image seems to be working for Dodge. Although, drivers can still purchase a Dodge Grand Caravan or Journey for their family car, Dodge is quickly becoming known for its muscle cars instead. The Dodge Charger is becoming popular amongst law enforcement as well. "The four-doors and rear-wheel drive seems to be designed for police officers," says Jorge Martin, general manager at Mount Airy Chrysler Jeep Dodge Ram. "Dodge is definitely getting a reputation for being performance driven."
Mount Airy Chrysler Dodge Jeep Ram is located in Mount Airy at 538 N Andy Griffith Parkway. "We have a great selection of Chargers and Challengers on the lot," explains Martin. To really understand the new Dodge, schedule a test drive.