Dodge Commemorates Challenger's 50th Anniversary with a Special 2020 Appearance Package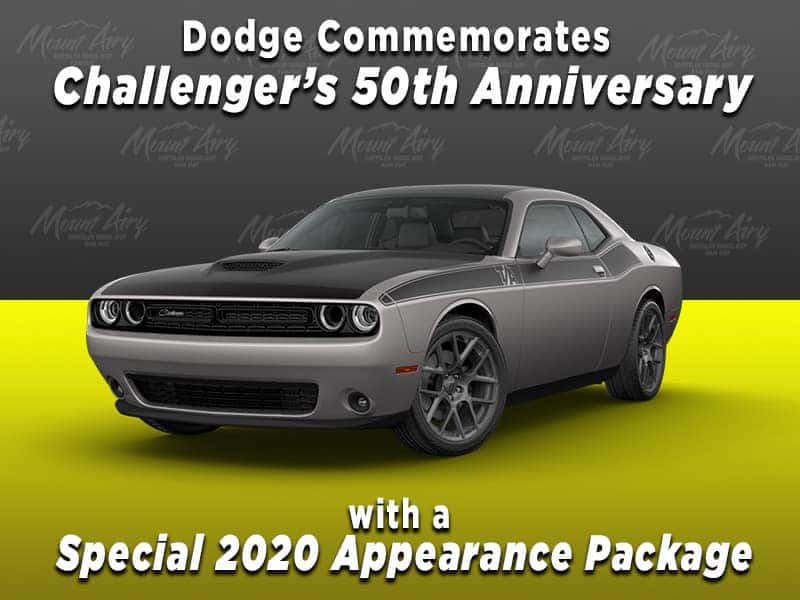 In the fall of 1969, the Dodge Challenger made its debut for the 1970 model year and quickly became an icon in the American muscle car industry. In 2006, 22 years after production of the Challenger ceased, Chrysler unveiled a concept for a new Dodge Challenger at the North American International Auto Show.
It wasn't merely a concept of a new car; this new Challenger appeared to be a revival of the iconic Challengers from the 70s. It had the legendary HEMI engine, two-door body, wide stance, long hood, and short deck. Consumers went wild over the idea. And the revived Challenger became a reality with the 2008 Dodge Challenger SRT8. Since then, the Challenger has brought in more sales than ever in a market dominated by pickups and crossovers, with its record of 66,716 sales coming in 2018 and its most profitable third quarter in history coming in 2019.
In November of 2019, Fiat Chrysler Automotive announced at the Los Angeles Auto Show that it would be commemorating the legendary muscle car with a 50th Anniversary Edition for the 2020 model year. On December 11th, order banks for Challengers with the special appearance package opened. And production of the various trim levels that include the package will occur over the next few months.
Let's take a look at some of the special features of the Dodge Challenger 50th Anniversary Edition:
Trims and Color Options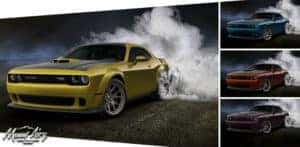 The new anniversary package is available on four of the nine models in the 2020 Challenger lineup: the GT RWD, R/T Shaker, R/T Scat Pack, and R/T Scat Pack Widebody. This means that the package is not optional on the SXT, SRT Hellcat, SRT Hellcat Widebody, SRT Hellcat Redeye, or SRT Hellcat Redeye Widebody trims. However, all 2020 SRT Hellcat and SRT Hellcat Redeye models will come with a 50th Anniversary badge.
The showcase exterior color on the 50th Anniversary appearance package is called "Gold Rush", which is a sort of homage to the golden era and exclusive to this package. Gold Rush, which Dodge considers one of their "high-impact paints", is a bold hue that is sure to draw attention in any setting. Additionally, there are six other colors available in the appearance package: Hellraisin, Frostbite, Go Mango, F8 Green, TorRed, and Sinamon Stick.
Styling 
Some of the key styling features on the 50th Anniversary appearance package include badges finished in a new gold chrome color called "Gold School", alloy wheels finished in Gold School, Brembo brake calipers finished in Gold School, "50" logos inside the headlights, and "Challenger 50" badges in multiple areas. R/T Shaker, R/T Scat Pack, and R/T Scat Pack Widebody models include a body-color Shaker scoop that sits on a matte black hood; this matte black extends to the roof and tail of the car. The Pentastar V6 of the GT RWD doesn't allow for a Shaker scoop.
The interior of the Anniversary edition also gets some attention. In a word: details. The dashboard, floor mats, and seats feature the "50" logo, as well as the headlight housing, which illuminates the logo for a nice touch. Also, the gauge cluster sports a new yellow theme, there is carbon-fiber accenting throughout the cabin, and you will find sepia stitching on the dashboard, steering wheel, and seats. Oh, and let's not forget about the black leather and Alcantara sport seats.
Production Timeline and Pricing
There will only be a total of 1,960 50th Anniversary Challengers built for production from February to May 2020. This includes 70 of each trim/color combination, which is a nod to the iconic 1970 muscle car. It's expected that the TorRed models will be produced in February, while the Hellraisin, Frostbite, and Go Mango models will be produced in March. The exclusive Gold Rush models are expected to be produced in April, and the F8 Green and Sinamon Stick models will close out production in May.
Here is a list of the prices for the 50th Anniversary appearance package on each model:
GT RWD — $4,995 (Model starting price of $35,690)
R/T Shaker — $5,495 (Starting price of $40,090)
R/T Scat Pack — $5,995 (Starting price of $44,990)
R/T Scat Pack Widebody — $5,995 (Starting price of $50,990)
Conclusion 
If you're a lover of muscle car tradition, it doesn't get any better than a 2020 Dodge Challenger with the 50th Anniversary appearance package. Since there are so few being produced, you would likely need to order one immediately if there are any available. Even if you don't find a model with the anniversary package, there are plenty of top-tier Challenger models to choose from. And even though it's well into January, New Year savings might still be an option. Give us a call or drop by our dealership to find out more!