Dodge's Muscle Car Revival Continues: A Look into the 2019 Challenger and 2019 Charger
Dodge is pulling out all the stops in their newest lineup of vehicles. The automobile manufacturer seems to be solidifying its legacy as the superior architect of the American muscle car, and no two models on the market today show this better than the Challenger and the Charger.
These vehicles share some key similarities: they're both built on the same platform, they both offer an impressive range of V6 and V8 engines, and they both use the same eight-speed automatic transmission (for the most part), to name a few. Nonetheless, there are also some important differences between the two, and each model offers its own set of characteristics that will appeal to a wide range of drivers.
If you're in the market for a new vehicle, the 2019 Dodge Challenger or 2019 Dodge Charger could be the perfect fit.
THE CHALLENGER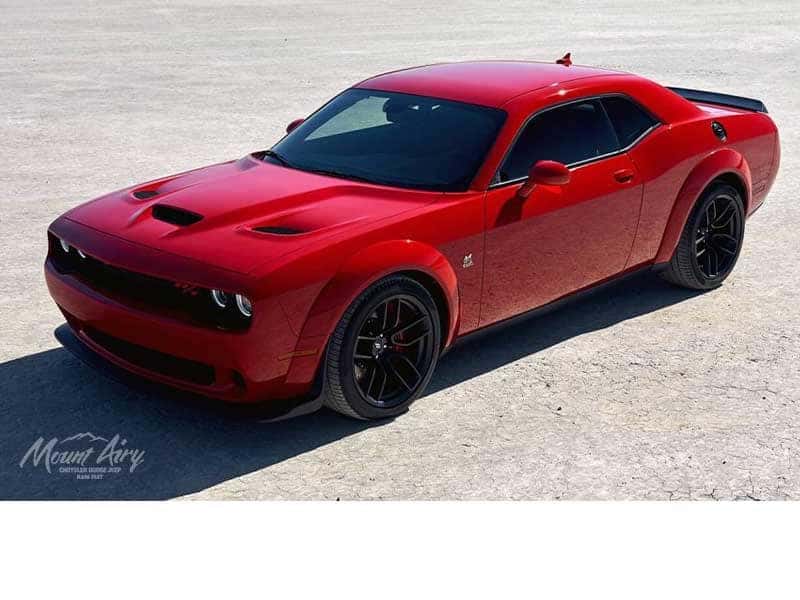 The Dodge Challenger seems to become more popular with time, even though it hasn't seen a total redesign in over 10 years. That's not to say that a facelift starting with the 2015 models, little changes made each year, and the constant offering of new trims hasn't helped. In that regard, this year is no different, as Dodge introduced the Hellcat Redeye and R/T Scat Pack Widebody trims to their 2019 Challenger lineup. Let's get into some of the details:
Looks
Perhaps one reason the Challenger hasn't seen a complete redesign in a decade is that people love the way it looks. It really is the epitome of a muscle car, with its sleek two-door body, tenacious grille, and wide back end leaving no room for apologies.
The unmistakable appearance that sets the Challenger apart from its rivals—namely the Chevrolet Camaro and Ford Mustang—extends beyond its exterior. This modern muscle car comes with a leather and metal-look steering wheel, gear shift knob, and locking glove box, bringing an industrial edge to the interior. Depending on the trim you choose, the seats come in Houndstooth cloth or Nappa leather, with suede inserts and accent stitching available. The aesthetics are topped off by aluminum panels and consoles with metal-looking accents.
Performance
If there is any characteristic that outshines the look of the Challenger, it's the performance. The Challenger has not only lived up to its reputation as a superior muscle car, it has exceeded expectations with the 2019 models. The lowest trim levels, the SXT and GT, come stock with an eight-speed automatic transmission and a 3.6-liter V6 that produces 305 horsepower and 268 lb-ft of torque; this leaves you with a 0-to-60 time at slightly over six seconds.
The R/T provides an eight-speed automatic transmission with a 5.7-liter V8 for 372 hp and 400 lb-ft of torque; you can opt for a six-speed manual transmission, which brings the numbers to 375 hp and 410 lb-ft of torque. Going up a trim level to the R/T Scat Pack will earn you a 6.4-liter V8 good for 485 hp, 475 lb-ft of torque, and a 0-60 time at just over four seconds (for both automatic and manual).
Dodge adds over 200 horsepower and pound-feet of torque with the Hellcat. Yes, you read that correctly. The Hellcat's supercharged 6.2-liter V8 engine produces 717 hp and 656 lb-ft of torque. Pretty crazy, right? But we're not done. The highest trim level and a new addition to the Challenger lineup for 2019, the Hellcat Redeye, is good for a ridiculous 797 hp and 707 lb-ft of torque. Dodge claims the Hellcat Redeye's 0-60 time to be 3.4 seconds and says it can conquer a quarter-mile in 10.8 seconds.
Driving
The Challenger has been criticized for its lack of agility. True, the Camaro or Mustang might be better suited for a driver who is looking to take fast turns or race down long roads. However, the Challenger has its advantages when it comes to the driving experience. It's smooth—so smooth you might mistake it as a Cadillac if you closed your eyes. No matter which trim you choose, you won't feel many bumps in the pavement.
Safety
The safety ratings for the 2019 Challenger are solid. It earned a five-star overall rating from the NHTSA, which is as high as a vehicle can score. Its IIHS tests, where "Good" is the best score, resulted in the following:
Moderate overlap — Good
Side impact — Good
Roof strength — Acceptable
Driver's side front small overlap — Marginal
In addition, the Challenger's forward collision warning—which is offered as an upgrade on all trims—earned it a Basic rating. Other optional safety feature add-ons include rear-cross traffic alert, blind-spot monitoring, and adaptive cruise control.
Comfort
Another impressive quality of the Challenger is its comfort. The seats on all the trims are top-quality and make for an enjoyable ride. However, the customization Dodge offers for its seats is something to be admired. Drivers have 17 custom seat options to choose from; so, whether you want to go full-on retro, modern luxury, or anywhere in between, you can get it with the Challenger. Also, heated and ventilated front seats are available, which can make a big difference in comfort.
The front and rear legroom in the Challenger's cabin is comparable to its competitors, but its 16.2 cubic feet of trunk space is near the top of the class. One other element of comfort the Challenger provides is that it's quiet—like really, really, quiet. You won't hear much road noise from the cockpit, which is saying something given that monster of an engine under the hood.
THE CHARGER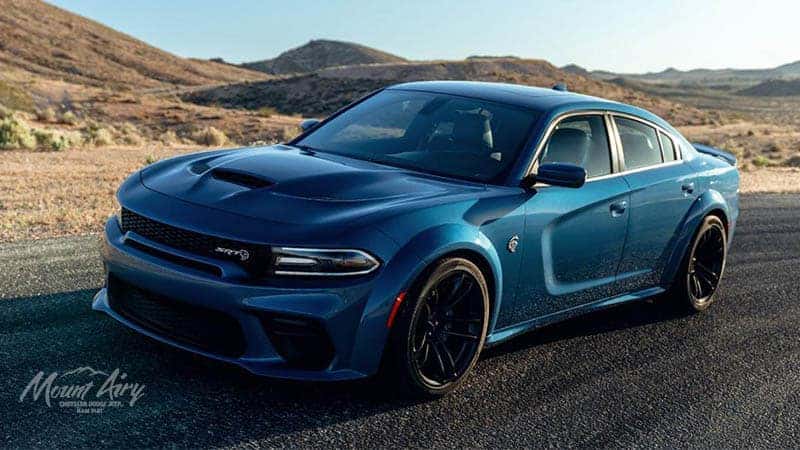 Yes, the Challenger is as much of a muscle car as you can get, and it's impressive in many other ways. However, the Charger is right there with it, and it comes with its advantages as well.
Looks
The 2019 Dodge Charger comes with either a 120.2-inch or 120,4-inch wheelbase, both of which are quite larger than many of its competitors. Yet, this doesn't take anything away from its sleek body construction. In many regards, the Charger looks like a sedan version of the Challenger with its aggressive exterior features. However, the shape is a bit smoother all around. In short, the Charger could pass as the Challenger's more responsible older sibling who got married and had kids. As far as the interior aesthetics go, it offers virtually everything the Challenger does and maybe a little more.
Performance
The Charger offers top-notch performance in all of its trims. Similar to the Challenger, its base model (SXT) comes with a 3.6-liter V6 engine that's good for about 300 hp and 264 lb-ft of torque. The GT uses the same engine, but the R/T gets an upgrade with a 5.7-liter V8 that produces 370 hp and 395 lb-ft of torque. Up another level gets you the Scat Pack trim and its 6.4-liter V8 with 485 hp and 475 lb-ft of torque. Then comes the leap to the SRT Hellcat—a beast of a car with a 6.2-liter V8 producing 707 lb-ft of torque. All Charger trims come stock with an eight-speed automatic transmission, and manual is not an option.
Driving
As far as the driving experience, the Charger leaves nothing to be desired. Despite being a large sedan, it's touted for its agility above competitors like the Chevrolet Impala and Ford Taurus. Unlike its feisty younger sibling, the Charger can take fast turns with grace and minimal body roll. It also offers an all-around smooth riding experience, especially when outfitted with one of several available sport suspension upgrades.
Safety
Overall, the 2019 Charger received good safety ratings. It was rated five stars for overall safety, side-impact and rollover prevention by the NHTSA, and four stars for frontal-impact collision. While the IIHS gave it a marginal rating in the driver's side front small overlap test, most of the categories earned a good crash test rating, including: moderate overlap front, side impact, roof strength, and head restraints and seats.
Comfort
The Charger has all the elements of comfort offered by the Challenger, except there's more room. Overall, the Charger's cabin is well-built and more spacious than many of its competitors. And similar to the Challenger, the seats are as comfortable as you're going to find, making it a great vehicle for long trips.
KEY DIFFERENCES TO CONSIDER
While the Challenger and Charger share many characteristics, we've seen how they differ from one another in certain areas. Now let's take a quick look at some factors with the two models side by side to help give you an idea of which might work best for your needs:
Exteriors
You can tell by the exteriors that the Challenger and Charger are siblings. They both showcase aggressive body styles that you can spot from anywhere, and both are an unequivocal picture of American muscle in their own right. However, the Challenger is a coupe with a stronger retro look and slightly sharper lines. The Charger, on the other hand, looks more like a street racing car and leans more towards a modern visage.
Interiors
The interiors in the two models are very similar. Both offer world-class seats and loads of customizations, and both cabins are impressively built. It really comes down to how much space you want and where you want it. You'll get more legroom with the Charger, but the Challenger has class-leading trunk space. In short, the Charger is preferable if you'll be driving around with three to five passengers. If not, the Challenger will get the job done.
Performance
The engines that come in the Challenger and Charger are very similar as well. At every trim level, the Challenger edges out the Charger in horsepower and torque. Both models come stock with an eight-speed automatic transmission, while the Challenger offers a six-speed manual transmission on certain trims. Either way you go, you have the potential for obscene horsepower and torque.
Driving
The Challenger provides a smoother riding experience than most of its competitors, but it's not the ideal car for taking turns at high speeds. In comparison, the Charger is also smooth, but it handles better than a lot of other cars in its class. Overall, both models are a joy to drive.
 Pricing
As in many other areas, the pricing for the 2019 Challenger and 2019 Charger are neck and neck. The Challenger base prices range from $28,095 MSRP to $59,245 MSRP (prices do not include upgrades). The Charger base prices range from $29,470 MSRP to $65,795 MSRP.
The Bottom Line
Both the 2019 Dodge Challenger and 2019 Dodge Charger have a lot to offer drivers. Both are a masterpiece of a muscle car, which makes deciding between the two a difficult task. It really comes down to your unique needs and preferences. The Challenger will provide you with unmatched power in a fiery-looking coupe body. The Charger will give you a more family-friendly sedan body without sacrificing an aggressive appearance and powerful performance.
If you like muscle, you really can't go wrong with either choice. To help you decide, be sure to come on over to Mount Airy Chrysler Dodge Jeep Ram Fiat for a test drive!
-Alex Watson