End of Year: The Best Time to Buy!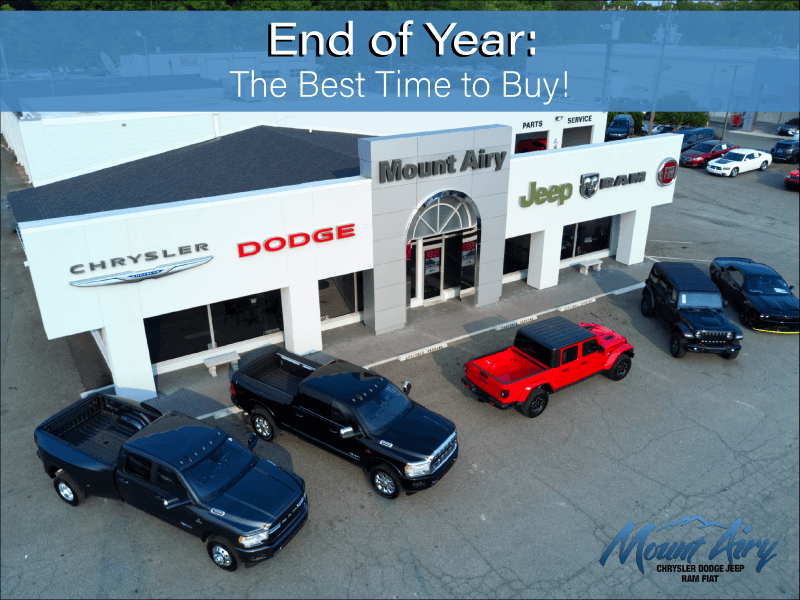 It's no secret that the end of the year is one of the best times to purchase a new vehicle. We'll go a step further—it's the best time. Not only are dealerships trying to move the current year's inventory to make room for next year's, but dealers have several quotas to meet by December 31st.
That's a recipe for some serious savings, and Mount Airy CDJRF wants you to take advantage! Below, we'll cover in more detail why buying a car at the end of the year is worth considering and give you a few pointers for how you can prepare!
Why the End of the Year?
There's no better time of year to buy a car than in December. More specifically, the end of December can present the most savings opportunities to car buyers.
All salespeople have quotas that they must meet to be successful. This often means monthly, quarterly, and yearly goals for how many cars they sell. When it comes to the end of the year, dealers are incredibly motivated to hit their quotas and may qualify for an annual bonus.
That's the main reason the highest incentive spending often occurs in the last few days of December. Depending on the calendar year, specials can remain through the first couple of days of January. If the dealership is open on December 31st, that's the perfect day to negotiate a vehicle purchase.
Preparing for Deals
OK, so you are convinced to hit the dealership in the final days of December. Let's talk about a few nifty tactics you can employ to ensure you get the best deal possible:
Plan Early
There is a caveat to showing up at the dealership in the last few days of December. Generally speaking, dealerships experience less traffic in the weeks leading up to Christmas. However, between Christmas and New Year's, more people are off work and heading out to shop for vehicles.
In other words, you may not have as much time to negotiate with dealers during this period. That's why it's essential to research as early as possible to narrow down your models of interest and schedule your test drives ahead of time.
Look Online
When it comes to narrowing down your options, you don't have to leave the comfort of your home to look at cars. For example, you can peruse Mount Airy CDJRF's website to see plenty of images and information for a wide range of vehicles!
While we love to see our customers look at our inventory in person, we understand that it's not the most convenient thing to do, especially during the holidays. Shopping online is just another way to simplify your car buying experience. And we are all about making things simple for you!
Be Open to New Ideas
More times than not, you won't get a breathtaking deal on a popular vehicle that is selling well. But if you are flexible and leave your options open, you can maximize your savings.
For instance, maybe there are a couple of models you can envision yourself buying that were not previously on your wishlist. Or perhaps you would be satisfied with purchasing a used vehicle with low mileage. Make a list of the non-negotiable features in your future car, and try to remain open to new ideas otherwise.
Take a Test Drive
Never make the mistake of purchasing a vehicle without first test driving it. It's ideal to try out a few models before you make your final decision. Even if you are obsessed with the aesthetic appeal and performance features a particular model offers, you will not be happy with it in the long run if it doesn't feel right when you are driving it.
Remember that there are no returns when it comes to buying a car, and taking a test drive can keep you from making a costly mistake. Moreover, if the dealer suggests that you try a different model, say yes. You may end up loving it, and it may come with better incentives than the alternative.
Conclusion
Car dealerships usually offer various savings opportunities throughout the year, but purchasing during the final days of December is the best way for you to score big. Remember to start shopping online as soon as you can, and be flexible when it comes to the models you consider.
We have a variety of Chrysler, Dodge, Jeep, Ram, and Fiat vehicles that we need to get off the lot. Give us a call or visit our website today to schedule some test drives!