Facebook Marketplace: A New Way to Car Shop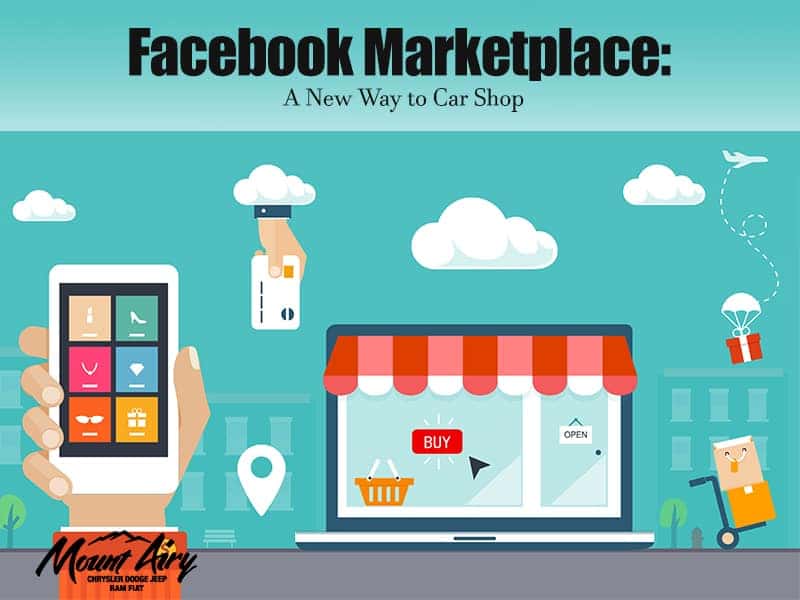 Online shopping is nothing new, but shopping for a car on Facebook Marketplace is the wave of the future. Mount Airy Chrysler Dodge Jeep Ram Fiat has a great selection of new and used vehicles for sale, and now you can check them all out from the comfort of your own home.
Once upon a time, the idea of using a social media site to do any sort of serious business felt strange. Not so much anymore though, as we see plenty of wheeling and dealing on all kinds of sites—social media or other. It actually works out nicely. Social media, for better or worse, has become an integral part of our lives, so why not embrace it a bit more and do a little business, like buying a new or used car kind of business.
You can save your results and favorite makes and models and contact others for advice and access in minutes an entire lineup of vehicles that would otherwise take you days to peruse. Facebook Marketplace is a smart way to buy a new or used vehicle, and at Mount Airy Chrysler Dodge Jeep Ram Fiat we embrace the trend and are offering a huge selection of vehicles at ultra-low prices.
Why Car Shop on Facebook Marketplace?
Facebook's marketplace first appeared back in 2007 as an alternative to Craigslist for buying and selling, listing jobs, etc. But then in 2014 it mysteriously disappeared only to return two years later. In 2016 Marketplace was reinvented as a platform focused on buying and selling locally. This new, and improved, marketplace served over 500 million people in the years to come, and a lot of those people were buying vehicles.
In 2017, Facebook collaborated with Cars.com in order to entice dealerships to work with Marketplace more regularly in order to draw more car shoppers to Facebook rather than Craigslist or Autotrader. So far this has worked incredibly well for both Facebook and dealerships like us. Facebook is able to vet each dealership that works with its Marketplace—making sure all advertisements and sales are honest and accurate. This way, buyers know that what they are looking at is currently on our lot and that the vehicle is exactly as advertised.
A huge benefit to using Facebook Marketplace for car shopping is due to what's called Social Sales Drive. This new product utilizes proprietary artificial intelligence technology to create virtual conversations with shoppers any time they are on the site. Using Facebook Messenger, Social Sales Drive is able to do something most other car-buying sites can't: create clear online communication between dealerships and customers at any time. These virtual conversations are created by managing queries from shoppers after they find a vehicle they like on the site. Here's exactly how it works:
Through Cars.com, our dealership shares our entire inventory to Facebook Marketplace.
The customer then visits Marketplace looking for a new or used vehicle.
Once the customer finds something he likes, he contacts the dealership through Facebook Messenger or click-to-call from the VDP of the chosen vehicle.
Then the proprietary AI-powered chatbot, named "Ana Bot," gives the shopper real-time answers to any inquiries on the vehicle—and this is available at any time on any day of the week.
The benefit of this type of car shopping is that dealerships don't miss an opportunity to serve a customer and you, the customer, can get detailed information on any car at literally any time. Now, when the customer heads to the dealership, he already has a vehicle picked out and is ready for a test drive. It really doesn't get much easier to buy a car than that.
What We Have to Offer
Presently, we have plenty to offer on Facebook Marketplace. To begin shopping, once you access Marketplace you can specify the details to the type of vehicle you are
looking for, such as the body style, make, model, mileage, production year, etc. Or, you can simply begin scrolling through the photos until something catches your eye.
Here are a few of the great deals you will find on our Facebook Marketplace:
2015 Jeep Wrangler Unlimited Sport at $24,850.
2018 Jeep Renegade Altitude for $16,300.
2016 Chrysler 200 Limited for only $12,450.
2015 Dodge Challenger R/T Scat Pack Coupe at $31,523.
Plus there are plenty of 2019 models both new and used. Each option, once clicked on, enhances so you can get all the details you need—and don't forget to chat with Ana Bot about any information you can't seem to find.
Mount Airy Chrysler Dodge Jeep Ram Fiat is excited about making your car buying experience easier and more informative than ever. Visit our Marketplace site on Facebook today (or tonight or at two in the morning) then come see us in person to find that car you have been looking for.