Feel The Wind in Your Hair with The Perfect Spring Convertible!
Feel The Wind in Your Hair with The Perfect Spring Convertible! (Fiat's 2017 124 Spider Lusso Convertible) 
Spring is here and warm weather is coming! It is the perfect time to settle into a new convertible vehicle and feel the wind through your hair as you prepare for summer fun, hiking trips and lazy lake days. Mount Airy Chrysler Dodge Jeep Ram Fiat is located conveniently near the Blue Ridge Parkway. Plan a hiking trip and swing my Mount Airy, North Carolina to test drive the 124 Spider Lusso Convertible!

This perfect sporty spring convertible is equipped for your vacation trips with a 1.4 litter MultiAir Turbo Engine. The high power engine delivers 160 horsepower and 184 torque. Perfect for those curvy back mountain roads with its superb turn radius. So drop the top and feel the open-air!
Interior Style and Comfort 
Driving a car that demands attention is an important decision in the car buying process. But having a car that is up-to-the-task of providing comfort for long trips is vital. The 124 Spider Convertible is ready to provide top-grade style and comfort with:
Heated Seats
Customizable Cockpit
Ergonomic Seats
Leather Gripped Steering
Aluminum Accent Pedals
The convertible is a vehicle everyone gets geared up to drive in warm weather but what about the winter months?  No worries!  The 124 Spider Lusso Convertible is fully equipped to handle all seasons. Stay warm and comfortable with premium heating & cooling console.  Additionally, this car comes with heated leather sport seats. The seats are also ergonomic for a truly comfortable ride.
Another new feature of the interior, is the customizable cockpit. Personalize your cockpit with a unique color and material that fits your individual style. Pick from classic and elegant patterns of black leather to bold and sporty designs like the black and red sport leather. Choose to customize your cockpit with:
Black Premium Cloth
Saddle Leather Trim
Black Leather Trim
Black Leatherette and Microfiber
Black Sport Leather
Red and Black Leather
Black Leather and Alcantara Recaro
Elegant Exterior



Looks aren't everything but when it comes to a car the exterior design and build is what makes a vehicle stand apart. This bright and stylish vehicle does just that! Exterior features include:
Aluminum Wheels
Manual Soft Top
Halogen Headlamps and Led Tail Lamps
Roll through Mount Airy and up through the mountains of Virginia with wheels that make the sky the limit. The 124 Spider Lusso Convertible has 17-inch aluminum wheels that are painted sliver.  These stunning wheels combine the two prominent features of capability and design.
The manual soft top is the perfect wind-in-your-hair feature that makes this vehicle stand out! Throw your top down with the easy one-touch top release and leave your windows wide open to feel the breeze. The vehicle is designed to carry wind over your head and toward the rear of the vehicle. The top is also easy to put up and safe to protect you from cold weather and rainy days. The top is sturdy and had quality sound insulation. 
Perfect Performance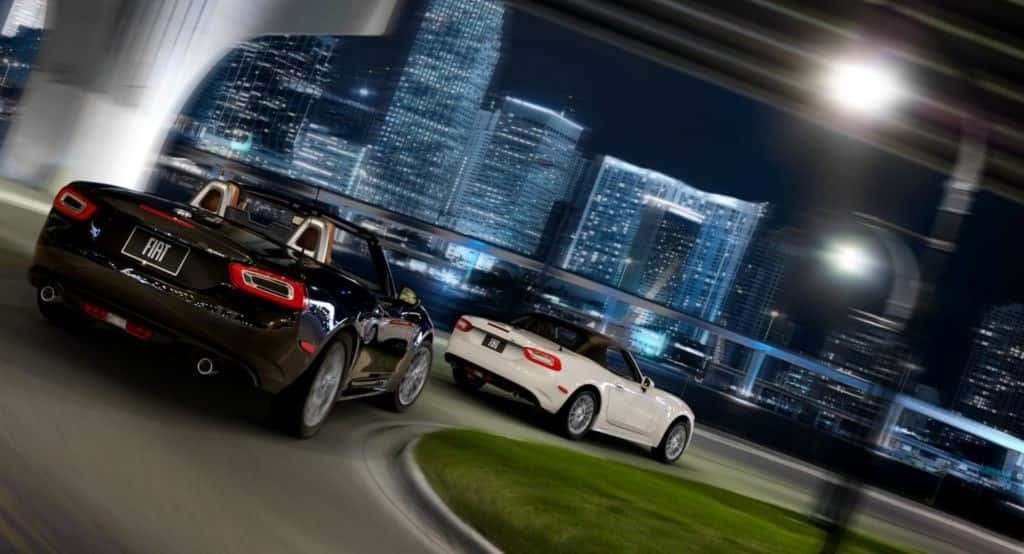 Feeling a need for speed? This sport vehicle is ready to hit the roads running full blast with high-speeds, sharp turns, and a loud rev of the engine. This sport vehicle is ready to roam with:
Class-Exclusive Turbo Engine
Transmission
Bilstein Performance Suspension
Independent Touring Suspension
This need-for-speed convertible has a standard Class-Exclusive 1.4 litter MultiAir Turbo Engine. This is the most dominant four-cylinder engine of the class. It features:
Twin intercoolers
16 valves
Fresh-Air Induction System
Dual Stainless Steel Exhaust Tips
This vehicle exerts 160 horsepower and has a 184 lb-ft of torque. This vehicle can achieve power and torques at low RPMs and beats others in its class!
The vehicle comes with a choice of a six-speed Manual Transmission or an Aisin Six-Speed Automatic Transmission.
Secure Safety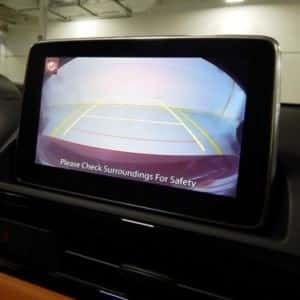 In a car this wild, it is vital to stay safe and have premium safety features. When whipping around town and taking advantage of this vehicle's excellent turn radius it is important to stay safe and to keep your guests safe. The 124 Spider Convertible is equipped with safety features like:
Blind Spot Monitoring System
Rear Cross Path Detection
Parking Assistance
Steel Safety Frame
Heated Auto-Dimming Mirrors
The 124 Spider Convertible goes above and beyond to assure driver and passenger safety. A helpful safety feature is the Blind Spot Monitoring System. This safety feature uses sensors to alert you when a car is in your blind spot. This is very helpful when changing lanes. An icon appears in the side mirror when another car comes into range.
Parking! Yeah, the dreaded task of all drivers. Finding a spot, backing up, tight spaces, the list goes on for why parking just isn't fun. But the 124 Spider Convertible has Parking Assistance to make the task a bit easier. The vehicle is equipped with backup cameras that give a wide view of the area behind the vehicle. The footage is displayed on a 7.0 touchscreen.
Finally, protection in case of an emergency! Collisions, no one wants them to happen but it is best to be prepared for the worst so you can have peace of mind while driving. The vehicle is primed for accidents with a steel safety frame that absorbs energy and directs shock away from passengers. This includes a crumple zone design to give drivers safety assurance.
Top-Notch Technology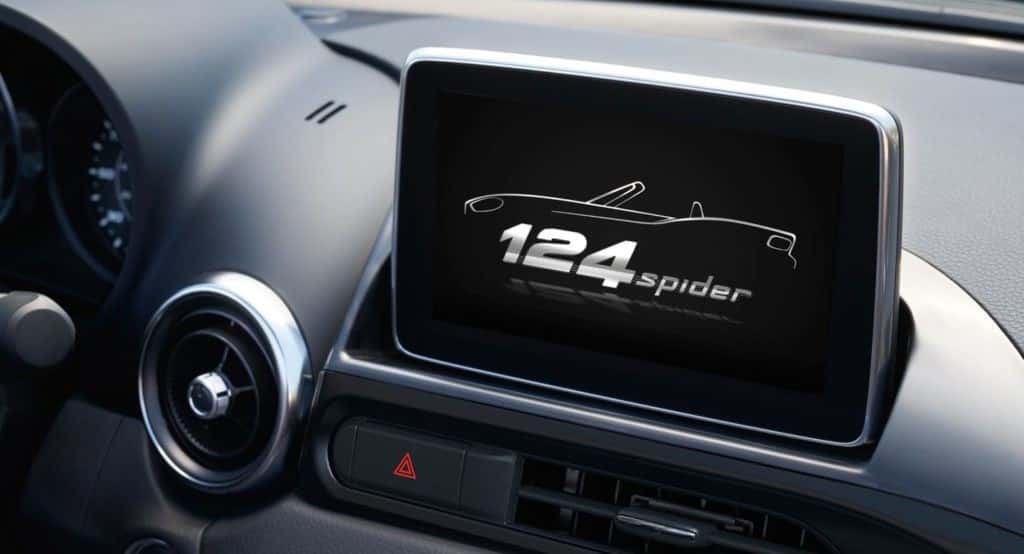 Let's talk gadgets and gears! Technology is where it's at, with all of today's electronic devices it is essential to have speaker and Bluetooth while driving. The 124 Spider Convertible has excellent technology features including:
Fiat Connect 7.0
Parkview Rear Back Up Camera
Keyless Enter 'N Go
Siriusxm Satellite Radio
Bose Nine-Speaker Audio System
GPS Navigation
The vehicle has the Fiat Connect 7.0 Touch Screen Display. This is a full-color touchscreen technology that allows you to use voice commands, Bluetooth, and streaming audio ability. Having a vehicle that is easy to connect music to is crucial for road trip Jam sessions.
The Fiat 124 Spider also has Satellite Radio which allows you to listen to music, sports, the news, and more all commercial free. The vehicle also has a great sound system with Bose Nine-Speaker Audio System. Two speakers are located on each headrest to deliver clear sound when driving with the top down!
Overall, the Fiat 124 Spider Lusso Convertible at Mount Airy Chrysler Dodge Jeep Ram Fiat is the perfect vehicle if you are looking for some fresh air. With its sporty exterior and manual soft top, it is ready for an adventurous ride.
Call you Mount Airy Fiat Dealer 336-786-2118 and schedule a test drive today!  www.clickmountairy.com.