Getting Your Car Ready To Trade In
Your car is old, you're tired of driving and dealing with it, but you also don't want to hassle with trading it in—isn't that a difficult process? Actually, trading in your car can be quick and easy when you deal with Mount Airy Chrysler Jeep Ram Fiat, because we do everything in-house. We also have a few tips for getting top trade-in value for your used vehicle no matter where you decide to shop.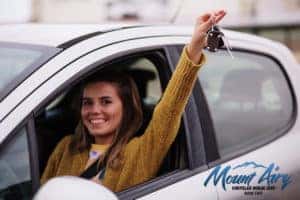 Having to go to multiple places—the DMV, a private seller or dealership, etc.—might not seem like a big deal; that is, until you have to do it. Having everything done in one place, and at one time makes everything easier. Simply drive your trade-in to the dealership and drive your new car back home! No paperwork getting lost between the seats, no traffic jams, and no queue at the counter waiting for someone to help you who knows nothing about your situation.
"But what if I end up needing financing for the new car?"
Not a problem—we do that too. We can provide financing for you, but if you would rather go with your bank that's not a problem; simply get your financing squared away before you bring your old car to us, which you can do online.
If you have an existing loan on your trade-in, we can pay it off. We come across this situation often, and it's yet another easy process: we pay off the remaining balance on your car loan and receive the title directly from the lender. If our offer for your trade-in is higher than the loan payoff, you get what's left and can apply that to your new purchase.
There is also what's called being "upside down" on your loan. This is when you owe more on your car than it's worth. It's not an ideal situation to be in, but trading it in is still your best bet. In this case, we will discuss your options, but more than likely this is how it will end up: We pay off your loan and add the difference to the balance of the car you want to buy. Again, trading it in and buying your next car at the same place will give you a bigger trade-in value, which then pays off more of your existing loan.
Tips on Trading In
Trading in is easy at Mount Airy, and we have a few tips to help you get top dollar for your car. Seriously consider doing the following to your vehicle before arrival so you can be sure to get what your car is worth—maybe even more!
Thoroughly clean the interior.
Back in the day when dealerships were viewed as high-pressure sales competitions, bringing in your car for a trade-in or sale was a bit different. If your car was shiny and clean it was a sign you were planning on leaving the dealership without it—indicating an easy sale for the money-hungry sales rep.
These days, however, things are different. Reputable dealerships like us focus on keeping customers for the long haul, creating lasting relationships.
Instead of worrying about getting ripped off, the customer should focus on getting the most money out of the car as possible. A clean car connotes a car cared for; it supplies the feeling that it was driven well and maintained well (even if this is not exactly true).
Shine the exterior.
The biggest difference in the process of appraising a clean car versus a dirty car is this: A dirty car will most likely be checked more closely for problems, because if the car looks bad on the outside there is a good chance it was not well maintained. Before bringing yours in, have the car detailed and waxed. Be sure to get those often-forgotten places as well—door and trunk jams, the interior glass, etc.
Freshen up those foggy headlights.
Faded, foggy lights make the entire car look dingy and worn. Even if your car is pretty worn down, replacing the lights with new ones that are crystal clear makes a big difference. And if you don't want to pay for brand-new lights, there are plenty of do-it-yourself-kits out there that do an excellent job of defogging.
It's time to stop driving around in that old clunker. Take the time to prepare your car for the trade-in of a lifetime at Mount Airy Chrysler Dodge Jeep Ram Fiat today!