You Love Muscle Cars? Compare the Dodge Challenger vs Ford Mustang and Chevy Camaro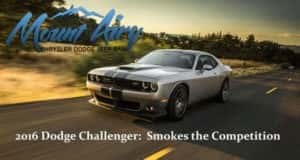 The American Muscle Car is Back
Mount Airy Chrysler Dodge Jeep Ram knows you love your muscle cars. Especially the looks of the 2016 Dodge Challenger, the 2016 Ford Mustang, and the 2016 Chevy Camaro. They also know you want the most bang for your buck. So for those of you in love with the open road, traveling anywhere from Danville, VA to Mount Airy, NC in order to show off that all-new muscle car, this comparison is for you. Because at Mount Airy Chrysler Dodge Jeep Ram, we want you driving in nothing but the best.
If you have any experience in purchasing a supped-up roadster, such as the Dodge Challenger, Mustang, or Camaro, you know they can be pricey. But with that price comes a lot of horsepower and torque, the quintessential elements to a true muscle car. Comparing the three muscle cars in terms of price, we can see that they are all pretty close. The 2016 Ford Mustang is the least expensive at $42,575. Next is the 2016 Chevy Camaro at $43,205. And last, but definitely not least, is the 2016 Dodge Challenger at $45,485.
Based on price alone, the 2016 Ford Mustang is cheap. But, the savvy car driver knows never to go on price alone. It's the power under the hood that matters most. Even though the 2016 Dodge Challenger has a higher price tag, take a look at what it has that the others don't. For Horsepower/torque, the 2016 Dodge Challenger wins out with 485/475, while the Mustang and Camaro only have 435/400 and 455/455 to work with. What does this mean, exactly? It means the 2016 Dodge Challenger is the meanest and most aggressive. Exactly what you want in a muscle car.
That's just what you get with the 2016 Dodge Challenger, a mean, aggressive machine that is incredibly fun to drive. Its Hemi V-8 engine and luxuriously comfortable retro interior puts true muscle back on the road.
The American muscle car is back, and Mount Airy Chrysler Dodge Jeep Ram can't wait to put you in it. Come check out the all-new 2016 Dodge Challenger today.
Written by Andrae Bergeron
Mount Airy Chrysler Dodge Jeep Ram contributor