Riding Through Town with the Mayberry Crowd
On the sunny Saturday morning of Sept. 29, the town of Mount Airy once again welcomed friends from near and far to the annual Mayberry Days parade. Parade day draws them in as Barney Fife and his single bullet, a steady stream of squad cars, Mount Airy dignitaries, and Andy Griffith Show cast members make their way down Main Street.
For those not in the know, Mount Airy's greatest claim to fame is being the actor Andy Griffith's birthplace. The little town tucked just under the North Carolina state line between Pilot Mountain and Fancy Gap, Va., was the basis for the Griffith Show's fictional town of Mayberry. These days Mount Airy echoes much of what Mayberry was — a friendly place where most everyone knows most everybody and you can stop in the soda fountain to sit a spell over a root beer float.
As an expression of gratitude to the local community, Mount Airy Chrysler Dodge Jeep Ram Fiat is an annual festival sponsor. Our Dodge trucks are always in the parade, and this year we were chauffeurs to the likes of Clint Howard, who you might remember from the Andy Griffith Show as a little boy always dressed in a cowboy outfit and eating a peanut butter and jelly sandwich, and Elvis (the impersonator of course). 
Sad you missed it? Luckily for you, you can join us on the ride down Main Street and catch up with Little Miss Spare Rib, the Pickle Princess, Thelma Lou, Gomer Pyle, and many more.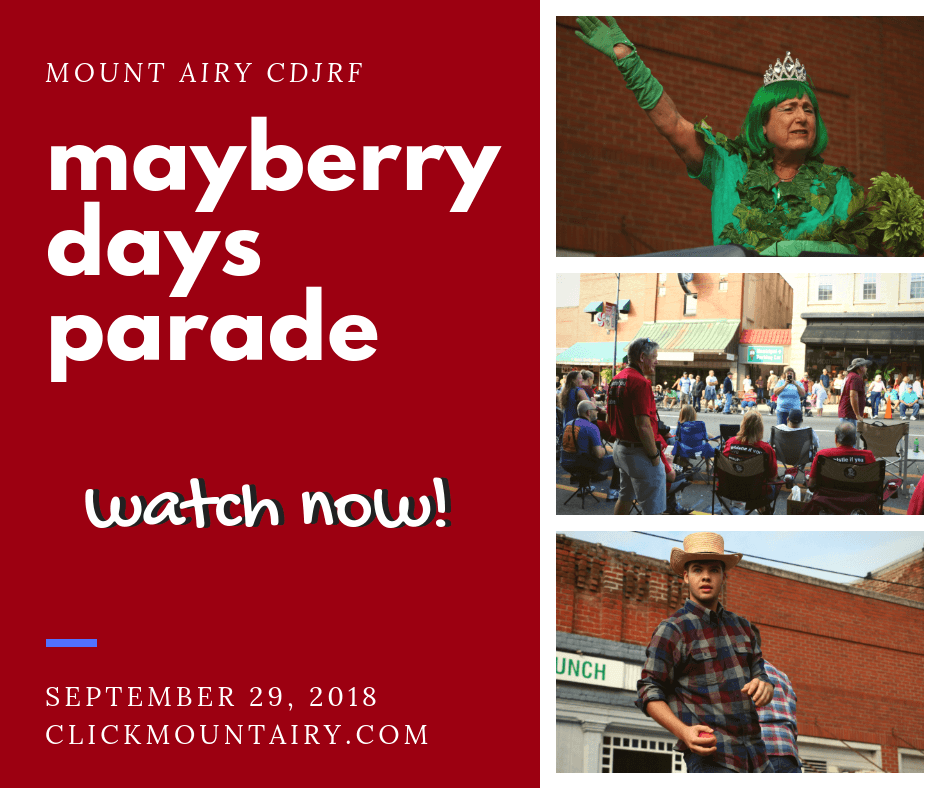 We may not be able to provide you with your own personal driver, but we've got plenty of nice trucks we think you'd look pretty good in. Come on by the dealership and visit us. We're at 538 North Andy Griffith Parkway, online at clickmountairy.com, or just give us a call at 336.429.5462.