Mount Airy Chrysler Dodge Jeep Ram: Your Home For A Variety of 2017 Jeep Wrangler's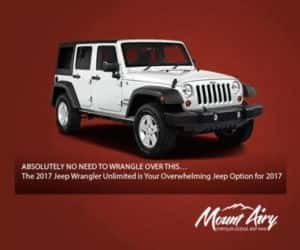 Mount  Airy Chrysler Dodge Jeep Ram: Your home for a variety of 2017 Jeep Wrangler Unlimiteds.
For  over 75 years, Jeep has been the standard vehicles meant for the true outdoor  experience. Jeep's signature model, the Wrangler, continues to be the head of  the jeep class.
The  2017 Jeep Wrangler Unlimited, according to The Car Connection's editor Kirk  Bell, "is a unique off-roader."
CAR AND DRIVER PROCLAIMS
THE 2017 JEEP WRANGLER UNLIMITED IS A "RUGGED YANKEE" THAT "RULES THE ROUGH."
For  those who made the decision to bypass the traditional car for the thrilling  ride of a Jeep, you don't need to be sold on Jeep Wrangler's superiority. You  appreciate the Wrangler's stylish looks and impressive off-road prowess.
For those of you – like myself – who see the traditional, somewhat boring vehicle  parked in your driveway when you stare out the window, the pleasure of driving  a Jeep Wrangler Unlimited is lost on you.
Thankfully,  Mount Airy Chrysler Dodge Jeep Ram is here to offer you a variety of Jeep  Wrangler Unlimiteds.
Let's  look at what makes the 2017 Jeep Wrangler Unlimited the toast of the mountains  before we take a peek at what Mount Airy Chrysler Dodge Jeep Ram has sitting on  its lot.
The Exterior
There  was no need for the Jeep Wrangler Unlimited to get a body-lift in 2017.
The  Jeep Wrangler takes pride in its iconic heritage. The Jeep Wrangler has an  unparalleled look about it. When you see a Jeep Wrangler, you know it's a Jeep  Wrangler. When you see the seven-slot grille, the removable doors, the  fold-down windshield and the available LED headlamps, you know some lucky soul  is enjoying a pleasurable driving experience that you are missing out on. A  driving experience where the outdoors, if you so choose, meets the interior  confines of your Jeep. Who wouldn't enjoy a jaunt around town on a beautiful  day with the wind and sounds of Mount Airy embracing you?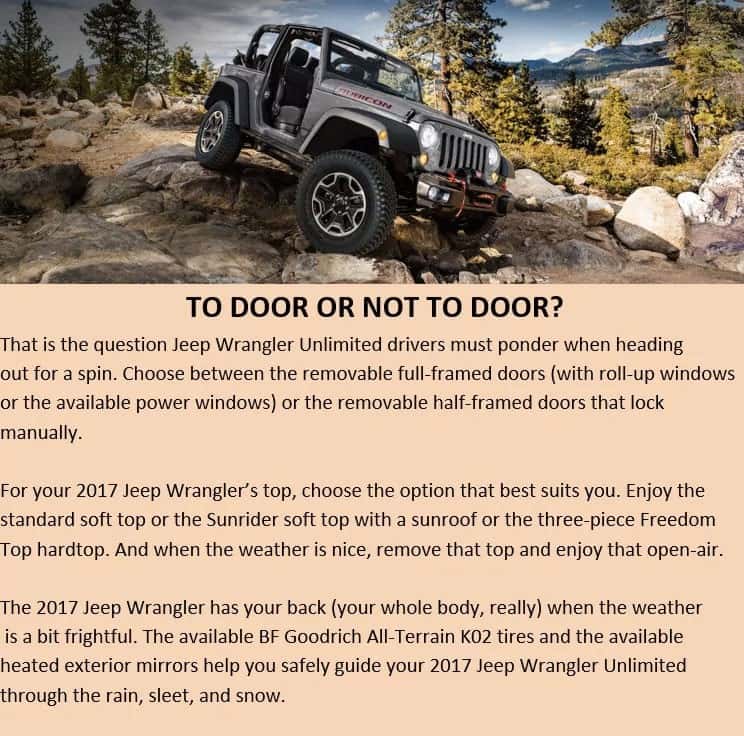 The Interior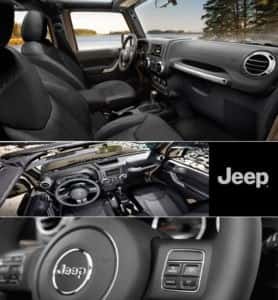 Jeep  lovers don't purchase Jeeps for the roomy interior and the flashy gadgets of  other vehicles.
But Jeep Wrangler Unlimited lovers do not have to sacrifice  interior style and comfortable seating to enjoy their affinity for open-air  driving.Gear  up with the Jeep Wrangler Unlimited. The Unlimited is a 4-door model that is  nearly 21 inches longer than the standard Jeep Wrangler, offering a spacious  71.6 cubic feet of space with the 60/40-split folding rear seats laid down.  Whether you're camping or hauling cargo, the Unlimited will take you and your  belongings wherever your heart desires.
Inside  the 2017 Jeep Wrangler Unlimited, you will find contoured door and instrument  panels and more soft padding than older models. You will ride comfortably in  the Sedoso cloth seats. (Consider the available heated front seats for those  winter driving excursions.)
At your fingertips, you will have access to all  your music controls on your available leather-wrapped steering wheel. The 2017  Jeep Wrangler Unlimited also has an available 115-volt power outlet for your 21st  century technological needs.
Like  10-year old kids playing outside, Jeep Wranglers are meant to get muddy and  dirty, both on the outside and the inside. (If you aren't going to venture off  the road in your Wrangler, trade it in for a CRV so someone else can enjoy the  Unlimited's off-road capabilities.) The Jeep Wrangler Unlimited is easy to  clean, as it comes with a washable interior and drain plugs to expel the muddy  water.
Performance
On  the open road or on the adventurous off-road, the 2017 Jeep Wrangler Unlimited  provides a fluid, impressive driving experience, while also allowing you to tow  up to 3,500 pounds. Choose between the standard six-speed manual transmission  or the optional five-speed automatic transmission.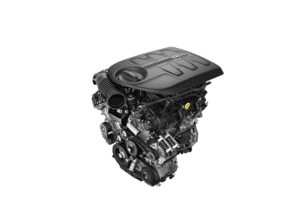 The  4-door Wrangler Unlimited is powered by a 3.6-liter Pentastar® V6, offering 285  horsepower and 260-pound/feet of torque. Whether it's snow, mud, rock, or sand,  this sturdy, hard-working engine allows the Wrangler Unlimited to guide you  through nature's vast outdoor, off-roading terrain.
The  Car Connection's Kirk Bell calls the 2017 Jeep Wrangler Unlimited the "off-road  champ" thanks to its "tough body-on-frame chassis and solid front and rear  axles" and its "rugged underbody with protective skid plates, and terrific  boulder-scrambling prowess."  Add to that  the Jeep Wrangler Unlimited's excellent traction, ground clearance, and water  fording abilities. What more in a Jeep can you ask for?
That  was not a rhetorical question. There is more you can ask for. The 2017 Jeep  Wrangler Unlimited's 4×4 capability is top of the line. You can equip your  Wrangler Unlimited with Command-Trac® or Rock-Trac® 4×4 Systems, both of which  offer stellar control and traction for challenging off-road terrain.
Safety
It  can't be denied that all forms of jeeps come with extra safety risks due to  their construction that allows for the open-air experience. Rest assured, the  2017 Jeep Wrangler Unlimited has your safety in mind with features that monitor  and assist your driving when help is needed.
Anti-lock  brakes
Front-impact  airbags for both driver and passenger
Seatbelt  pretensioners that tighten up during an impact
Stability  control which reduces the power of the engine and engages the brakes when a  driver is in danger of losing control, reducing the chances of a rollover.
High-strength  steel and wide-spaced frame rails for protection
Mount  Airy Chrysler Dodge Jeep Ram wants you to see these fine vehicles for yourself.  Even better, come on down and take a spin in one of these 2017 Jeep Wrangler Unlimiteds.
2017 Jeep Wrangler Unlimited Sahara  4×4 SUV
2017 Jeep Wrangler Unlimited Sport  4×4 SUV
2017 Jeep Wrangler Unlimited Sport  RHD SUV
But  wait, there's more…the 2017 Jeep Wrangler Unlimited Rubicon.
2017 Jeep Wrangler Unlimited  Rubicon 4×4 SUV
The Jeep Wrangler Unlimited Rubicon was voted by Four Wheeler Magazine as the "Best  4×4 Vehicle of the Decade." It's the Jeep Wrangler you would construct in your  dreams. It is loaded with leather seats, premium audio features, automatic  climate control, and remote starting.
The  2017 Jeep Wrangler Unlimited Rubicon takes the Jeep Wrangler Unlimited's  already impressive 4×4 capabilities to new heights. Its Rock-Trac® 4-wheel  drive system, 32-inch off-road tires, heavy-duty front axle, and locking front  and rear differentials will guide you through the most challenging terrains.
Don't  concern yourself with cold-weather driving. The Rubicon's Cold Weather Group  bundle offers a vast assortment of heating options:
Heated  Power Exterior Mirrors
Engine  Block Heater
Heated  Front Seats
Remote  Start Capability
All-Weather  Slush Mats
Options  are aplenty at Mount Airy Chrysler Dodge Jeep Ram for those of you searching  for a brand-new Jeep Wrangler Unlimited. Don't miss out before all of those  impressive Jeeps are wrangled up and driven off the lot.
Chris Folk