Mount Airy: The Perfect Destination for a Family Day Trip or Weekend Getaway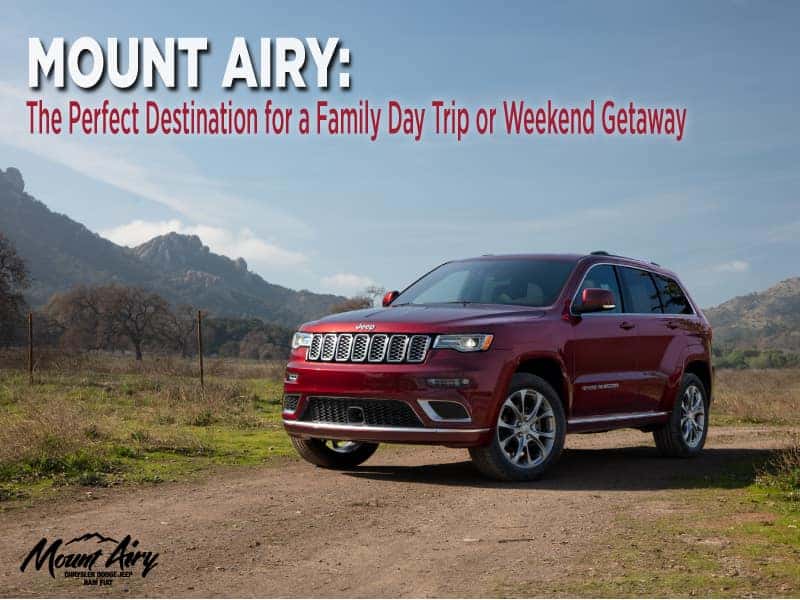 Whether you're in the market for a family vehicle or something more adventurous, Mount Airy Chrysler Dodge Jeep Ram Fiat has what you're looking for. The award-winning Chrysler Pacifica and Jeep Gladiator, the eco-conscious Fiat 500X, and the all-new RAM 1500 are just a few of the many models on our lot right now. And our dealership is open for business.
While North Carolina is still in the midst of the COVID-19 pandemic, there's no better time to get out of the house and take a trip to the mountains. Not only can you experience breathtaking sights, but there are tons of activities for the whole family to enjoy that will still allow you to practice social distancing. And when it comes to charming small towns, Mount Airy is hard to beat. From Mayberry-themed attractions to engaging museums, from delicious food to beautiful state parks, our town has something for everyone.
So if you would love to test drive a new vehicle, or you are simply looking for a great way to spend a day or two, don't look past Mount Airy! Let's discuss in more detail some of the attractions our little town has to offer:
ACTIVITIES IN MOUNT AIRY
Mount Airy is perhaps most known as the birthplace of Andy Griffith and the basis for the town Mayberry in the Andy Griffith Show. And when it comes to honoring the actor and his classic show, Mount Airy doesn't disappoint. Nonetheless, this town can make for a great weekend or day trip even for those who are not diehard fans of the show.
Andy Griffith Activities
For avid and casual fans alike, there's no other place in the world to visit if you're looking for an Andy Griffith Show experience. Perhaps the most immersive experience available is the Mayberry Squad Car Tour, which features a vintage Ford Galaxie 500 car from 1962 (just like the one Barney drove). Guests meet at Wally's Service Station to begin the tour, and several stops are made at other iconic establishments from the show.
Among the stops is Andy Griffith's Homeplace, which is the two-bedroom house where Griffith lived with his parents from the time he was six-years-old to the beginning of his college days. Through restorations, much of the home stays true to the styles of the 30s and 40s. Not only does it make a great spot for photo ops, but the home is even open for guests to stay (roughly $175-200 a night).
Another must-see attraction from the squad car tour is the Old Jail, which features jail cells, the sheriff's desk, the whole nine yards. Other tour highlights include Mayberry Main Street staples like Floyd's Barbershop and Snappy Lunch.
The Andy Griffith Museum and Playhouse is another must-see for fans of the actor. Yes, there is plenty of Mayberry memorabilia to see, but the museum focuses more on Griffith's entire career rather than just the classic show that made him famous. Along with tons of interesting information, visitors are able to view photos, costumes, props, and records that span from Griffith's TV shows to his movies to his musical endeavors. And of course, the experience wouldn't be complete without the famous TV Land statue of Andy and Opie going fishing, which sits in front of the playhouse.
And if you want to visit Mount Airy again in autumn, the Mayberry Days festival is the ultimate Andy Griffith Show experience. The seven-day event features a parade, impersonators, show-themed food and drinks, and many more kinds of entertainment.
Main Street
Main Street Mount Airy has even more to offer than the Mayberry-themed goodies. Walking along the street will give you an idea of what kind of charm the small town has, and it's the perfect place to bring your family. Whether you want to eat at delicious restaurants, get ice cream and candy, or shop for antiques and souvenirs, you can do it all on Main Street. Plus, if you come in summer, you will likely see many of the shops selling things on the sidewalk.
The Museum of Regional History
The Mount Airy Museum of Regional History sits on Main Street and contains four floors of exhibits, photos, and artifacts related to local history. For instance, visitors will learn about the original settlers of "The Hollows" of North Carolina, including the Saura Indians (the area's first Native American residents) and the 18th-century immigrants who settled in the region. For fans of music, the exhibit on Old-Time music—which is unique to the region—might pique interest. And the "Hands on History" gallery can be particularly engaging for children.
The Earle Theater
The historic Earle Theater was built in 1938, and restorations over the years have kept the structure true to its original design. Not only is the Earle a beautiful structure, but it's also home to a variety of fun family activities. For example, you can see family-friendly movies throughout the week, with titles rotating regularly.
Also, at the Old-Time Music Heritage Hall, which sits in the theater, visitors can enjoy exhibits and artifacts related to several old-time music icons of Surry County. Moreover, old-time and bluegrass jam sessions are commonplace at the Earle during the weekend, and visitors can even see a live taping of WPAQ's Saturday Morning Merry-Go-Round, which is one of the nation's longest-running radio shows.
The Granite Quarry
Take a step away from Downtown Mount Airy, and you can see the North Carolina Granite Corporation's quarry—the largest of its kind in the world. It's so large, in fact, that it can be seen from outer space. For more than 150 years, granite has been quarried in North Carolina, and it serves as the state's official rock.
While the site cannot be toured, there is a ridge positioned high above the quarry where visitors can enjoy a magnificent view of the site for free, and it's open to visitors every day of the week. If interested, go into the quarry's main office for more information and ask when an excavation is taking place.
Siamese Twins Exhibit
After touring the world as a sideshow attraction for many years, the world's original Siamese twins—Eng and Chung Bunker—settled in the Mount Airy area in the 1840s. It is here where they married sisters Adelaide and Sarah Yates and raised their children. Between the two couples, there were 22 children. As of now, more than 1,500 descendants come in from all across the country for huge family reunions.
Visitors to the Andy Griffith Playhouse can find an exhibit dedicated to the Bunker brothers, including photos, artifacts, and information that delve into their extraordinary lives. And you can visit their gravesite at the nearby White Plains Baptist Church.
Dining
When it comes to historic, old-fashioned dining options, few places can outdo Mount Airy. The Snappy Lunch restaurant, founded in 1923, was frequented by Andy Griffith when he was growing up, was a staple on the Andy Griffith Show, and is open present-day for breakfast and lunch (just be sure to show up early to avoid the line). Leon's Burger Express is another old-fashioned breakfast/lunch diner that is steeped in history and offers great food.
If you're looking for sweet treats, try Walker's Soda Fountain for a soda, ice cream, or milkshake, with the added attraction of non-stop 50s and 60s music. Hillbilly is also an old-fashioned style shop with wonderful ice cream and other desserts.
Drinks
For those on the hunt for an adult beverage, there are a few places to check out in Mount Airy. For instance, the White Elephant Beer Company carries a wide array of beers and ciders, including an impressive selection of their own craft beers. It also offers a fun, welcoming atmosphere, live music, trivia nights, and you can enjoy drinks at the bar or take them home with you.
If wine is more your thing, the Yadkin Valley (which includes Mount Airy) is the ultimate spot to be in North Carolina. With more than 30 wineries to choose from, you can find a variety of quality wines—from Pinot Grigio to Viognier to Muscadine wine. Furthermore, Mayberry Spirits is the place to go for liquor; it's touted as the town's first legal distillery since the prohibition days, and it offers educational tours and tastings.
BLUE RIDGE PARKWAY AND NEARBY PARKS
The attractions don't stop there. Mount Airy also offers visitors a number of nearby natural attractions. Here are a few of the best ones:
Blue Ridge Parkway
Mount Airy sits in the foothills of the Blue Ridge Mountains, and it's the perfect spot to stop when traveling the Blue Ridge Parkway. This is because the town is only 13 miles south of the parkway, which can easily be accessed from Highway 671 or 679. Individuals and families can choose from a wealth of fun, relaxing, and safe attractions in the area, such as Rocky Gorge Overlook, Groundhog Mountain, Mabry Mill, Puckett Cabin, and Blue Ridge Music Center.
Pilot Mountain State Park
Pilot Mountain has long been a navigational and recreational landmark, as its peak (Big Pinnacle) sits 2,000 feet above sea level. And its state park is only 13 miles from Mount Airy. Visitors to Pilot Mountain State Park can enjoy 27 miles of hiking trails, 9.8 miles of bridle trails for horseback riding, 42 camping areas, and plenty of spots for rock climbing, rappelling, canoeing, and fishing, among other outdoor activities. Moreover, there are many areas from which to view Big Pinnacle and the breathtaking scenery surrounding it.
Hanging Rock State Park
Another nearby attraction worth visiting is Hanging Rock State Park. Perfect for families, the park offers more than 20 miles of trails for hiking, horseback riding, and mountain biking. It's also a great place to go fishing, as well as swimming and boating at Hanging Rock Park Lake or on the Dan River. The park's main campground includes 74 sites, and there are numerous scenic overlooks and picnic areas scattered throughout the park. And history buffs can learn about the history of the Sauratown Mountains at the park's museum.
Granite City Greenway
Finally, the Granite City Greenway is located in Mount Airy, and it's an ideal spot for getting in some family-friendly exercise. Seven miles of paved trails accommodate running, walking, cycling, rollerblading, and even walking children in strollers. Nestled among the Ararat River and Lovill's Creek, the Granite City Greenway is lush with greenery, and its path passes through four different parks: Veteran's Park, Tharrington Park, HB Rowe Park, and Riverside Park. And the best part is that there is minimal commute time if you stay in Mount Airy!
Conclusion
Our dealership is the place to come when you're looking for a new vehicle, and the town of Mount Airy has a lot to offer visitors. Various Mayberry-themed attractions, historical sites, great food and drink options, the Blue Ridge Parkway, and beautiful state parks can provide safe fun and relaxation for the whole family. So why not come to Mount Airy Chrysler Dodge Jeep Ram Fiat for a test drive and make it into a day trip or weekend getaway? We look forward to seeing you soon!