New Year, New Ride: Buying a New Vehicle for Your Family in 2022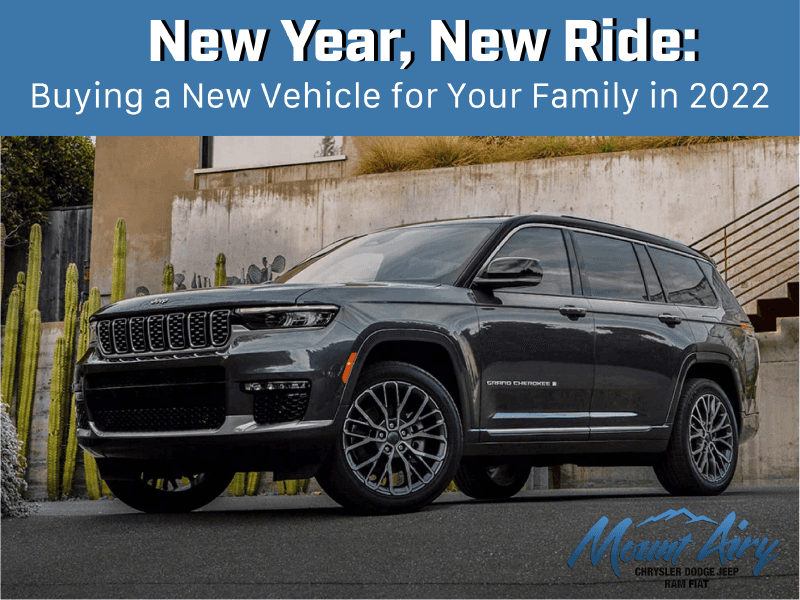 Buying a new vehicle will likely be one of the biggest investments you ever make. Car shopping can be overwhelming for anyone, but it can especially be daunting when you're looking for a vehicle that will accommodate a growing family. Your family's dream model will need more than aesthetic appeal and horsepower. There are many factors to consider, such as:
• Vehicle size
• Interior
• Seating
• Cargo room
• Safety systems
• Entertainment tech
Safety, functionality, and budget will dictate your decision regarding which vehicle to purchase.
You essentially want something that will get everyone from A to B safely without anyone losing their minds.
We know—it's a tall order! But Mount Airy CDJR is here to help you find the ideal vehicle. Let's discuss some of the best family models on the market and how you can prepare for your new car purchase.
Best Family Vehicles
This model year, you have plenty of options from Chrysler, Dodge, and Jeep. Here are some of the best choices for families:
Chrysler Pacifica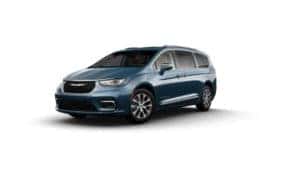 If it's cargo, capacity, and practicality you are after, it's hard to beat a top-notch minivan like the 2022 Chrysler Pacifica. This model continues to win awards for being the most comfortable, functional, and handsome minivan on the market. Drivers have a choice between a V-6 or plug-in powertrain. You can even get all-wheel drive if you want.
The Pacifica drives more like a large SUV with refined steering and a responsive powertrain. Perfect for hauling several kids and adults, the spacious and attractive cabin can provide even more room when folding the second and third rows flat. Know that the base Pacifica costs a bit more than its rivals because the entry-level trims of this model are made under the Chrysler voyager nameplate.
The 2022 Pacifica gains an in-cabin air-filtration system along with the available Amazon Fire TV feature, which lets passengers connect to their favorite movie and TV streaming services when equipped with an optional rear-seat entertainment system. When the vehicle is parked, front passengers will also see the media on their infotainment screen. Additionally, the Pacifica Hybrid comes with a new Silver Mist exterior color and receives the Max Regeneration gauge cluster indicator.
Dodge Durango
If your family is looking for a little extra muscle in your commute, don't look over the 2022 Dodge Durango. The standard V-6 is powerful, and this three-row SUV's towing capacity beats most competitors. It also comes with an optional V-8 engine for even more power.
The Durango has been around for a long time, and it upholds its muscle-car mystique now more than ever. Its three rows of seats will accommodate the entire family, but keep in mind that only the kids will be comfortable in the third row during long trips. More than enough infotainment tech comes standard in the Durango to go with a ton of available driver-assistance features.
The 2022 model year sees several changes and upgrades for the Durango. The SXT trim receives blind-spot monitoring with rear cross-traffic alert, rear parking sensors, a power-adjustable driver's seat, and roof rails. Remote start, a power-operated rear liftgate, and heated front seats are standard on the GT model.
The GT Plus sees rain-sensing windshield wipers, leather and suede seats, and driver memory settings. If you want to go big, consider the R/T Plus trim, which gets advanced automated emergency braking, a sunroof, Nappa leather upholstery with contrast stitching, and many other features.
Jeep Grand Cherokee
The Grand Cherokee has long been one of the essential pieces in Jeep's success. Not only does this model impress with off-road capability, but it also provides refined on-road performance to go with a slew of luxury features. And it accomplishes all of this while maintaining the rugged appeal that attracts Jeep buyers.
The 2022 Grand Cherokee is available with a V-6, V-8, or plug-in hybrid powertrain. The models powered by the V-6 come standard with rear-wheel drive, but there are three different all-wheel-drive systems available to meet a range of family needs.
This year marks a new generation for the Grand Cherokee. Jeep completely redesigned the 2022 models on a new architecture. It strikes a balance between luxury and ruggedness better than any previous generation.
The Limited trim comes with standard leather seats, heated front and rear seats, power-adjustable front seats, remote start, automatic high-beam headlamps, and interior ambient lighting. If you are looking for a two-row SUV that gives you a taste of the luxury offered by the Wagoneer, then this could be the perfect match for your family.
Jeep Grand Cherokee L
Jeep released the first Grand Cherokee L last year, offering a smaller option for Wagoneer fans. This model is essentially a three-row version of the Grand Cherokee, and it provides impressive off-road and on-road capability in its own right.
The Grand Cherokee L is ideal if you have a large family that loves to go on adventures. It comes standard with a ton of driver-assistance features and display screens. Even the lower trims provide a refined and comfortable cabin, and the high-end models offer a full-fledged luxury experience.
The Grand Cherokee L saw minor upgrades in its second year, such as an optional dual-screen rear-seat entertainment system with Amazon Fire TV compatibility. And buyers of the Limited and above trims can opt for a 10.3-inch dashboard screen for the front passenger. Also, you can now get the Limited version with the Black appearance package (gloss black exterior accents and black 20-inch wheels).
The High Altitude package is optional for the Grand Cherokee L Summit, including 21-inch wheels and many other upgrades. And there are three additional exterior colors: Midnight Sky, Hydro Blue, and Ember.
Jeep Wagoneer
Along with its bigger sibling (Grand Wagoneer), Jeep is bringing back the Wagoneer in 2022. This three-row SUV offers plenty of space for large families and a cabin unmatched by any of its rivals.
The Wagoneer comes with an impressive V-8 engine and will tow up to 10,000 pounds. It is one of the most attractive and tech-laden cabins to date. While it comes standard with rear-wheel drive, this SUV has multiple four-wheel-drive systems available to go with an air suspension, which adds even more off-road prowess.
As previously mentioned, the Wagoneer is all-new for 2022, even though it's an iconic nameplate. If you have the budget for it and are looking for even more luxury, look into the mechanically similar Grand Wagoneer.
Jeep Compass
The 2022 Jeep Compass compact crossover for smaller families is a handsome-but-capable vehicle to consider. With the right upgrades, the Compass can excel off the beaten path. Fitting right between the Renegade and the Cherokee in size, the Compass now has a higher quality cabin than in previous versions.
Along with more modern technologies, the interior provides a fresher overall aesthetic. As one of the most affordable Jeep models available, many buyers praise the vehicle for its beautiful and rugged nature.
Several updates come with the model year 2022 for the Compass. The front end has been redesigned to appear more upscale, and a new dashboard ups the interior appeal. Jeep has even added a tablet-style touch screen to go with the latest Uconnect infotainment system.
A new trim joins the lineup; the Latitude Luxe comes with all-wheel drive, a larger touchscreen, leather seats, and many other features. Look for a plug-in hybrid option to appear later in the year.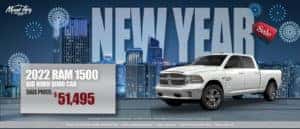 Mount Airy CDJR New Years Sale
Now could be the ideal time to purchase your new family vehicle at Mount Airy CDJR. We have lots of deals going on for the new year, including 2022 Jeep Compass Latitude 4×4 models. If you happen to be in the market for a pickup, check out the 2022 Jeep Gladiator Mojave and the 2022 Ram 1500 Big Horn Quad Cab!
How to Get Your Dream Car
So, you know the vehicle you want to buy for your family, but you need to figure out the finances. A car is one of the most significant purchases you can make, so you need to be sure you can afford your dream car before you make it a reality. Otherwise, you can put yourself and your family in a bad spot. Consider these tips when shopping for your next car:
Make Sure It's the Right Time
The last thing you want is to add financial stress to your household. And if you try to buy your dream car before you are ready, that can happen. Not only do you need to be able to afford the down payment, but you also must consider your monthly payments if you are not paying in cash. Without making budget adjustments and having the income necessary, you can end up in crippling debt and unable to pay on your vehicle.
Another thing to consider is that you don't want to commit to more work than you can realistically handle because that will also add stress to your family life and lead to a lower quality of life. The key is to find a balance of making sure your family has what they need without overextending yourself. Try not to be discouraged if a new car purchase is just not in the cards at this time, and keep saving until you are in a better spot.
Figure Out Your Expenses
If you are not 100% certain that you can afford a new car, take time to go through all of your expenses. This is key to creating a budget that will help you reach your goals. Write out all of your fixed costs, and keep track of your unfixed expenses for the next month by saving receipts and keeping up with your online banking.
Once you know all of your expenses, make a categorized spreadsheet that will quickly show you where your money is going. Understanding your costs will allow you to develop a plan for saving.
For instance, are there any unnecessary costs you can eliminate? Maybe this means dining out less, opting for a streaming service over cable, or waiting to buy that new pair of shoes. You might be surprised by how much you can improve your spending habits without lowering your quality of life.
Make a Budget
Having a budget is essential for any family. Without creating and sticking to a well-defined budget, it can be challenging to stay financially healthy. Along with creating a spreadsheet, look into the many budgeting apps on the market. You can find apps designed for personal finance, families, small businesses, and many other categories.
The key is to make sure your budget is realistic; otherwise, you could set yourself up for failure.
Make sure your family has everything they need, but keep track of where every dollar is going. And, of course, you will need to allocate money for your new car purchase so that you can direct your savings appropriately.
Increase Your Credit Score
Most people don't buy new cars with cash. So, if your dream family vehicle costs a little more than you can pay upfront, then you will need to have a good credit score to secure financing.
As long as you get good terms, financing is an excellent option to buy a new car. But it may not be easy if you have a poor credit score. Though you may still qualify for a loan, it will likely come with high interest rates and limit you to a low price point.
Perhaps the most straightforward way of raising your credit score is getting a credit card and making consistent payments. But remember not to use your credit card for every purchase because you don't want to build up overwhelming debt.
You can also make a plan for tackling all of your current debts and taking care of any bills that are past due. As you pay off everything you can, you will notice your credit score gradually increasing.
Boost Your Income
Increasing your income is another way to improve your financial situation and get a good auto loan. While this means getting a second job for some, there are other ways to boost your income.
For example, maybe you could invest a portion of your income in a high-interest fund to leave you with more money at the end of the year. Or, perhaps you could start a side hustle as a dog walker, Uber driver, or tutor. These days, you have more options than ever to boost your income without compromising your family's quality of life.
Look Into Financing
Finally, be careful when it comes to financing your new vehicle. You may have several options, such as going through your bank, getting a pay-day loan, and so on. But your safest route might be going through the dealership.
For example, Mount Airy CDJR allows you to apply for financing even before coming to the dealership. Our secure, simple online form will collect any necessary information to approve you for a loan amount and interest rate that fits your situation.
We also keep the application process private and make it as easy as possible for our customers. Also, check out our special deals like those mentioned above! We also offer programs for students, military members, realtors, home builders, entrepreneurs, and many others.
Conclusion
It doesn't get much bigger than a new vehicle when it comes to big-ticket items. As you shop for a new car, remember to look for models that will provide the size, interior, seating, cargo room, safety features, and entertainment technologies that your family needs and wants.
And if you are not able to pay cash for a new car, consider the budgeting and saving tips above as you prepare for your investment without compromising your family's financial standing. Finally, call Mount Airy CDJR or visit our website to learn about our special sales, programs, and financing! (336) 789-8105