The Ram 1500 vs. the Ram 2500: Find the Right One for You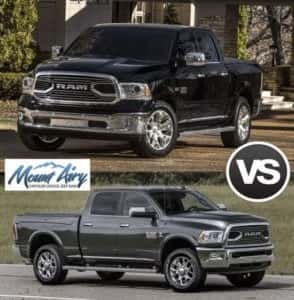 Two of America's top selling trucks, the Ram 1500 and Ram 2500 are known for their strong powertrains, smooth rides, and roomy cabins. Truth is, you won't find a tougher truck anywhere else. The Ram lineup is built to perfection, and has quickly become the working man's staple vehicle.
Currently it seems there are two types of truck: The flashy and fast, such as the Ford Raptor, or the hefty and hardworking, like the GMC Sierra. What Dodge has been able to do with the Ram series is combine both these ideas to create one style that both looks good and works hard.
The Ram 1500 and 2500 are sleek, light-duty trucks offering heavy payloads. But which one is right for you?
It all depends on how you plan to use it. The Ram 1500 comes standard with a 3.6-liter, V-6 engine, has a power output of 305 horsepower, and has optional four-wheel drive. So, what can it handle? The 1500 is good for towing boats, small trailers. It has a refined cabin with bright, bold instrumentation, real wood accents, and plush, comfortable seating. It's the work truck that can be used around the house, and also taken out for a nice drive through the mountains.
The Ram 2500 may be labeled as a light-duty truck, but it sure doesn't act like one. The base engine to the 2500 is a 5.7-liter, V-8, and has a power output of 383 horsepower. And it also has optional four-wheel drive. This is the truck you need for hauling the bigger, heavier stuff. Farm equipment, large trailers, etc. It's a little slower off the line than the 1500, but it makes up for this with superior power. The interior matches the roominess and luxury of the 1500 and adds a little more space to stretch, as well as, a trailer brake controller and built-in under-seat storage.
If you are in the market for a truck, go for the best. And get the right Ram for you. Come by MA Chrysler Dodge Jeep Ram today and take a test drive! Our sales staff can answer all questions. One thing is for sure, if you choose a RAM truck, you've made the right choice!
Written by Andrae Bergeron
Mount Airy Chrysler Dodge Jeep Ram contributor