Spotlight on Angela Rotenizer of Mount Airy Chrysler Dodge Jeep Ram Fiat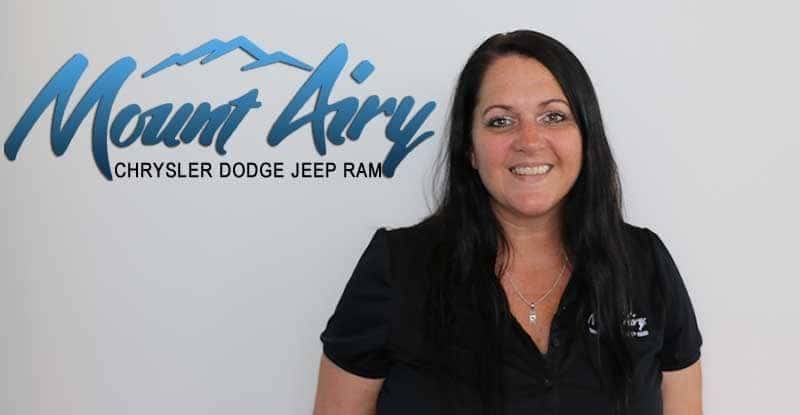 Sky-diving, thrill seeking, adventurous Angela Rotenizer has the personality that fits her favorite vehicle at Mount Airy Chrysler Dodge Jeep Ram. Can you guess which vehicle is this adventurous and thrilling? Yep, the 2017 Jeep Wrangler! Angela says, "the Jeep is the most versatile vehicle and can't compare to any other car on the lot; it is the greatest 4-wheel drive summer ride for adventure and off-roading."
Angela is passionate about cars, especially Jeeps. She loves helping others and enjoys working with customers to help them find the perfect vehicle. Angela says, "it warms my heart to see people walk away with the vehicle they have fallen in love with." This is her favorite part of working in car sales, she loves meeting new people and making people happy.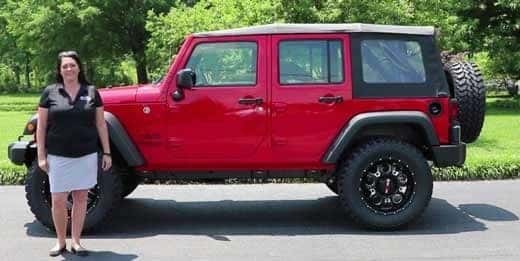 After almost seven years of working at Mount Airy Chrysler Dodge Jeep Ram, she absolutely loves her job. Angela had never considered being a sales representative for a car company, before she received this opportunity. Prior to her current job, Angela worked at Verizon Wireless selling phones.  She loved the mobile phone position but was ready for something more challenging. Angela ended up in the car business by following the advice of a good friend who sold cars in Mount Airy, NC. Her friend persuaded her to take a look at the job requirements. She didn't have to twist her arm too much; it was love at first test drive!  With her prior sales experience, vivacious personality, and love for cars, the auto industry turned out to be an ideal career match.
Not only does Angela love her customers but her customer's love her. A google reviewer wrote a five-star review saying, "I bought my jeep from Angela Rotenizer and she walked me through every step of the process. Taking time to explain my options and benefits. I love my jeep and would recommend Angela to anyone considering the purchase of a new or used vehicle." Angela truly values her clients and wants to make sure they are satisfied with their purchase.
Without a doubt Angela's favorite vehicle is the Jeep. The sporty and outdoor vibe that the jeep provides never gets old. Her favorite jeep is the 2017 Jeep Wrangler Unlimited. Which makes perfect sense! Angela is all about adventure. From hiking on the weekends with her three kids to celebrating her son's birthday with a sky-diving trip, she can't get enough of the outdoor thrills.
Angela's Favorite – The Jeep Wrangler Unlimited
The 2017 Jeep Wrangler Unlimited is a classic outdoor sports vehicle that is full of adventure and thrill. Whether you are headed to the beach or taking a ride through the Blue Ridge Parkway, the Jeep Wrangler is the perfect vehicle to capture the moment. With its newest upgrades, the vehicle is great for off-road exploits. The Jeep has set the standards for outdoor vehicles for over 75 years, making it the face of all vehicle for the wild world of outdoor thrill.
The Exterior
The Jeep has an exterior body image that is incomparable to any other vehicle. Its exclusive outer look is bold and fearless. The unique exterior contains:
         The signature seven-slot grille
         Exhilarating removable doors
         Risk-taking fold-down windshield
         Bold LED headlamps
         Red tow hood

With this exciting build, you can choice where it will take you. From curve mountain roads, rocky trails, or the sandy beach, this vehicle can encompass all your wild ventures while being a reliable every day vehicle. With the removable doors and fold-down windshield is vehicle can transform from your carefree ride to your work meeting vehicle in no time.
The Interior
Now for the comfort of the inside of the jeep! With the Jeep Wrangler you can ride in style and enjoy nature while still experiencing a comfortable and relaxing ride. The inside of the Jeep Wrangler is quiet luxurious with:
         Radio 430N
         Inner storage
        Sound Systems

These features help transform your journeys!  The impeccable radio system contains a 6.5-inch touchscreen, Garmin Navigation, and SiriusXM Satellite Radio. Controls to change the radio or fidget with a feature are located right on the leather-wrapped steering wheel to help you drive hands-free.
The storage that is provided inside the vehicle is a must! The Jeep Wrangler offers fold and tumble seats, a center console, and a storage net. The center console has a lockable storage bin to store valuables!
Finally, the Jeep Wrangler sound system is superb! The nine-speaker Alpine All-Weather Premium Sound System is perfect for this vehicle. It is ready for what ever comes its way with 6.5- inch speakers designed for all weather conditions.
Safety First
Most people shy away from the Jeep because they are unsure of its safety. But with the new design safety is high and a priority for Jeep! Safety features include:
         Hill Start Assist
         Hill Descent Control
         Tire Pressure Monitoring Display System
         Electronic Stability Control
         Electronic Roll Mitigation
         Remote Keyless Entry System
         Sentry Key Theft Deterrent System

These key features are designed to give you peace of mind while enjoying the adventures you love. At 
Mount Airy Chrysler Dodge Jeep Ram
, Angela Rotenizer is waiting to take you on a test drive in the 
2017 Jeep Wrangler
 Unlimited. Whether you are looking for a vehicle to be adventurous with some off-roading or looking for a fun car to drive to work, this car encompasses all the unique experiences in its versatile style.