The 2020 Jeep Gladiator: America's Truck of the Summer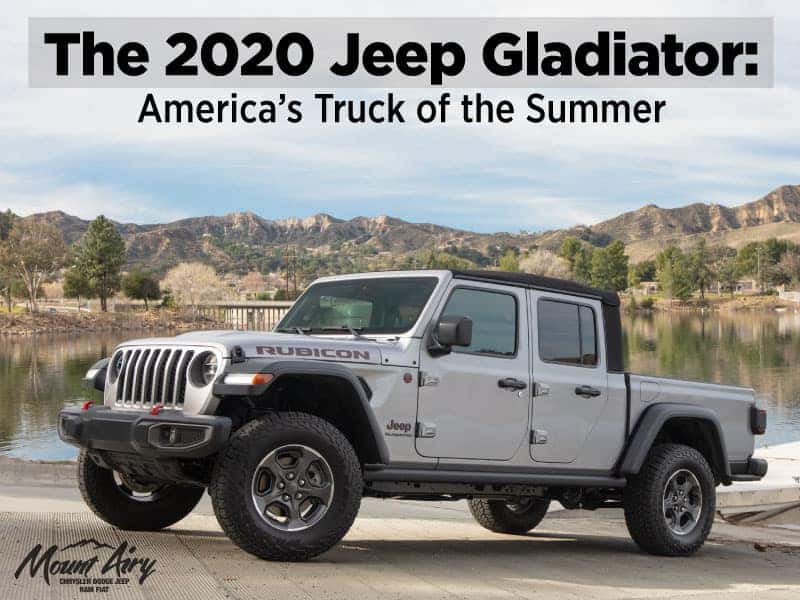 These days we find ourselves looking for new ways to establish some normalcy into our lives. We want to get outside of our homes to enjoy the open road and beautiful weather, and thanks to Jeep and its new Gladiator, we finally have a way to get free. The all-new 2020 Jeep Gladiator isn't a truck; it's not a crossover vehicle, and it's not a luxurious SUV. It's all of these put together, and a perfect way to take a mini-vacation this summer from the confines of your home.
The idea of getting out of the house these days seems a wish, far-off in the distance, but with the weather turning sunny and warm and perfect the idea of a road trip, even a small one, feels right. The 2020 Jeep Gladiator's versatility makes it a perfect fit for any family, big or small. It goes from luxuriously cool and comfortable inside to a wind-swept convertible in no time. Plus it still has the rugged toughness and smooth ride of the 2020 Jeep Wrangler, so you know you are driving a quality machine.
A New Truck From a Veteran Company
The modern truck is an escape hatch from the new normal. As we've seen with Tesla's shocking rendition of a truck—think "Blade Runner" meets "Back to the Future"—what America wants to drive these days is something different. We want a vehicle that will last and transform into a variety of purposeful forms. One day you are filling the bed of your new Jeep Gladiator with a load of mulch, the next you and the family are taking a relaxing drive with the top down. Jeep knows what we want to drive, and this summer it's the Gladiator.
With an origin reaching as far back as the 2nd World War, Jeeps have gone from noisy, bulky, boxy machines, to sporty, comfortable, icons on the road. Over the many years the company has been around, Jeep has established one of the biggest fan bases of any car company out there today.
The 2020 Gladiator—A Closer Look
Though the Jeep Gladiator is technically a truck, the entire front half is clearly a Jeep Wrangler, because…why not?  The Wrangler build has supported a large fan base for many years; it's tough, unique look is a Jeep signature and the boxy features fit well with a truck bed in the back. So there you have it: a Wrangler and a truck together as one.
For the 2020 Gladiator, a black cloth top comes standard, but there is the option for a composite top and you can get it in black or the color of the rest of the body. Hard- or soft-top, once removed the Gladiator's unique look reveals itself. You can also remove the doors and fold the windshield down—exactly the same as with the Jeep Wrangler—for an extreme open-air experience, one you will not get with any other pickup on the market.
For the truck portion of the Gladiator, the five-foot bed is made of steel and comes with a spray-in bed liner, as well as, a roll-up cover. Instead of being attached to the back hatch as is the case with the Wrangler, the spare tire rests underneath the steel bed of the Gladiator and is easily accessible.
The interior of the Jeep Gladiator is, unsurprisingly, much like that of the new Wrangler—again, if it ain't broke…Most of the controls sit up high and there is an available 7.0-inch or 8.0-inch touchscreen to choose from.
Drivers can opt for a Gladiator Sahara or Rubicon interior version that comes with optional leather upholstery and stitched vinyl over the dashboard, which helps dress things up a bit from the standard version.
Prices and Packages
Jeep likes to give you options, so the Gladiator comes in various trims, all of them designed with a particular type of driver in mind.
Gladiator Sport. The more athletic trim, the Sport has an MSRP of $35,000 (at Mount Airy Chrysler Dodge Jeep Ram, we offer it at $37,349). The 2020 Gladiator Sport comes with optional power locks and windows, alloy wheels, an upgraded infotainment system with Apple CarPlay and Android Auto, compatible hardtop, and an automatic transmission. The Sport is made for fun, fast drives, and/or scenic strolls. It can go off-roading, but it prefers life on the road. This is a perfect trim level for family drives and medium hauling and towing.
Gladiator Overland. The Overland is a bit of an upgrade from the Sport and has an MSRP of around $46,000 (we have it at $42,780). The upgrades include the following:
Power features (windows and locks)
Painted flares
18-inch alloy wheels
Side steps
A 7.0-inch infotainment touchscreen
Optional: leather upholstery, heated front seats and steering wheel, an 8.4-inch infotainment touchscreen, and varying safety features.
The Gladiator Overland is perfect for off-roading, family drives, etc. It does it all.
Gladiator Rubicon. This is the top trim level for the Gladiator and it comes with all the bells and whistles. With an MSRP of $55,000 (we, of course, have it at $49, 986), the Rubicon version of the Gladiator is for the serious off-roaders. This model comes with a higher suspension and wider axles and 33-inch tires, plus sway bars that easily disconnect with the touch of a button. There are also differential locks, an optional trailer package that adds a receiver hitch rated to tow up to 7,000 pounds.
Ten Reasons to Own a Gladiator this Summer
We can think of tons of reasons to find yourself in a new 2020 Jeep Gladiator this summer, but here are our top ten:
#10
Simplicity. The 2020 Jeep Gladiator is anything but complicated. Open the hood and you will see easy access to just about everything, much like the Wrangler. And replacement parts are cheap and easy to find, which means it saves you money in the long run and makes easy work for your car mechanic.
#9
Unique. Others may try, but nothing matches the look and performance of the Jeep Gladiator—not even Elon Musk's bizarre-looking truck. To own a Jeep Gladiator is to own an anomaly, something so unique it holds a class of its own. You can even customize your own Gladiator to differentiate it from others by adding specialized lights, mirrors, a soft- or hardtop, lifting or lowering…the list of customizations is virtually endless.
#8
Power. As mentioned earlier, the Jeep Gladiator has a towing capacity of around 7,000 pounds, but it can also come with a 3.6-liter, V-6 engine that produces 285 horsepower. No matter the trim level you choose, the strength of the Gladiator is impressive.
#7
Safety. Though the Gladiator is made to get down and dirty, it is also made to keep its passengers safe. Every year the Wrangler seems to add another safety precaution, like frontal airbags, 3-point seatbelts, or child seat tether anchors, and all these additions make their way to the Gladiator as well. The 2020 Jeep Gladiator keeps you happy and it will always keep you safe.
#6
Add-ons. When purchasing a new Gladiator you will find there are more optional add-ons than you could ever dream of. Side steps, an engine block heater, a locking fuel cap, 7-speaker stereo, cruise control, leather-wrapped steering wheel—these are just a few.
#5
Quiet ride. You wouldn't think it, but all the new Jeep Gladiator models have a smooth and quiet ride. Even with a soft-top, the interior cabin to the Gladiator manages to keep unwanted noises out. This comes from years of perfecting the Wrangler and only using the best materials.
#4
Handling. It's big and bulky, but it sure can handle the road. Even the off-road. The Jeep Gladiator is built to trudge through tough terrain, but its expert design also allows for a smooth transition for highway travel. The Gladiator is fit for family or friends, the rugged path or the smooth road.
#3
Comfort. Every seat in the 2020 Gladiator is expertly designed to provide maximum comfort. Soft materials reinforced with hardy springs will keep you comfortable no matter where you are going and no matter how bumpy the ride is.
#2
Cargo space. Don't forget about the bed behind the Wrangler body. This provides plenty of room for storage and hauling—much more than any other Jeep.
#1
Versatility. The absolute best part of owning a Jeep Gladiator is its ability to fit into any situation. It can be tough and dirty, or it can be luxurious and clean. No matter where you go in a Jeep Gladiator, you can transform your ride into what you need at that particular time.
At Mount Airy Chrysler Dodge Jeep Ram, we are beyond excited about the all-new Jeep Gladiator. Stop in today and test drive the most versatile truck on the market today.