The 2020 Jeep Rubicon: Financing Made Easy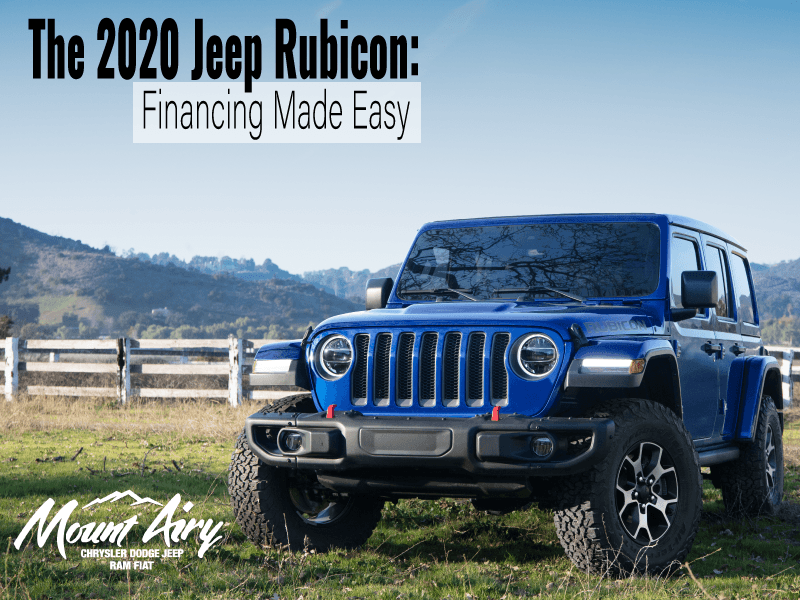 It's Jeep season, and the 2020 Rubicon has everyone buzzing with a frisson of excitement. At Mount Airy Chrysler Dodge Jeep Ram we have everything you need to know about the all-new Jeep Rubicon, as well as, how to finance one.
There really isn't a bad time to buy a Jeep Wrangler Rubicon, but there's something about summer that makes them even more desirable. For the college student it's prime season for off-roading; for the working class, it's the perfect getaway (with or without the family in tow!). So what's the best way to go about getting yourself a new, 2020 Jeep Rubicon?
We have everything you need to know, but let's start with why the Rubicon is our favorite Wrangler on the market:
Advanced Off-Road Features. All Wranglers are created capable for life off the road, but the Rubicon aspires to it. Rocks, mud, hills, this Wrangler loves a challenge. And what's nice is that even though the 3.6-liter, V-6 engine churns out enough power to pull and push its way through tough terrain, it still offers a nice, smooth ride through town. Its versatility is what makes it so charming.
Premium Upgrades Throughout. Another bonus to the Rubicon is that you can still get all the same upgrades available to the other Wrangler styles. Leather interior, heated seats, sunroof, etc. It's all there. With the Jeep Wrangler Rubicon you get the roughest and toughest with all the bits of luxury you can imagine in a Jeep. And all Jeep Rubicons come with virtually endless color options and pairings. Want green on the outside and tan within? No problem.
Though there are tons of reasons the Rubicon is superior to other tough SUVs, there are two important factors that stick out. First is the incredible low-end torque. With over 440 lb-ft of torque, the 3.0-liter V6 engine provides 182 lb-ft more of torque than the regular, V-6 Wrangler. It also provides 147 more lb-ft torque than the turbocharged 2.0-liter four-cylinder Wrangler.
The second impressive factor to the Rubicon is its great fuel economy—a phrase usually not heard when talking about Jeep Wranglers. While the current V6 Wrangler Unlimited offers around 19 to 20 miles-per-gallon (combined city and highway), the Rubicon EcoDiesel is slated to allow for a 30-percent improvement. That's 7-8 more miles-per-gallon. Rarely do we come across a vehicle that has more power than its predecessors and offers better fuel economy too.
Financing Your Rubicon
At Mount Airy Chrysler Dodge Jeep Ram, we know the process of financing a new or used car can seem daunting. Whether you have bad credit or no credit at all, dealerships can offer loans with the highest rates, penalties, and fees. But not us. We are determined to find every one of our customers the credit he or she needs, in order to drive away with a great new Jeep Rubicon.
Let our trained loan specialists advise you on exactly what can be done. And if we can't finance in-house, we will find the best car-loan company for your specific needs. Let us do the work.
What to bring with you?
A valid driver's license
Insurance information
Last two recent paystubs
Proof of residency
Chances are if you have credit problems, you will end up with what is called a subprime loan, and most of the time it maintains high interest levels and can be incredibly confusing to obtain. But once we have your credit information, no matter how bad it may be, we will work on your behalf. And we promise to find you the lowest interest rates possible.
Here's what we do: we gather your information and decide which companies will offer the best rates. Then we work with the company that offers the best deal to get you a loan as fast a possible. But that's not all. Because we want the best for our customers, we show you how to build that credit score back up, if need be. Then you can refinance as soon as possible and find yourself paying down your loan with an even lower interest rate.
With so many companies out there vying for your money, it's necessary these days to have a specialist working on your behalf. At Mount Airy Chrysler Dodge Jeep Ram, we will never let you down. Come see us today so we can get you financed and out on the road with your brand new Jeep Rubicon.