The 2020 Ram Classic Warlock & Night Editions: Two More Reasons You Can Rely on Ram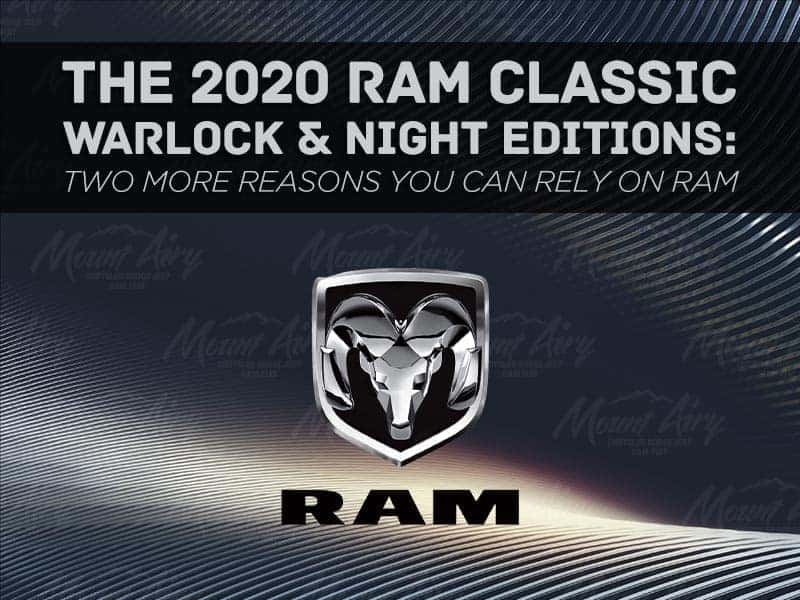 At Mount Airy Chrysler Dodge Jeep Ram Fiat we love the new Ram trucks with their sophisticated exterior and roomy inside, plus there's all that power underneath the hood (and don't get us going on all the technology and safety features). But one thing—two things, actually—that have us really excited are the new Ram Night and Warlock editions. These dark, mysterious creatures come packed with unexpected surprises and bold, chromatic features.
At first look, it's obvious Ram has taken on a "less is more" attitude with the new Ram trucks, which brings to light a hidden sophistication in the Ram family. The old, and rather striking, Peterbilt visage has been given a facelift (or a reduction, rather) as the signature Ram curvature is still there, still prominent, but it looks less defined and more mature. This new Ram looks tough, but there's an element of intelligence added that brings even more of a draw to the venerated truck.
We have a good reason for our affinity to the Ram. For years it has served as one of America's favorite, most reliable vehicles and it continues to lead the market. What keeps the Ram relevant? Here are just a few things:
Hauling Capabilities: the powerful V-8 engine can handle heavy-duty loads with ease and a smoothness that you'll find is not offered in other comparable trucks—namely, the Chevy Silverado. Most other trucks are not powered by a revolutionary eTorque, hybrid engine that combines fuel and electricity. And what keeps the Ram from swaying or vibrating while hauling or towing big loads is its high-strength steel frame. This sturdy skeleton offers up to 12,750 pounds of towing and 2,300 pounds of payload. For those drivers looking to haul on the regular, this is your truck. The Ram's rugged luxury lets you get hard work done with style and comfort.
A New Office: the thought of using your truck as an office may sound a bit strange. Picture paperwork scattered, a misplaced phone, sitting uncomfortably while trying to type. Ram understands truck enthusiasts often need to work while on the move, and have thus created the most luxurious, roomy cabin of any truck in its class. Once you open the door to the all-new Ram truck, soft leather, dark mood lights, and extra space to sit and stretch welcomes you. This is the perfect office. The Harmon Kardon premium speakers offer clear, crisp conversations with clients, while the dual-pane panoramic sunroof offers plenty of natural light. The middle armrest is a perfect mini-desktop, and the dash and surrounding area serve as a perfect space to hold paperwork and materials. Don't be surprised if you end up spending more time in here than in your actual office.
Comfortable Interior: A truck has never the first vehicle pictured when thinking of a luxury vehicle, but that has begun to change. Once you and your passengers are inside a Ram truck with the doors shut and that engine purring, you realize you are no longer in a truck—at least in the traditional sense. The thick, plush seating that easily seats five makes the already-smooth drive even smoother. As you float on down the road, exterior sounds are muted while the interior atmosphere is enhanced. The tinted windows, mood lighting, and ample legroom place everyone at ease as all begin to understand they are in something new: a luxuriously tough and roomy cabin made to make everyone happy.
And now with the addition of the Night and Warlock, we have even more reason to celebrate. These two new editions to the Ram family are a smart move in creating a niche market where true truck enthusiasts can salivate at the crisp metallic look and black accents. Let's have a closer look at both models.
Seize the Night
The most obvious difference in the stealthy Night edition is its dark complexion. The differing shades of grays and blacks work well together and provide a sense of mystery and sophistication. On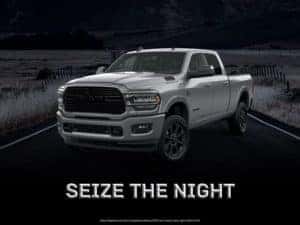 the monochromatic exterior, there is a blacked-out grille with the RAM logo prominently placed in the middle with shiny, black letters that could be missed if not looked for. Plus there are black badges found throughout, as well as black wheels and exhaust pipe. Inside there is plush, black leather running throughout with dark accents that make every light, from the high-resolution touch-screen to the soft colored knobs scattered about the dash, stand out even more than usual.
Drivers have a few options as to what's found under the hood of the Night edition. There's the standard 6.4-liter, HEMI V-8 engine; the 6.7-liter Cummins Turbo Diesel engine; or the "Best-in-Class" 6.7-liter High Output Cummins Turbo Diesel engine (with 1,000 pound-feet of torque) for those needing extreme power.
Ram drivers will be interested to know that if they opt for the Rebel model of the Night edition, the Comfort package comes standard. This package includes wireless charging, rear heated seats, power tailgate release, and the new Rebel Safety Group includes adaptive cruise control with stop and go, forward-collision mitigation, lane departure warning-plus, and auto high beams.
The Night edition is cool, mysterious, and a blast to drive. But there is another model we are just as excited about. Let's check out the companion to the Night—the Warlock edition.
The Bold New Warlock
At first glance, the all-new Warlock looks familiar. And that's because we have seen this version of a Ram before—a long time ago, actually. From 1976 to 1979 the Warlock thrived in the truck market for its reliability and sporty look. And now, the Warlock is back and better than ever.
The Warlock is made for adventure. This truck is for the weekend warrior, the truck driver who likes to find ways to get mud spatter on the windshield, maybe even a few scrapes and dings just to show where he's been. The Warlock is "built for the bold" with its black tow hooks, black powder-coated bumpers, and 1-inch suspension lift (only on the 4×4 models).
The front-end is made mostly of curved black materials that wrap around the grille, making the Warlock look as if it's staring you down when facing it, much like a bull getting ready to charge. It can be intimidating—if you're not the one driving it. The aggressive front-end is softened by the side fender flares that showcase the 20-inch wheels and amp up the sporty aspect to the Warlock.
The rear is blacked-out, much like the Night edition, also giving it a mysterious air. There is also the option for side steps, which come highly recommended as the 1-inch lift proves to be more suspension that one would guess. Plus the side steps add to the classic feel of the truck.
Inside the Warlock there is nothing but technology and style. The 8.4-inch touchscreen comes with Apple CarPlay support and Android Auto integration. There's also the 40/20/40 split-folding black cloth bench seats (all in black) and front and rear floor mats. Drivers can upgrade to the ultimate experience and opt for available premium cloth bucket seats, which take comfort to an entirely new level.
The Ram Warlock edition takes a classic truck and brings it back to life with modern appeals in technology, comfort, and design, and is one you really have to see in person to fully grasp.
Get Your Ram While You Still Can
Regardless of which truck piques your interest, now is a great time to buy any model of Ram. At Mount Airy Chrysler Dodge Jeep Ram Fiat, we have plenty of inventory of Ram models left, but you had better get here before the start of the holiday season in order to have your pick.
To celebrate Ram's "Power Days" sale, we have tons of specially-priced trucks for you to look at. Check out these models and prices:
New 2019 Ram 1500 Tradesman Quad Cab 4×4 with a 6'4" box for only $36,380. With our 110% price guarantee, this is a savings of over $5,000!
New 2019 Ram 1500 Big Horn/Lone Star Quad Cab 4×4 with a 6'4" box for $37,595. With an MSRP at $45,595, you save $8,000 by shopping with us!
New 2019 Ram 1500 Laramie Quad Cab 4×4 with a 6'4" box priced as low as $43,640. This is over $6,000 in savings!
And there's plenty more: a Ram 1500 Big Horn with a 5'7" box at $47,455; a new 2020 Ram Big Horn at $49,845; even a 2019 Ram Rebel at $50, 895. And the deals just keep coming as the end of the year approaches, so don't waste any time on getting that new Ram truck. The time to buy is now!
Come see us today at Mount Airy Chrysler Dodge Jeep Ram Fiat and we'll help you find the perfect Ram truck for you. Plus we would love to chat about how and when you can get into the new Night and Warlock editions. There's a lot of good stuff going on with Ram and we can't wait to show it all to you.
-Andrae Bergeron
*Sources: