The 2020 RAM: Unmatched Versatility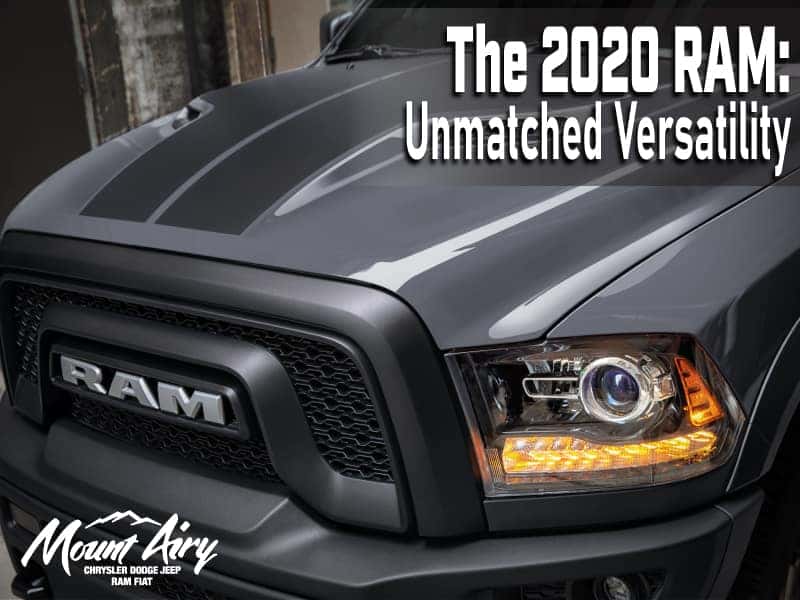 The RAM truck was first introduced in 1981 and it was meant to serve as anything from a comfortable family vehicle to a rugged work truck. As years went on, and with numerous awards won along the way, the RAM evolved to fit the ever-changing needs of the modern driver. Today the RAM has become a staple family/luxury/work vehicle that continues to impress and evolve.
With an MSRP of around $42,000, though we offer the all-new RAM at a much lower price—more on that in a minute—The RAM of today is pulsating with new features and drivetrains and technological features. It's luxurious, cool, smooth, and tougher than it's ever been. With plentiful options to choose from, it can be difficult to decide which RAM is best suited for you. But don't worry, at Mount Airy Chrysler Dodge Jeep Ram, we are specialized at finding the right ride for you.
The 2020 RAM Up Close
RAM has been turned into a family of tough trucks, all varying in style and feature, that not only provide muscle but high-level luxury as well. What are some of those variants, you ask? New to the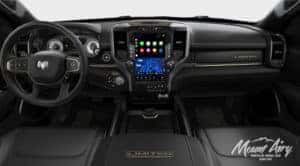 RAM family this year, the 1500 model has the option for a turbodiesel engine that offers 480-pound feet of torque and can tow up to 12,560 pounds. And it's not only the 1500 that gets upgrades this year: the new Night Edition (a part of the Big Horn and Laramie trims) includes 22-inch wheels for the Laramie and 20-inch wheels for the Big Horn. To top it off, both are blacked-out, built to last, and sharper looking than ever.
This year, the RAM also comes with a new look. The RAM 1500 has less of the big-rig physique from previous years, and instead shows a matured, smoother and aerodynamic presence.
But it's inside the cabin where we see the most obvious of upgrades. From the steering wheel to the seats to the armrests, the finest materials are used to create a high-luxury aesthetic. There is a 12.0-inch screen that works just about everything—climate settings, Spotify playlists, Apple CarPlay, Android Auto interface, and tons more.
The 2020 RAM 1500 comes with multiple engine options, all available in two- or four-wheel-drive:
The first is a 3.6-liter, V-6 engine that also includes a mild hybrid system and 305 horsepower.
Another option is the 5.7-liter, V-8 engine that has the option for including the mild hybrid system. This engine option (regardless of if you opt for the hybrid attachment) allows for 395 horsepower.
There is also a 3.0-liter turbodiesel, V-6 with 480-pound feet of torque.
The RAM is available in extended-cab and crew-cab, it comes in two different bed lengths, has a maximum tow rating of 12,750 pounds, and with its height-adjustable air suspension (available on every model) it can pull and plunge through just about anything while also keeping you plenty comfortable inside.
2020 RAM's Key Features
The wide array of features to the 2020 RAM are impressive, to say the least. Every trim level has its own special features, which makes each unique and more specified to its driver than any other truck. Let's have a look at some of the highlighted features to each level: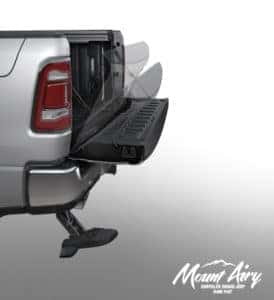 Base Models. The Tradesman models are built to work. They come with minimal elements of style (cloth seats, option for a front bench, quality plastic knobs, etc.) and focus primarily on the task at hand. The Big Horn steps it up a bit with chrome bumpers, 18-inch wheels, and a 5.0-inch infotainment touchscreen system (drivers can opt for an 8.4-inch that includes Apple CarPlay and Android Auto).
Laramie Models. Some of the most celebrated RAM models are in the Laramie family. These offer a seemingly drastic step up from the base models but without an inflated price tag ($49,000 for a four-wheel-drive, V-8 model is a bargain compared to other manufacturer's versions of this same truck). They come with heated and cooled leather seats, a 7.0-inch information screen, and an 8.4-inch infotainment screen (standard with these models).
The Laramie Longhorn and Limited trims include semi-aniline leather, 20-inch wheels, real wood trim inside, and LED headlights.
Rebel Models. The popular Rebel trim slots include raised suspension, black plastic body cladding, two-tone paint options, standard four-wheel-drive, and an electronic locking rear differential, making it fun to drive and tough enough to handle just about anything you can throw at it.
More Reasons to Choose the New RAM
A big reason for the success of the RAM truck is its adaptive nature. The 2020 RAM is so much more than just a truck, and there are specific reasons it is, and has been, leading the truck market. Here are a few reasons to choose the RAM over other popular truck brands:
Hauling Capabilities: the 2020 RAM makes big moves in way of hauling and towing. Its powerful V-8 engine can handle heavy-duty loads with ease and a smoothness that you'll find is just not offered in other comparable trucks—namely, the Chevy Silverado. Most other trucks are not powered by a revolutionary eTorque, hybrid engine that combines fuel and electricity. And what keeps the RAM from swaying or vibrating while hauling or towing big loads is its high-strength steel frame. This sturdy skeleton offers up to 12,750 pounds of towing and 2,300 pounds of payload. For those drivers looking to haul on the regular, this is your truck. The 2020 RAM's rugged luxury lets you get hard work done with style and comfort.
A New Office: the thought of using your RAM truck as an office may sound a bit strange. Picture paperwork scattered, a misplaced phone, sitting uncomfortably while trying to type. RAM understands truck enthusiasts often need to work while on the move and have thus created the most luxurious, roomy cabin of any truck in its class. Once you open the door to the all-new RAM, soft leather, dark mood lights, and extra space to sit and spread out welcomes you. This is the perfect office, and probably more luxurious than most (actual) offices. The Harmon Kardon premium speakers offer clear, crisp conversations with clients, while the dual-pane panoramic sunroof offers plenty of natural light. The middle armrest is a perfect mini-desktop, and the dash and surrounding area serve as the perfect space to hold paperwork and materials. In a time such as this, when it is encouraged to stay home and away from the office, the 2020 RAM makes working from home so much easier—maybe even better.
Taking Clients for a Ride: though we are not there yet, eventually (soon, hopefully) things will get back to normal for our country, for the world. And when we do get back, and it's time to work closely with clients again, the RAM is your best choice for meeting and transporting clients. Sure, a truck has never been the first vehicle pictured for client transportation, but things are changing. Once you and your clients are inside the 2020 RAM with the doors shut and that engine purring, you realize you are no longer in a truck—at least in the traditional sense. The thick, plush seating that easily seats five makes the already-smooth drive even smoother. As you float on down the road, exterior sounds are muted while the interior atmosphere is enhanced. The tinted windows, mood lighting, and ample legroom place everyone at ease as all begin to understand they are in something new: a luxuriously tough and roomy cabin made to make everyone happy.
It makes sense why so many people are going for the new RAM. It's the perfect combination of an SUV, truck, and luxury sedan, which creates the most advanced truck ever created.
The Best Truck at the Best Price
Car shoppers come to Mount Airy Chrysler Dodge Jeep Ram for their vehicles because we have the most options at the best pricing you will find anywhere, and our special pricing on the new 2020 RAM is no exception. Here is but a glimpse of what we are currently offering:
2020 RAM 1500 Tradesman Quad Cab 4×4 with a 6-foot, 4-inch box for only $35,233. With an MSRP of $41,470, our price includes $500 retail bonus cash, $1,000 national retail consumer cash, as well as other bonuses all equating to $6,237 in total savings.
2020 RAM 1500 Big Horn Quad Cab 4×4 with a 6-foot, 4-inch box for only $36,378. It has an MSRP of $47,115, but our price includes $2,000 retail bonus cash, $2,000 national retail consumer cash, $1,000 truck month retail bonus cash, as well as other bonuses adding up to $10,737 in total savings.
2020 RAM 1500 Tradesman Crew Cab 4×4 with a 5-foot, 7-inch box for only $38,393. This upgraded truck has an MSRP of $44,830, and our price includes $500 retail bonus cash, $1,000 national retail consumer cash, as well as other bonuses bringing that price tag down and giving you $6,437 in total savings.
2020 RAM 1500 Big Horn Crew Cab 4×4 with a 5-foot, 7-inch box for only $39,618. With an MSRP of $50,455, our price includes $2,000 retail bonus cash, $2,000 national retail consumer cash, $1,000 truck month retail bonus cash, as well as other bonuses all equating to $10,837 in total savings.
There is no argument against choosing the all-new 2020 RAM. Its versatility is simply unmatched. Come see us at Mount Airy Chrysler Dodge Jeep Ram today and find the 2020 RAM that's best for you and your family.