The New Dodge RAM: Versatility and Raw Power Combined
When the RAM truck was first introduced in 1981 it was meant to serve as anything from a comfortable family vehicle to a rugged work truck. As years went on, and with numerous awards won, the RAM evolved to fit the ever-changing needs of the modern driver. Today the Dodge RAM has become a staple family/work vehicle that continues to impress and evolve.
Versatility of the 2019 Dodge RAM
Customer psychology is one of the first things considered when designing a vehicle, and Dodge spends a lot of time thinking about RAM drivers. Rather than market towards one, specific type of person, the Dodge RAM is built to operate as a versatile machine that works hard for all types of drivers. This is one of the things we love most about the RAM family. Dodge has created a brand that seamlessly fits right into our lives.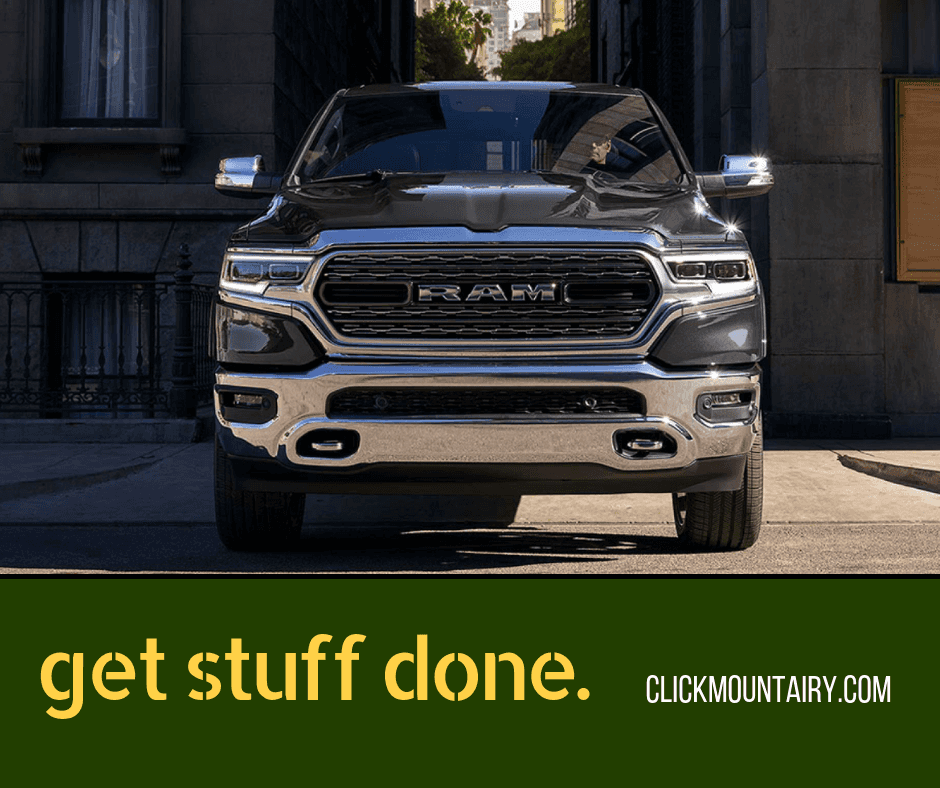 Here are just a few activities you can do in the all new Dodge RAM 1500:
Hauling—the 2019 Dodge RAM has best-in-class hauling and towing. Its powerful V-8 engine can handle heavy-duty loads with ease and a smoothness not offered in most modern trucks. This is because most other trucks are not powered by a revolutionary eTorque, hybrid engine that combines fuel and electricity. What keeps the RAM swaying or vibrating while hauling or towing big loads is its high-strength steel frame. According to RAM's website, this sturdy skeleton offers up to 12,750 pounds of towing and 2,300 pounds of payload. For those drivers looking to haul on the regular, this is your truck. The 2019 RAM's rugged luxury lets you get hard work done in style and comfort.
Office Space—the thought of using your vehicle as an office induces stress: paperwork scattered, a misplaced phone, sitting uncomfortably while trying to type. Productive work does not get done this way. Dodge understands this, and has thus created the most luxurious, roomy cabin of any truck in its class. Once you open the door to the all-new 2019 RAM, the soft leather, dark mood lights, and sheer size will engulf you. This is the perfect office. The Harmon Kardon premium speakers offer clear, crisp conversations with clients, while the dual-pane panoramic sunroof offers plenty of natural light. The middle armrest is a perfect mini-desktop, and the dash and surrounding area serve as perfect space to hold paperwork and materials. Don't be surprised if you end up spending more time in here than in your actual office. The best part is this office travels with you!
Transport Clients—the first rule to transporting clients is that you must drive something classy and impressive. Sure, a truck may not be the first vehicle pictured for client transportation, but that's about to change. Once you and your clients are inside the 2019 RAM with the doors shut and that engine purring, "truck" is the last thing anyone is thinking. Thick, plush seating that easily seats five makes the already-smooth drive even softer. As you float on down the road, exterior sounds are muted while the interior atmosphere is enhanced. The tinted windows, mood lighting, and ample legroom place everyone at ease.
Of course there are some people who do all of the above. Sometimes your office is also your client transportation. The nice thing about the 2019 Dodge RAM is that you don't have to purchase a different truck for each aspect of your life. The RAM is your all-in-one vehicle that can equally act as a truck for hauling and one for family fun. Dodge has essentially created the most functional line of vehicles.
RAM Commercial Lineup
The RAM family has had so much success that it has entered the commercial realm. This line of trucks and vans is perfect for any business, big or small. Here is a quick breakdown of RAM's commercial lineup:
RAM Promaster City: this is the smallest of the five commercial vehicles, but still offers impressive stats. It has a cargo capacity of over 131.7 cubic feet, a max payload of over 1,883 pounds, up to 28 highway mpg. It also comes in eight colors and a clean, sleek design.
RAM Promaster: this is the larger of the two vans offered. It comes standard with a V-6 engine with 280 horsepower, and a high-tech front-wheel drive system that manages to reduce weight and provide impressive traction. Dodge also offers a wonderful warranty package and free oil changes with the Promaster.
RAM Chassis Cab: if you need a big, powerful flatbed that's good on gas and easy on the eyes, this is it. The RAM Chassis comes standard with a 6.4-liter HEMI gas engine that packs a punch with 410 horsepower and 429 pounds-feet of torque. There are several power take off prep options, so you can alter your truck to fit your exact needs.
Mount Airy Chrysler Dodge Jeep Ram Fiat
There is obviously never been a better time than now to enter into the RAM family. At Mount Airy CDJRF we have a massive variety of the best of what Dodge has to offer. For example, we have a new 2018 Promaster City Tradesman Cargo Van for only $21,729. We also have a brand new 2018 RAM 1500 for only $30,775 that is usually priced at $35,775!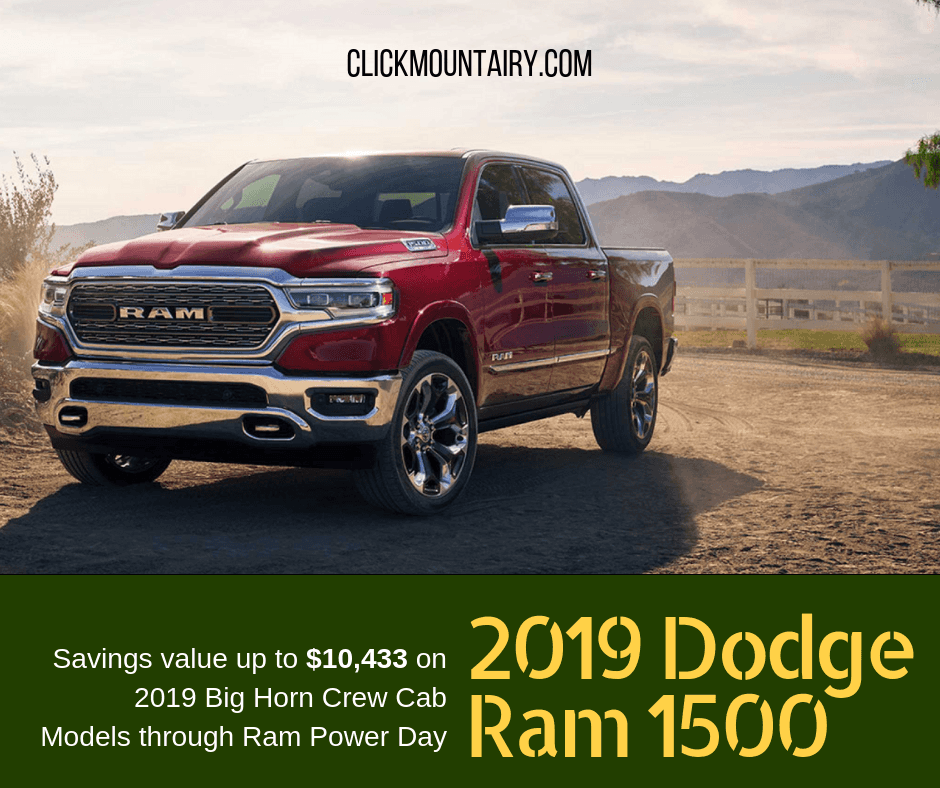 For those drivers who love what the RAM family has to offer, but prefer a sport utility to a truck, we also have a nice variety of the cool, new Dodge Durango. The 2018 Durango SXT Plus All-Wheel Drive comes with a V-6, 3.6-liter engine and an 8-speed automatic transmission. Oh, and it's only $37,725 with a savings of $2,000! This is a perfect vehicle for transporting clients and hauling family around town.
Believe it or not, these deals are just scratching the surface of what we have to offer, but you better act fast if you want to get yours!
A Little Something Extra
Maybe you are the type of person who just wants to live large and enjoy the power of the new RAM. You're in it for the versatility, but you are also for the rugged strength RAM has been known for all these years. You are the diehard fan who wants to experience all RAM can do. Well, know you can have it all with the new 2018 RAM 2500 Power Wagon. This suped-up RAM truck comes with a big 6.4-liter, V-8 engine and 33-inch off-road tires that can tear through any trail, hill, bump, or path. This RAM is meant to get dirty. The new Power Wagon is perfect for trips that may not always follow a beaten path, but always require a driver with a desire for adventure.
You have to see these Dodge vehicles to really appreciate them, and at Mount Airy CDJRF, we will let you do much more than just have a look. Come see us today and test some of the hardest working, quality trucks, SUVs, and vans on the market.