The New Durango: Your Family-Friendly Muscle SUV
The third generation of the Dodge Durango will soon be coming to an end. Dodge will usher in a new era with the 2021 models by showcasing a new body-on-frame architecture, among many other changes. The primary reason for this is that FCA—the parent company of the Durango and Jeep Grand Cherokee—doesn't want the two SUVs to be rivals anymore. That being said, there is much to like about the latest Durango. And for fans of this generation of models using the unibody platform, which is in its 9th year, buyers can enjoy the current body style and take advantage of all the updates and upgrades that Dodge has to throw at it. In essence, the 2019 Durango looks and acts like a muscle car turned SUV, but it still accommodates the family.
If you're in the market for a new midsize SUV, the 2019 Durango should be considered for your short list.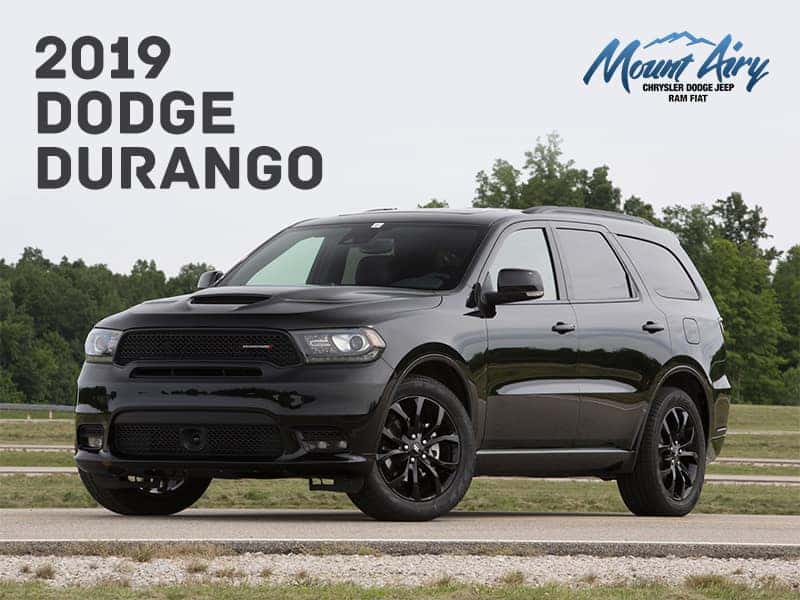 Overview of Specs
Perhaps what makes the new Durango most unique is that it's a midsize sport utility vehicle that provides drivers with the capabilities of a larger SUV while handling more like a compact SUV. In a class of numerous competitors, this aspect is as much impressive as it is welcome. Though it still holds on to the overall body style of its preceding models, the 2019 Durango sports a slightly more aggressive look on the exterior. As with the handling experience, the interior offers features and a layout not unlike those you would find in a smaller SUV. It feels modern and comfortable inside, and with three rows and plenty of room, it makes it the perfect family vehicle.
The base model of the new Durango, which starts at an MSRP of $29,995, includes a 3.6-liter V6 at 293 horsepower and 260 foot-pounds of torque. This, along with a standard rear-wheel drive, renders a fuel efficiency of 19 miles per gallon around town and 26 MPG on the highway, which is what can be expected for this type of engine. Drivers can opt for a V8 engine if they want more power, as well as an all-wheel-drive add-on, both of which have their perks though they drive the fuel efficiency down a bit.
The SXT
Here are some of the other primary features offered on the SXT, which is the base model of the 2019 Durango:
4 doors
5 to 7 passengers
8-speed automatic transmission
48 to 65 cubic feet of cargo space
Keyless entry
Power windows
Rear defrost
18-inch alloy wheels, all-season tires
Climate control, dual zone and rear-control A/C
Wireless device hookup
Hands-free communication system
7-inch touchscreen
Rearview camera
4-wheel ABS and 4-wheel disc brakes
Airbags at the driver, passenger, front head, front side, and rear head
Other Trim Levels
There are four other trim levels available that offer various upgrades. The GT is one level above the base model, with the primary differences being rear parking sensors, a garage door control, a leather steering wheel, and a power-operated driver's seat.
The R/T trim offers perhaps the most upgrades for the money:
Remote start
Powered liftgate
5.7-liter V8 engine
Leather upholstery
Power-operated passenger seat
Heated seats and steering wheel
Performance-enhanced steering and suspension
8.4-inch touchscreen
Navigation system
Alpine stereo system with 9 speakers
Going a step further, the Citadel is considered the luxury model of the Durango. Upgrades include chrome side mirror casings, sunroof, and captain seating with a middle console in the second row. If you're looking for more amenities than the SXT and R/T models offer but want to keep a leaner look, the Citadel may be the choice for you.
The SRT is the Durango model you are most likely to see in review photos and magazines. It's the most performance-focused model, and it reflects in the price at an MSRP of $62,995. Essentially, every mechanical aspect of the all-wheel-drive SRT is performance-tuned, and it also comes with Nappa leather and suede upholstery, air-conditioned front seats, adaptive headlights, and adaptive suspension. The SRT may be the most aggressive midsize SUV in its class. If you're OK with the price tag and decreased fuel efficiency (13 MPG City/19 MPG Highway), this trim could be the one you find most impressive.
How Safe Is It?
The new Durango received favorable IIHS safety ratings overall. Crash tests returned good results for roof strength, head restraints, and seats. In particular, the Durango proved adequate in driver and passenger injury measures, as well as driver and passenger head protection. Also, with optional equipment add-ons, it rated superior in front crash prevention.
There are many features the Durango SXT provides that help to prevent accidents and protect drivers and passengers in the event of an accident. For instance, it has five airbags strategically placed throughout the vehicle, 4-wheel ABS and 4-wheel disc brakes, and child locks. In addition, each model has traction control, driver-adaptive brake system, electronic stability control, and a rearview camera.
Some of the higher trim levels come standard with front and rear parking sensors, and drivers can purchase packages that add more safety features. Here are some of the features you can add:
Automatic high beams
Adaptive headlights
Adaptive cruise control (ACC)
Blind spot alert
Forward collision warning
Rear cross traffic monitor
Auto emergency braking (AEB)
The bottom line on safety is that any Durango model you choose will be comparable to the others in its class. With safety standards becoming increasingly stringent, Dodge hasn't overlooked any aspects with the Durango.
How's the Performance?
No matter which model you go with, you can expect good performance from your Dodge Durango. There are three different powertrain options available. The SXT and Citadel come standard with the 3.6-liter Pentastar V6 engine (295 HP/260 ft-lb torque), though upgrading the engine in the Citadel is an option. The R/T is stocked with a 5.7-liter HEMI V8 engine. By far, the most powerful model is the SRT, which boasts a 6.4-liter HEMI V8 and supplies drivers with 475 HP and 470 ft-lb of torque.
Another impressive part of the Durango's performance is its towing capacity. The 3.6L Pentastar V6 allows drivers to tow up to 6,200 pounds, while the 5.7L HEMI V8 and 6.4L HEMI V8 engines can tow up to 7,400 pounds and 8,700 pounds, respectively. It's worth noting that the 8,700 pounds towing capacity are considered best in class.
When it comes to the driving experience, the new Durango delivers. One of the things that set it apart from other crossovers of its size is that it provides a smooth ride—whether you're on the highway or trekking through rough terrain. This is one area where the family-friendly quality of the vehicle comes in. Also, the Durango handles like a smaller SUV, making it easier to park and maneuver around corners than its size would suggest. Overall, it accomplishes being both a fun and comfortable ride for people of all ages without compromising safety.
Fuel efficiency with the Durango is comparable to others in its class, such as the Jeep Grand Cherokee, Chevrolet Traverse, Honda Pilot, and Mazda CX-9. The models carrying the 3.6L Pentastar V6 powertrain gives drivers 19 MPG in the city and 26 MPG on the highway; the 5.7L HEMI V8 produces 14/22 MPG, and the 6.7L HEMI V8 produces 13/19 MPG.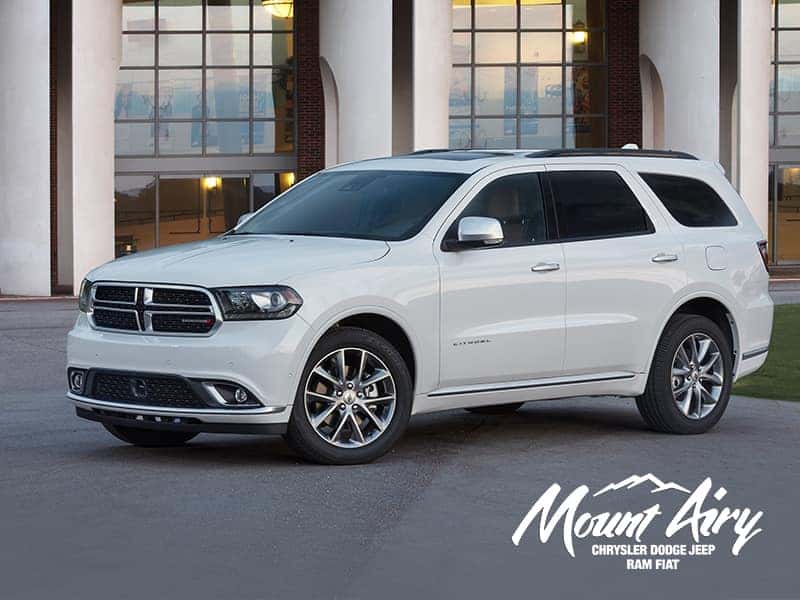 What's it Look Like?
The exterior of the 2019 Durango is surely one of its most unique characteristics. Dodge hails it as "a masterwork of muscle," which is a tribute to its appearance as much as its powerful performance capabilities. The SXT and GT models are a clever combination of sporty and graceful, though you can add the SRT-style hood—which has an air inlet in the center—to the GT if you want. As you go up the ranks of the trim levels, the Durango gets more and more muscular. The SRT, in many ways, resembles the iconic Charger, giving drivers a sense that they can go anywhere and be the boss. Furthermore, many of the models have a good bit of chrome along the exterior, which gives the overall appearance an added boost.
There are 10 exterior paint colors to choose from for the 2019 Durango:
White Knuckle
Granite
Redline Red
Reactor Blue
Vice White
Billet
DB Black
Octane Red
Destroyer Grey
F8 Green
What's Inside?
The interior is another factor that makes the new Durango a great vehicle for families. Its roomy cargo space and welcoming cabin make it a truly comfortable vehicle to sit in—whether you're driving across town or across the country. The entry-level SXT seats five people, but you can add a third row, which opens up space for seven people. Captain chairs in the second row is another option, which means you could have six people in the vehicle. There's a variety of leather upholstery upgrades available, as well as a heated steering wheel, power-operated front seats, heated seats (front and second row), and air-conditioned front seats.
As far as infotainment goes, the Durango has it going on. The core infotainment system is the Uconnect. This connected vehicle platform is built exclusively into Dodge, Chrysler, Jeep, Ram, and FIAT vehicles, and it has won several awards for its features and efficiency. At the base model, buyers have access to a 7-inch touchscreen, rearview camera, Bluetooth connectivity, USB ports, Apple CarPlay, and Android Auto, six-speaker audio system, and voice control features. The upgraded models are even more decked out. You can upgrade to an 8.4-inch screen, built-in navigation, Sirius XM, a BluRay/DVD player for the back seat, and a nine-speaker Alpine or 19-speaker Harman Kardon audio system.
One of the most satisfying qualities of the Uconnect system—and also why it beats out many of its competitors—is that it is very user-friendly and easy to navigate. This is largely because it employs a combination of physical controls, smartphone capabilities, and big touch-screen buttons to go along with a painless interface. In other words, people with little to no technology experience should be able to use the infotainment system with no problems.
If you're looking for a vehicle that suits the entire family while bringing pure muscle and grace to your driving experience, the 2019 Dodge Durango is a perfect choice. All models come loaded with features and appeal that overshines the competition. As safety is always the most important factor when it comes to driving, the Durango has you and your family covered from front to back with safety features to help prevent accidents and protect you should an accident occur.
If you're looking for power in an SUV, the Durango is a total specimen—untouched by the others in its class. Also, it's one of the smoother and roomier rides you will find. With a variety of exterior colors, from whites and greys to Dodge's iconic red, chances are there's at least one that will wow you. Finally, Dodge has outdone themselves with the infotainment features offered in all its Durango models. Muscle, grace, safety, fun—all can be yours with the new Durango. Be sure to pop on over to Mount Airy Chrysler Dodge Jeep Ram FIAT to see for yourself.