Tips and Tricks for Finding a Quality Used Truck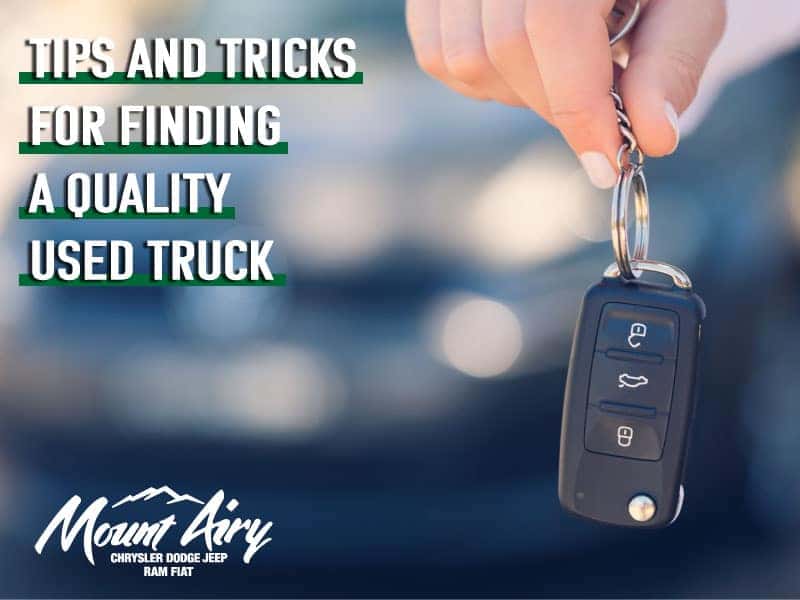 Without the proper guidance of a professional sales associate, it can be difficult in finding an affordable and worthy used pickup truck. This is why at Mount Airy Chrysler Dodge Jeep Ram we make sure to always have a vast selection of used pickup trucks on-site and online for our customers to peruse at any time. Our knowledgeable team of associates keeps up with modern methods of buying quality used cars and trucks, and we don't mind sharing a few key tips for you here. 
You need a truck but you don't want to buy a brand new one. Whether you are going to use your truck to putt around the neighborhood or for your daily driver, it's imperative you find something that will run for years to come without costing you an arm and a leg in surprise repairs. To get started with your search for that perfect used truck, there are a few procedures you can go through to help quicken the buying process.
All the trucks on our lot have already gone through rigorous testing and checklists to make sure they are fit to be sold, so one quick and easy way to shop is to come and speak with one of our associates. We can help you narrow down what you want based on how you will use your truck—and we can have you driving off the lot the same day!
But, if you want to find that hidden gem yourself, you want to go about it the right way.
Used Truck Shopping
The first thing you need to do is determine what your truck will be used for. Will you be hauling and pulling heavy loads, or will this truck hold tools and supplies? Narrowing this down can help you sift through your options more efficiently.
Next, you need to find a truck that fits your price range. Decide on how much you can spend before looking for trucks (you will always end up spending more than you should otherwise). The process of deciding between trucks is much easier when you know exactly how much you are able to spend. It wouldn't hurt to ask one of our sales associates about the types of warranties offered with used pickups you are interested in having a warranty. Some models might offer better warranty plans than others, which is something else that can help narrow your search.
Buying used can be a great way to save money on a vehicle that you really want. It can also turn into an incredible hassle and cause you to spend way more than you wanted in repairs. So, how exactly does one keep from throwing money down the drain on a used truck? The savvy shopper ensures the purchase is worthwhile by doing his research. After all, nobody wants to buy someone else's problems.
Here are a few tips:
Tip #1: First and foremost, it is necessary to check prices and reviews. By conducting a quick search on KBB or local dealership sites, you can make sure that the truck you want isn't completely out of your price range. Next, check out the Consumer Report on the truck makes and models you are interested in (and this interest can be based on looks alone—go for what you really like). Research to see if the truck tends to keep its resale value. Also check to see if it scores high marks on things like transmission, engine, and other big expense items.
Tip #2: Once you decide on the vehicle you want, for a price you can afford, go to Facebook Marketplace to begin shopping. Where people sell their used trucks (private parties and dealerships) changes periodically, and the trend as of late is to use Facebook. This is probably the best place to start, and the process for shopping is pretty straight- forward.
If you find trucks you are interested in, check the vehicle history report. To do this, get the vehicle VIN number (you may have to contact the seller for this) and take it to AutoCheck or Carfax for a full history report. The fee for this is minimal and well worth the cost and time it takes, which isn't long. If you find the truck has been in a wreck or has an unclear history, move on to another vehicle option or a different model of the same truck.
Tip #3: Test-drive the truck. This is to allow you to get a feel for the way it drives. And this gives you an opportunity to see if there are any obvious problems like poor handling, strange noises, etc. If you find anything about the truck you don't think you could live with, move on. (More on test drives in a minute.)  
Tip #4: You have found a truck you like. You did your research on the make and model and the test drive went well. Now what? Get the truck inspected. Mount Airy Chrysler Dodge Jeep Ram has professional and well-trained mechanics that you can bring your truck to for a complete inspection, as well as, some solid advice on caring for that particular model. They will run a full report on how the truck currently drives and they can let you know of any possible future issues.
The Art of the Test Drive
When you go for a test drive, what exactly are you looking and listening for? (Is it really necessary to kick the tires?) The answer is anything and everything. You simply want to be aware: why does the left rear make a sound when I turn? I really like how smoothly the truck shifts between gears.
Since you will most likely be spending a lot of time in this truck, make sure it has a smooth ride, nice handling, and a quiet cabin. And if it doesn't, bring it back and find out what those worrisome areas are and if they can be fixed at a low cost—maybe you can even negotiate a reduced price. Many times shoppers make the mistake of using the test drive only to see if there is something wrong with the vehicle. While it is a good idea to keep an open ear for any clanking or knocking noises, it is also important to make sure this truck drives how you want it to. You are buying used, but that doesn't mean you can't be picky. (And no, you do not have to kick the tires.)
Making the Right Choices When Buying a Used Truck
One of the most important choices you can make when shopping for a used truck is to ask to see the service records and background check. This should happen before anything else since if anything comes back red flagged, you need to move on to another truck.
Another good choice is to come to us with any questions you can't find the answers to. We know it can be frustrating when trying to find a worthy truck—we go through the same processes when finding used trucks for our lot—and we want to help you any way we can, which is why we sell quality used trucks in the first place.
Check Us Out
Before you start researching and shopping, come see us at Mount Airy Chrysler Dodge Jeep Ram. The chances are good that we will have exactly what you are looking for. We have all sorts of used makes and models, all certified, inspected, and ready for purchase.
Whether you buy with us or searching out the perfect used truck for yourself, we want to help make sure you get one that is going to last. Good luck, and happy shopping!