Tips to Buying a Used Pickup Truck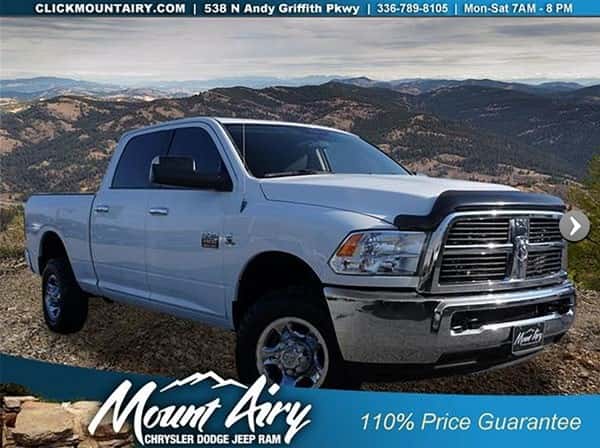 Looking for a Used Pickup Truck in Mt Airy or Galax VA? Mount Airy Chrysler Dodge Jeep Ram is your stop for the best used cars and trucks! We only sell the best! Not only do we have a great selection of Dodge, Ram, and Jeep trucks, we also sell great brands like GMC, Chevy, Ford, and Nissan.
Without the guidance of a professional sales associate, it can be difficult in finding the best used pickup truck for your needs. That's why at Mount Airy Chrysler Dodge Jeep Ram they make sure to always have a vast selection of used pickup trucks on site. Their knowledgeable team of associates is sure to find exactly what you need.
That said, there are a few procedures you can go through to help quicken the buying process. Since all trucks on the lot have already gone through rigorous testing and checklists to make sure they are fit to be sold, you can focus on other specific aspects to buying.
First, find a truck that fits your price range. Decide on this before you arrive to the dealership. The process of deciding between trucks is much easier when you know exactly how much you are able to spend. Next, ask your sales associate about the types of warranties offered with the used pickups you are interested in. Some models might offer better warranty plans than others, which is something else that can help narrow your search.
Go for a test drive. Always get behind the wheel of a vehicle you are interested in buying. Since you will most likely be spending a lot of time in this truck, make sure it has a smooth ride, nice handling, and a quiet cabin. Many times shoppers make the mistake of using the test drive only to see if there is something wrong with the vehicle. While it is a good idea to keep an open ear for any clanking or knocking noises, it is also important to make sure this truck drives how you want it to. Coming from Stuart or Martinsville, VA? Take a drive on some good old back roads and see how it fairs.
Lastly, ask to see the service records and background check. These will be on hand and easily accessible. Be sure and take your time looking over these and that you are okay with the truck's history. Happy shopping!
Written by Andrae Bergeron
Mt Airy Chrysler Dodge Jeep Ram writer